Practical business advice for women, from women
This Women's History Month, four leaders share strategies for success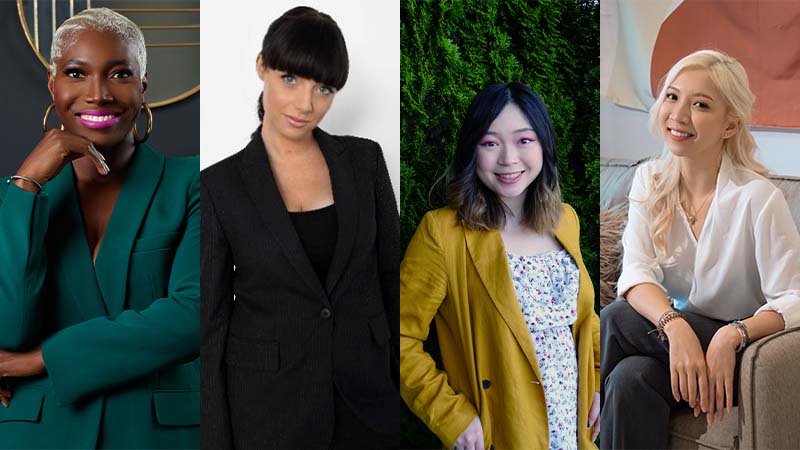 From the Big Apple to Singapore to São Paulo and beyond, women play a key role in powering economies around the globe. Their impact touches every sector of the economy, at every professional level — as founders and entrepreneurs, CEOs and board members, athletes and key decision-makers.
While the global gender gap has been closed by 68%1, there is still more work to be done to increase women's economic participation and reach full parity. In fact, equal participation in the economy could raise global GDP 26% by 2025.1
In celebration of International Women's Day, we tapped four Visa grant winners, awarded through our She's Next program, to reflect on their entrepreneurial journeys and share their best advice for the next generation of women founders looking to jump start their own business ventures, no matter how big or small.
Don't lose sight of who you are
"Have the appetite to keep learning while holding on to yourself," says Marina Tran-Vu, founder and CEO of Vietnam-based EQUO, a company focused on ridding the world of single-use plastic items by creating compostable and reusable alternatives. "Often, women are told they need to be more assertive or aggressive, to change how they look or speak, or we change who we are and how we behave as a subconscious response to a (purposely or un-purposely) biased business environment," says Tran-Vu. But giving up on self isn't the way to deal with these kinds of external pressures. Instead, says Tran-Vu, "Learn to adapt and be dynamic in entrepreneurship, but do not change who you are for the sake of business. When you lose yourself, you lose your motivation, your purpose and your direction."
Grow from failure
Fear can be a powerful motivator. But, in new ventures in particular, it can also stand in our way — make us second guess ourselves or prevent us from taking that first big step. "The biggest challenge for me as a woman entrepreneur was coping with the fear of failure," says Tiffini Gatlin, CEO of Atlanta-based Latched and Hooked Beauty, a beauty brand dedicated to removing the stigmas and the toxins in hair styling products for Black women. "One of the ways I overcame this was by understanding that failure is evidence that I made the first step toward accomplishing my goals and that failure is a necessary step in business in order for me to learn and grow." In the long run, reframing fear as a part of growth can make conquering it an everyday occurrence.
Connect with like-minded women entrepreneurs
Entrepreneurship can be a lonely journey. For Arielle Lok, co-founder of Peko Produce, a Canadian company focused on reducing food waste and increasing access to healthy diets by delivering surplus and "peculiar" grocery items, the key was making new connections. "Finding other women in my specific industry with a similar background was extremely challenging," says Lok. "However, most people will only want the best for you. Cold reach out to others, ask for connections, and you will find yourself with more mentors than you possibly need. Choose a small group of friends, other entrepreneurs and industry mentors, and keep them close throughout your journey. Entrepreneurship does not always have to be lonely."
Be patient and adaptable
"There are many challenges in business, some of which can be influenced by major world or political events," says Simona Sadauskienė, Founder of Bosaddo, a Lithuanian company on a mission to create sustainable and innovative apparel for dancers. When the unpredictable happens, new opportunities can emerge. "It is important to be patient and not be afraid to adapt to the changing environment," says Sadauskienė.  "One must act quick and never give up."
Launched in 2019, "She's Next, Empowered by Visa" is a global initiative to spotlight women in their efforts to fund, run and grow their small business. Earlier this year, select She's Next grant winners joined Vital Voices Global Partnership's 2023 VV GROW Fellowship, a global business accelerator for women leading for-profit, purpose-driven businesses that are driving social change. Later this month, Visa will launch the second year of our She's Next in Fashion program, awarding 50 women-owned small businesses in fashion and beauty with a $11,500 Cash Grant. Stay tuned for the final list of grantees.
---
Learn more about "She's Next, Empowered by Visa." For more small business resources, visit the Visa Small Business Hub.
---
1 World Economic Forum Global Gender Gap Report 2022, July 2022