Helping small businesses thrive in economic uncertainty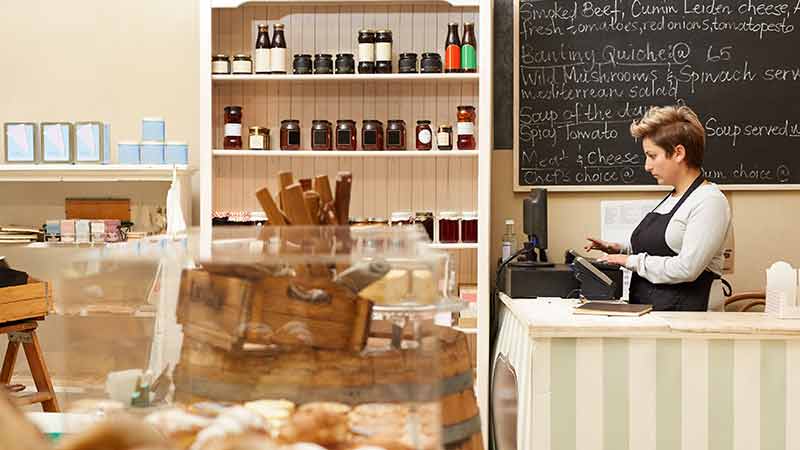 As the country faces uncertain economic conditions including record-high inflation, small businesses are integral to the health and regrowth of the economy. They currently account for 99.9 percent of American businesses and 46.8 percent of employed adults in the United States according to the U.S. Small Business Administration.
Digital payments are a lifeline to small businesses
It has become clear over the past two years that digital payments, including credit and debit cards, fuel growth for small businesses. Throughout the COVID-19 pandemic, electronic payments provided a lifeline to small businesses, allowing them to continue to serve their customers, sometimes in new ways, in their local communities and in the broader global market. As inflation rises with no sign of slowing down and the economy faces unprecedented volatility, digital payments will continue to help small businesses thrive — in challenging economic times and in good ones.
Small businesses have been empowered by digital payments because they level the playing field with big retail and large e-commerce in many ways, including:
More access to sales, guaranteed payment, added security and transaction protections, and a payment option that is less expensive for businesses than cash;
E-commerce capabilities allowing for online sales during lockdown periods; and
Convenient offerings for customers who are seeking new, safer ways to shop, such as buy online — pick up in store or contactless checkout.
Data has even shown that businesses that had access to digital payments during the pandemic were more resilient and better able to compete than those that did not. In fact, 90% of small businesses attribute their pandemic survival to e-commerce, according to the Visa Global Back to Business Survey – 2022 SMB Outlook.
While the United States economy has begun to rebound from pandemic lows, small businesses continue to face new challenges. The question is how can they get the support they need?
Taking action now to help small businesses by making it less costly to accept digital payments
Recognizing the power of digital payments to help small businesses compete and thrive, Visa is lowering key in-store and online consumer credit interchange rates for more than 90 percent of American businesses by 10 percent, effective April 2022. These rate changes will apply to businesses with $250,000 of Visa consumer credit volume, which generally applies to businesses with $2 – 2.5MM in revenue. These small businesses make up the vast majority of businesses that accept Visa payments.
These reductions are in addition to steps Visa took over the past two years to support American businesses, including committing to digitally enabling 50 million small businesses globally, launching programs, and directing resources to provide the essential digital capabilities needed for recovery.
Looking to the future to help small businesses succeed
Beyond these actions, there are numerous resources available for small business owners who are working to grow their business and "go digital," and for consumers eager to support their local merchants during challenging economic times.
Small businesses can access Visa's Small Business Hub, which features digital enablement tools, and solutions for small businesses to help them reach more customers.
Merchants active on Uber Eats can apply for the Grants for Growth program across 10 cities in the U.S., to receive $10,000 grants to help pay outstanding debt to vendors, upgrading technology and other operational costs, and increased visibility in their community.
Local communities can use a Back to Business tool to easily find and Support Local Businesses in their vicinity.
The prosperity of small businesses is not only important for the health of the global economy during periods of uncertainty, but for the everyday strength and vibrancy of our local communities. As the future of money continues to evolve, it is critical that small businesses have the resources and support they need to succeed and keep up with big retail in the increasingly digital economy.
---
If you are a small business looking for additional resources, please visit Visa's Small Business Hub.