Black-owned craft beer bar in Harlem taps teamwork to brew through COVID-19
Harlem Hops owners pivot to takeout and delivery while continuing to give back to their community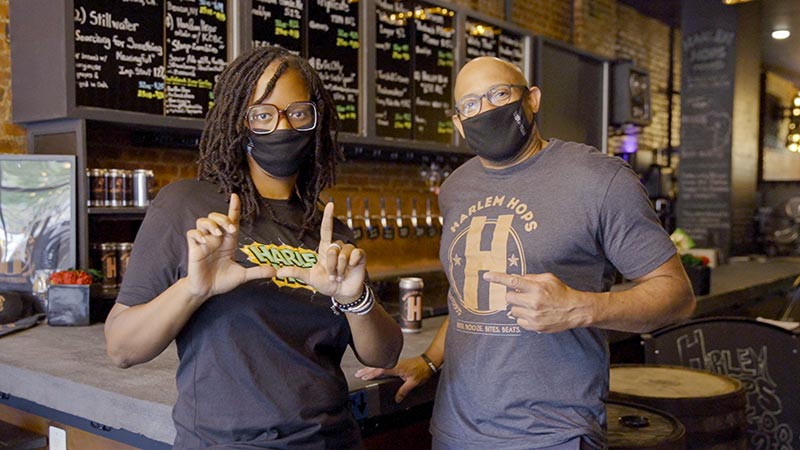 Harlem Hops, a craft beer bar in a storied New York neighborhood, serves up cold, frothy brews and a warm, welcoming vibe. Owners Kevin Bradford, Kim Harris and Stacey Lee get a kick out of being like the Cheers of Harlem. "We know everyone's name," says Harris.
In early 2020, Harlem Hops was, well, hopping. Spirited conversation from people living and working in the area, beer aficionados, college students and tourists filled the inviting pub. And its famous location was celebrated throughout the establishment: HARLEM spelled out in marquee lights on the ceiling and aglow in red neon on one wall.

But when COVID-19 hit in mid-March, it was a last call for Harlem Hops and thousands of restaurants and bars throughout New York City and, indeed, the world. "Pivoting is critical for any business owner," says Harris. "Figure out a different way. If something isn't working, go with that gut instinct and just do something different."
For Harlem Hops, the crucial pivot was transforming from a bar specializing in craft drafts into a hybrid bar and beer store canning its tasty brews and providing takeout and delivery within a 20-block radius of the bar.
While they had sold just a few crowlers — large, machine-sealed cans of draft beer — each week pre-pandemic, almost overnight the cans became Harlem Hops' key to keeping on. Crowlers have "been our bread and butter for this whole COVID time," says Bradford. Customers place orders for pick-up or delivery by phone. Safety and social distancing and measures are in place for when they come by to take out beers. Before the pandemic, a weekend night could have 100-plus sales. Business runs about 50 percent now.




Weathering the storm together
While the pandemic has certainly been an isolating experience for many people, Harlem Hops has, if anything, expanded its community. "Teamwork is what can bring success," says Bradford. They relied on each other and their collective experience, along with others in the business community. When they ran short on crowlers, Hudson Valley Brewery in Beacon, New York, filled the void.
"The support of our community, the support of our families and friends is what has really kept us afloat," says Lee, who adds that government funds helped cover bills, rent and payroll. They shifted their seven staffers to half-time. "We have an amazing team," says Harris.
Being prepared for anything is key
Planning for both growing pains and unexpected obstacles is key to small businesses starting out. Harlem Hops, just two years in business, has relied on these strategies:
Keep a cushion. Aim to have at least six to eight months of rent and overhead in savings so that you can function in turbulent times.
Defer salaries, if finances allow it. "We all agreed that the first couple of years, we weren't going to pull a salary from Harlem Hops," says Harris.
Use social media. "We are so engaged in social media now in a way that we weren't engaged in the past," says Lee. "It's been a saving grace to get the word out of what new beers we have on tap."
Leaning into learning an unwavering goal
Many of the beers in the Harlem Hops rotating collection come from local breweries. Drafts possess distinct personalities, just like the entrepreneurs. Bradford, a math teacher from Detroit, is the resident beer curator who's traveled the world in search of unusual brews. Harris, who grew up in Harlem, and Lee, who lives in Atlanta, are marketing and promotion pros. They all treasure higher learning, as their degrees from Historically Black Colleges and Universities (HBCUs) can attest.
"Educating our customers is very important to us," says Harris. "One of the things we wanted to do was to reclaim the origins of beer and to teach people about that." Harlem Hops is designed to tell the story of beer's origin. A chalkboard column by the bar reads: "Did you know? Africa has the world's earliest recorded evidence of beer-making!"
Moreover, the three created Harlem Hopes, a scholarship program for local college-bound residents. "Last year, we were able to give out two scholarships," says Lee, adding that a corporate donation helped enable them to double that in 2020. "Each year, we're trying to grow our scholarship fund in order to educate our black and brown students in the community."
In another community-minded act, in the depths of the initial outbreak in New York City, they regularly delivered food to nearby Mt. Sinai Morningside Hospital's housekeeping staff.
Accentuating the positive, still dreaming big
"Because of the way we were raised and through our parents and through our HBCUs, it gives us that positivity," says Harris. "And whatever challenge and hurdle, we'll get over it and we'll get through it."
Lee echoes that sentiment. "When you're a small business owner, you're going to go through bumps and bruises. Don't ever quit. Believe in your product, believe in yourself."
What does the future hold? Brewing their own beers — and possibly expanding beyond New York. Bradford says that's "the next stage, the next step." "Hopefully, one day real soon," says Lee, "we'll be opening a Harlem Hops in Atlanta."
In the meantime, they all beam as bright as that neon sign when they talk about being the premier Black-owned craft beer bar in Harlem. "When people think about Harlem, they do think about richness," says Lee. "They think about Black culture. Harlem is recognized around the world. It has such a rich culture. I'm very proud to have a business in Harlem."
Resources and more for small businesses and entrepreneurs
Visa supports the creativity and resiliency of small business owners Harlem Hops and millions more around the world who are keeping our communities running. Read on for advice, resources, partnerships and more supporting small businesses everywhere.

Visa Small Business Hub collects the "best of Visa's" small business content, including access to tools, partner offers, actionable tips and more for entrepreneurs at all stages of business growth. 

The Visa Back to Business Study, Holiday Edition is out with helpful insight into the buying habits and perspectives of consumers in eight countries during COVID-19. Learn more about emerging shopping trends, small business concerns and more.
Visa Chief Marketing and Communications Officer Lynne Biggar authored a post on LinkedIn outlining our global strategic initiative to support small businesses — Where You Shop Matters. Visa Small Business Street Teams are going virtual to help strengthen and digitally enable 50 million small businesses as the world heads into the holiday shopping season.
The Visa Back to Business Project is an online tool that helps consumers identify businesses that may be open in the wake of the pandemic or a natural disaster. The tool is live in Australia, New Zealand and the U.S. with plans for more countries to come.
Virtual small business event What's Next Fest (September 22-24) celebrates small businesses in partnership with the Female Founder Collective. Educational insights and expert guidance are provided for entrepreneurs in all stages, from creative approaches to funding to innovative marketing and digitizing business.
The IFundWomen grant program for Black women-owned small businesses in the U.S. awarded $250,000 in grants to 25 women earlier this week. Get inspired by the stories of these passionate founders.