Advancing our approach to digital currency
Visa's outlook on new digital currency payment flows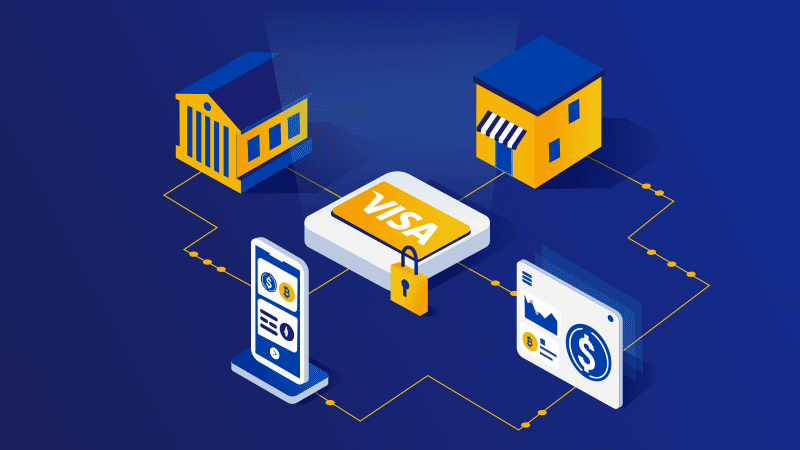 As a global payments technology company, Visa is focused on delivering the greatest value to people, businesses and economies everywhere, regardless of currency, channel or form factor. We're reshaping how money moves across the globe, and that means pursuing a broad array of technologies and partnerships. In that regard, digital currencies offer an exciting avenue for us to continue doing what we do best: expanding our network-of-networks to support new forms of commerce. 
The concept of digital currency — or a digital version of cash controlled by a private key — was created more than a decade ago, with the launch of Bitcoin. Today, fiat-backed digital currencies, commonly referred to as "stablecoins," have emerged as a promising new payment innovation, combining the benefits of digital currencies with the stability of existing currencies like the US dollar. It's a concept that is gaining traction beyond fintechs, and now includes financial institutions and central banks. Consumers and businesses are also adopting digital currencies and circulation is growing rapidly, reaching over $10B in May.1
Visa has been working closely with licensed and regulated digital currency platforms like Coinbase and Fold to provide a bridge between digital currencies and our existing global network of 61 million merchants. Around the world, more than 25 digital currency wallets have linked their services to Visa, giving users an easy way to spend from their digital currency balance using a Visa debit or prepaid credential — anywhere Visa is accepted.
Similar to other digital wallets, digital currency wallets are looking to use the full range of Visa's capabilities, including Visa Direct, which makes it faster and easier for consumers to convert digital currency and push those funds to their Visa credentials in real-time. Much of this work is happening through Visa's FastTrack program, which helps fintechs, including those in the digital currency space, integrate quickly with Visa's global network.
Through these efforts, Visa has become the preferred network for digital currency wallets, which are eager to deepen their value to users by making it quicker and easier to spend digital currency worldwide.
We've been advancing and evolving our digital currency strategy for quite some time. Last year we made an investment in Anchorage, a company building security infrastructure for the digital currency ecosystem. Our research team has been exploring the science of blockchain technology for several years. Their work has yielded several promising innovations, including Zether2 and FlyClient.3 Today their research is focused on new mechanisms to improve scalability and enable offline digital currency transactions.
We know that policy leaders and regulators continue to have questions and concerns about digital currencies on a range of issues, from consumer protection to payments resilience. We believe the best way to address these concerns is by working closely with leading companies and the public sector. For more than 60 years, Visa has invested in building and maintaining a resilient global network that delivers best in class functionality to our clients and consumers. Extending this legacy into the decades ahead requires continuous innovation and collaboration with a range of partners.
As part of this public sector strategy, Visa has been engaging with policy makers and global organizations to help shape the dialogue and understanding of digital currencies; this includes our work with the World Economic Forum and our collaboration on a set of policy recommendations for central banks exploring the concept of Central Bank Digital Currency (CBDC).
As our product and research teams continue to evolve our offering in this space, Visa's digital currency strategy will reflect a set of key values:
Security, privacy, integrity and trust. We will maintain a rigorous focus on data protection, consumer privacy and fairness, and full compliance with all applicable laws.
Remaining currency- and network-agnostic: We plan to support the digital currencies and blockchain networks that our clients and partners demand, in keeping with our broader network-of-networks strategy.
Alignment with Visa's core capabilities: We have deep expertise in securing transaction data, working with diverse stakeholders, and maintaining an always-on network with continuous availability. We will pursue projects that allow us to apply this expertise to new networks and technologies that can benefit our existing clients and partners.
We believe that digital currencies have the potential to extend the value of digital payments to a greater number of people and places. As such, we want to help shape and support the role they play in the future of money. We look forward to sharing more with you on this work in the months that follow.
To find out more, please visit https://usa.visa.com/solutions/crypto.html
__________
1 Coindesk – Stablecoin Supply breaks $10B
2 Zether is a privacy-preserving payment mechanism created by Visa Research. JP Morgan Chase announced plans to integrate into its own blockchain efforts.
3 FlyClient is a framework that makes it easier for mobile devices to validate blockchain transactions.