Three Fintech initiatives, one mission: creating the future of payments
From financial inclusion to small business recovery, Visa and Fintechs are collaborating to accelerate digital commerce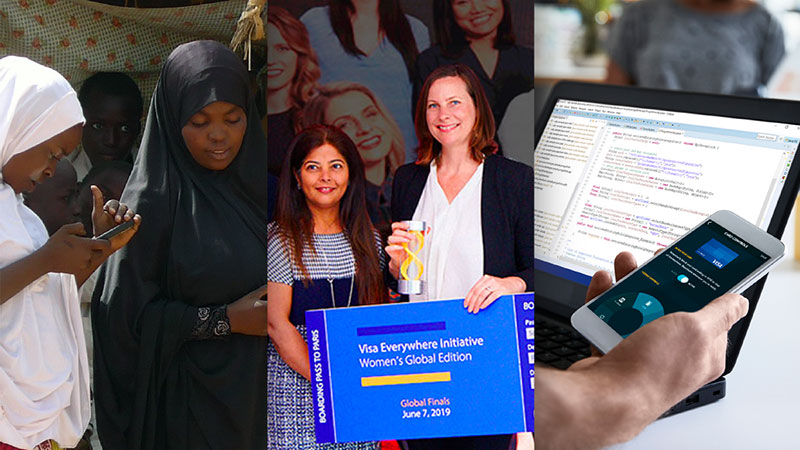 Fintechs create new ways to pay, move money and drive digital commerce in communities in every corner of the globe. In the new normal of COVID-19, social distancing, isolation and lockdowns have increased the global revenue of digital banking apps by 17%, installs of digital banking apps in the U.S. by 60% and the use of financial apps in Europe by 72%[1].
With $17 trillion in consumer payments still made in cash and check[2] and 1.7 billion people outside the formal financial sector[3], there is a huge opportunity for fintechs to pioneer new kinds of digital payments. Visa wants to align with these payments innovators wherever they may be. That's why we offer resources, programs, networks and more with the goal to help them to scale and bring new commerce solutions to life with speed and security.         
Three fintech-related initiatives are live here at Visa today, the Inclusive Fintech 50, Visa Everywhere Initiative and Fast Track Program.
Bringing innovation to the financially underserved: Inclusive Fintech 50
When people think about technology innovation they usually think about places like Silicon Valley. Emerging economies, however, offer big opportunities for fintechs to leverage digital technologies to help connect the "unbanked" to trusted financial products and services. The Inclusive Fintech 50 competition (IF50) was created to recognize promising early-stage startups that innovate in these financially underserved communities. As a founding partner with the Metlife Foundation, Visa's support of the Inclusive Fintech 50 is aligned with our commitment to providing micro and small businesses with the tools they need to grow, and our responsibility to advance financial inclusion for everyone, everywhere.
Winners selected for the Inclusive Fintech 50 gain global exposure through sponsor and partner promotion, visibility and credibility among investors, networking opportunities with peers and industry experts and are featured and promoted in a white paper, website and social media channels. Two receive $25,000 cash prizes based on an assessment of their contribution to financial resilience. Applications are being accepted now through July 15th – learn more on the application page.
Sofie Blakstad is CEO and Founder of hiveonline, an inaugural winner from last year's competition, which helps underbanked small business owners access credit and financial services in developing regions including sub-Saharan Africa. In a recent interview she noted how the COVID-19 pandemic has created increased demand for community finance and digital solutions to allow people to transact without using physical cash.
One of last year's honorees was India-based startup Happy that provides loans to micro, small and medium-sized enterprises. Head of Marketing Chandni Mehta outlined the opportunity to fund micro-enterprises in the country, which employ 20 percent of India's workforce and face a credit shortage of more than $230 billion (USD).
Watch startups compete for $100,000 in prizes at the Visa Everywhere Initiative Finals
Startups may be small by their definition. But they have big solutions for the future—solutions revealed in the latest Visa Everywhere Initiative (VEI) finals livestreamed on TechCrunch as a "virtual event" July 1. The Visa Everywhere Initiative tasks start-ups and fintechs to solve the payment and commerce challenges of tomorrow and provide new solutions for Visa's network of partners.
Competitors pitched their solutions to a group of judges from Visa and leading venture capitalists for five challenges in areas like supply chain management, consumer banking, money transfer, contactless payments and more. Finalists competed for $100,000 in prizes and global exposure to Visa's vast network through the online event.
Congrats to our most recent VEI winners:
1: Overall winner, $50,000 USD: Edrizio De La Cruz, co-founder and CEO, Arcus
2: Audience Favorite, $25,000 USD: Edrizio De La Cruz, co-founder and CEO, Arcus
3: 2nd place, $15,000 USD: Sunwoo Hwang, founder & CEO, Sixup
4. 3rd place, $10,000 USD: Stan Smith, Founder & CEO, Gradient AI
The "Audience Favorite" was determined by interactive voting for all tuned into the event. A COVID-19 related challenge invites startups to create innovations to help small businesses recover, with final pitches to be held Sept. 9, 2020.
Since launching in the U.S. in 2015, the Visa Everywhere Initiative has quickly expanded to include more than 7,000 applying startups from 100 countries, collectively raising more than $2.5 billion in funding as a result of the program. Visa Everywhere Initiative India kicked off earlier this year with a roadshow, and Visa Everywhere Initiative for Latin America and Caribbean regions is now taking applications for startups meeting two challenges: innovation in payments to support the small business recovery and finding ways to improve mass transit through more efficient forms of ticketing and payments. Ten finalists from Latin America will participate in a virtual immersion program including planning workshops with experts from Visa, competing for up to $50,000 in prizes, in the final to be streamed at a later date.
Read more about the Visa Everywhere Initiative, including a previous global competition exclusively for women entrepreneurs, a specialized competition for New York Fashion Week and watch one winner's pitch for tips on coming up with your own Visa Everywhere Initiative idea.
Fast-Tracking the future of payments
Visa offers the scale, security and expertise to help fintechs grow and succeed, and we want to make the process of partnering with us quicker and easier. That's why we started Fast Track, a global program that streamlines the process of leveraging our network and resources to shrink the time it takes to work with Visa from months to weeks.
Fast Track has already signed over 140 fintechs around the globe, while granting access to Visa's ecosystem partners, online licensing and APIs. In addition, a robust online education platform breaks down the many ways startups can leverage Visa, on everything from digital wallets to disbursements to card designers to creating payment experiences that stand out. Extensive go-to-market toolkits and access to expert advice help fintechs grow and scale their solutions. Getting started is as easy as taking a few minutes to create an account.
Some participating fintechs have already responded to the economic challenges of COVID-19. Australia-founded Airwallex streamlines B2B money movement across borders and is waiving international transaction fees to support Australia and UK-based small businesses. Colombia-based Rappi is piloting food delivery by robots in an effort to minimize the spread of the virus.
In these videos, Fast Track innovators Airwallex and Rappi both talk about their experiences working with Visa. In addition, learn how Germany-based mobile banking platform Vivid Money is working with solarisBank and Visa to deliver convenient, mobile-first banking experiences through the power of smartphones.
Read more about partners in Fast Track across enablement, digital currency, consumer finance management and more.
____________________
[1] AppsFlyer: The Coronavirus (COVID-19) Impact on App Installs and Marketing Budgets, June 2020; DeVere Group: Coronavirus lockdown: Massive surge in the use of fintech apps, March 2020
[2] Visa Annual Report (December 2018)
[3] Global Findex Database (2017); Demirgüç-Kunt, Asli, Leora Klapper, Dorothe Singer, Saniya Ansar, and Jake Hess. 2018. Measuring Financial Inclusion and the Fintech Revolution. Washington, DC: World Bank. doi:10.1596/978-1-4648-1259-0. License: Creative Commons Attribution CC BY 3.0 IGO