Seattle-based Woodcrafters Construction does good while doing business
Travis Spikes builds tiny houses for homeless to keep his business building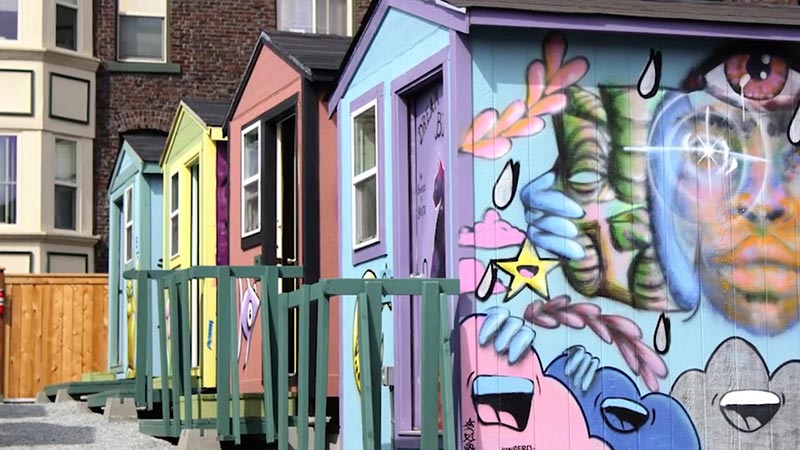 When most construction was deemed non-essential during Washington State's stay-at-home order, Travis Spikes, owner of  Woodcrafters Construction in Seattle, had to let most of his staff go. But that didn't mean idling away until the order was lifted. "I have been working 50 to 60 hours a week trying to storm-proof my business and protect my team," says Spikes.
Thanks to a loan through the SBA Paycheck Protection Program Spikes was able to hire his team back but he had to think creatively about what they would do without being able to return to job sites. That's when the lightbulb went off: he'd work with Seattle's Low-Income Housing Institute, building tiny houses in seven permitted villages in the Puget Sound area, where people in need could access a restroom, shower, a kitchen and connect to housing resources to help them get back on their feet.
Spikes' employees were ready. They would receive building materials at their respective homes — with help from donations from their construction community — and  build the tiny homes while sheltering in place. Here's their story.
Hi Travis, so tell us about your company and what has changed as a result of the crisis.
I started Woodcrafters Construction in 2005 as a sole proprietor, since then we have grown the business to a staff of 15.  Our company focus is on large residential remodel construction. We work solely in the Seattle metropolitan area, so our focus is on restoring and remodeling old homes with lots of character.
Washington State issued a Stay-at-Home order on March 25th, and most construction was deemed non-essential, so we secured and closed down five active job sites and put 10 staff members on standby to collect unemployment. We also had to postpone the start of three new projects. So, just like that, most of our revenue dried up in one day.
How has your business changed since the SAH order took place? Have you had to think creatively or reinvent how you do things as a result of this crisis?
We had already been working to adapt our business practices to COVID-19 weeks before the SAH order went into effect. Within days of the first COVID-19 case in Washington State, all of the dust masks were sold out at our local lumber yards. The public had already started to panic and the lumber yards failed to ration the masks for the people who needed them, the construction workers.  Luckly, most of our staff already had respirators for doing work with lead paint, so we switched to that and I managed to find more respirators and cartridges on-line for the staff.  We also increased our sanitation and cleanliness on jobs sites and added COVID-19 safety protocols a few weeks before the order.  We spread the employees apart, provided sanitizer and hand washing stations, and wiped down tools and other surfaces throughout the day. The office staff also started working remotely a few weeks before the SAH order and client meetings were done through video chat.


Tell us how you've been able to help those in your community with the Tiny House project.
We are just getting started on the Woodcrafters Tiny House initiative, materials are being ordered this week and we will start building the Tiny Houses next week. Our goal is to build between 10 and 20 Tiny Houses for the Low Income Housing Institute over the next 4 to 6 weeks. We applied for and just received a loan from the SBA Paycheck Protection Program and intend to use that money to bring our field staff back on as full-time employees, even though we can't work at job sites right now. While we have all of the labor costs covered to build the Tiny Houses, we don't have much to spare for the cost of materials. The materials for each Tiny House will cost between $2,500 to $3,000.  So we will need between $25,000 to $55,000 to meet our goals.  For the last two weeks, we have been reaching our business partners in the trades and have asked for financial support and donated or reduced cost materials. We have had local lumber yards, flooring stores, painters, insulation contractors, and many other vendors and subcontractors volunteer materials and money to help with this initiative. We have even had past clients contribute money to the cause.
How did you get the idea to work on this project while the SAH order is in place?
We do a fun team-building event once a quarter.  Sometimes that is just taking the staff out to a ball game, other times it means building bird houses blindfolded and giving out prizes to the fastest team.  Earlier this year, one of my project managers suggested that the next team building be some sort of volunteer work to give back to the community.  I had worked on Tiny Houses with our Cub Scout pack. The idea came back to me as I was filling out all of the paperwork for the SBA-PPP Loan. I was trying to figure out what kind of training or volunteer work the staff could do once they got put back on payroll but still had to stay at home. So we came up with the idea of having a complete Tiny House material pack delivered to each carpenter's house and they would build it by themselves from start to finish.
What is the most challenging thing you face right now as a small business owner?
My biggest challenge over the last few weeks has been keeping my staff safe and trying to provide for them. When we were finally approved for the SBA-PPP loan and the funding posted to our account, it was a huge relief knowing that I could help my employees and get them back to their full paychecks right away. 
What do you think recovery looks like for you when the lockdown is lifted?
Once the SAH order is lifted, we will have a lot of work to catch up on and will be very busy for months to come. Most people I talk to in the industry expect things to bounce right back in the short term.  In the long term, I think that will depend on the economy in general and if we do slide into a recession because of COVID-19.  Our day-to-day work will definitely look a lot different.  We will need to have fewer people on the job sites, only one trade can work a job at time, and we will probably continue to do most of our meetings virtually.  I expect we will continue social distancing and work-safe practices for the next 6 to 12 months.
Got a small business of your own? Check out these small business resources on the Visa Blog and learn about recent initiatives supporting women businesses and more ways Visa is helping support the COVID-19 response.