A bank that knows your name: Local Bank helps bridge the Native-owned gap
MDI program participants show the power of local lending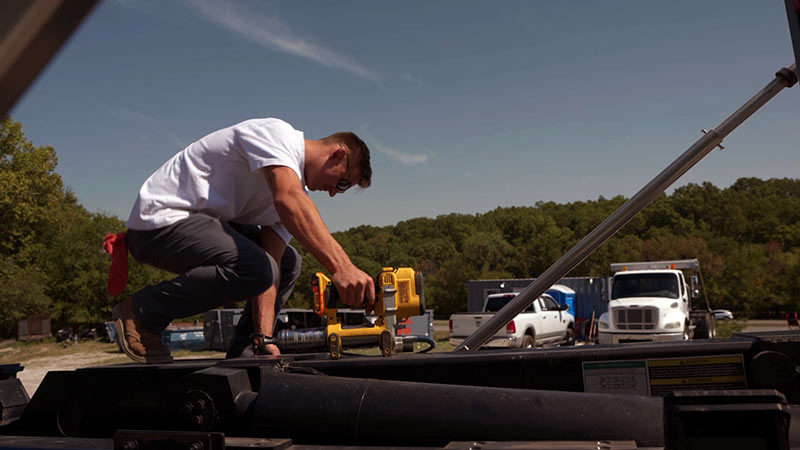 Surrounded by lakes at the foothills of the Ozark Mountains is Tahlequah, a town of about 15,000 people — a third of whom are Native American — in Cherokee County, Oklahoma.
"This is a great town with a super tight-knit community," says Hestin Lamons, a fourth-generation Tahlequah resident of Cherokee descent.
"A lot of people bond together over our Cherokee heritage and culture," he adds.
Native American jobs were especially impacted at the start of the pandemic1 and Lamons was not immune to the economic fallout. To care for his family, he had to get creative. After helping his uncle in waste management, Lamons bought a used truck and 19 containers to start his own business. "I just saw this void in the market," he says. PPE (personal protective equipment) factories were popping up in response to the Covid-19 pandemic and the market for new construction was growing.
Lamons's business, C&L Site Services, became Tribal Employment Rights Office (TERO) certified, which prioritizes Cherokee-owned businesses for Cherokee Nation and government projects.
"We just kind of grew exponentially and started getting more jobs," he says. "I knew we needed to expand."
Eager to meet market demand, Lamons turned to Local Bank, a partner in Visa's MDI Accelerate Program, which supports minority-owned depository institutions with business funds, insights and solutions to help reduce economic inequalities in local communities. As part of the Program, Visa will deposit up to $100M in MDIs, enabling up to $1B in additional lending among these banks.
"I'm a tribal citizen and I own a majority of the stock in the bank," says Susan Chapman Plumb, Chairman and CEO of Local Bank. "More than 60 percent of our customers are Native American. We understand the nuances of our own tribal culture and how that relates to money."
Getting loans into the community
Indigenous communities in the United States are disproportionately underrepresented in financial services. According to the FDIC, Native communities have some of the highest rates of underbanked households at 25 percent.2 Plumb estimates those rates could be upwards of 35 percent post-pandemic. High poverty rates, unemployment and systemic racism have limited access for Native Americans to financial services like loans, or even a checking or savings account.
"We started working with Visa and the MDI Accelerate Program and it does exactly what it says, which is accelerate our ability to put loans back into the community," says Plumb, who says that 98 percent of Local Bank's lending filters back into the Native community. "We invest in housing, in healthcare, in small businesses that our customers need and it stays within the boundaries of the Cherokee reservation."
Relationships beyond financing
Experiencing more of a "corporate feel" at larger banks, Lamons was able to secure financing for more equipment and additional trucks through Local Bank. "The whole process was seamless," he says. "We had funds in 24 hours to buy our third truck and our last shipment of containers. Now we have the ability to service more people and cover a much larger reach." His vision for the company is to eventually build a transfer station that would divert recyclable material from the landfill. "It would allow us to have more of a stronghold on the market while being more green and profitable," he says.
Two weeks after Lamons and his wife bought a new home for their family, Plumb stopped by to congratulate them — a gesture that pleasantly surprised Lamons and his wife. "It's incredible to have a bank like that in your community," remarked Lamons. "Local Bank has been instrumental in how successful we've become. I'm super grateful to have such a wonderful local bank that wants to do everything they can to help me and my family grow the business."
---
Learn more about the Visa MDI Accelerate Program.
---
1 https://www.minneapolisfed.org/article/2020/native-employment-during-covid-19-hit-hard-in-april-but-starting-to-rebound
2 https://www.fdic.gov/analysis/household-survey/2021report.pdf