Game changer
How a two-person business became an international success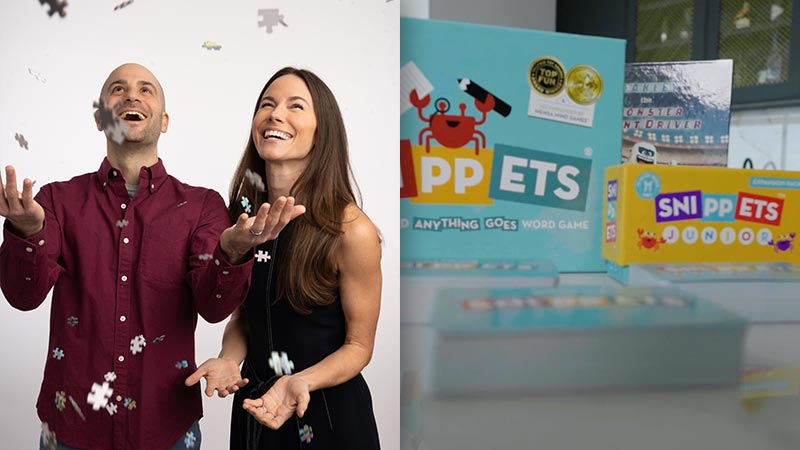 As a kid, Shaun Salzberg and his dad would play a word game on the road.  
"If we saw a word somewhere on a billboard that had an interesting letter combination like 'hyt' in rhythm, we'd give each other the snippet of letters and challenge each other to guess the word," he recalls.  
After creating a digital version of the game, Shaun learned about prototyping, user testing and manufacturing in graduate school. "After I graduated, I thought it would be a fun challenge to see if I could turn it into a physical product," he says. And so began his hobby as a games and puzzle maker. 
Flash forward to his honeymoon. Shaun and his wife Lauren, a financial journalist, were traveling in Australia, a 14-hour time difference from their home in New York (or St. Petersburg, FL where they spend half their time). "People in the U.S. would buy these games on our website, and we'd wake up in the morning and go 'Whoa, we sold a lot while we were sleeping,'" he says. 
So they decided to turn their side hustle into a full-time business, rebranding as Evermade in 2020. 
Expanding into new markets 
A year after rebranding, Lauren, who manages the financial part of the business, challenged herself to think about contributing more to the revenue of the company. "I can't create new games, but I can bring what we have to new markets to help add sales," she says. 
And she's not alone in thinking that way. According to recent survey research by Wakefield and Visa across nine markets, nearly 4 in 5 small business owners (79 percent) cite selling across borders as a focus for their growth and 91 percent of retailers cite cross-border sales as an opportunity. 
The couple decided to start Evermade's international expansion in Canada, and saw great early success.  
"It's the easiest country to expand to because we speak the same language," says Lauren. "It's also good in terms of import and export. The taxes are pretty straightforward and you can file them online."  
Lessons learned 
But Evermade's success in Canada didn't prepare them for what they'd experience next in China.  
"What we learned along the way is that it's very important for us to maintain control over our products and brand," says Lauren.  
In China, the company partnered with an individual distributor who would manufacture the product and pay Evermade the royalties. But despite trademarks and lawyers, they couldn't keep other companies from copying their games and they couldn't, at the same time, compete with local prices. The quality of their product in-market also wasn't up to par compared to what they sold in the U.S. 
"You can't just look at where the opportunities are," says Lauren. "It's also the compliance, safety testing, and tax reporting requirements. Certain countries are easier than others." 
Since leaving the China market, Evermade has expanded into the U.K., Germany, Italy, Spain, France, and Poland, with eyes on Australia next.  
According to the Wakefield study, nearly three-quarters of shoppers (72 percent) are comfortable buying items or services from businesses located in another country, with Gen Z (78 percent) and Millennials (79 percent) leading the charge.  
At the same time, 51 percent intend to shop more at local businesses this year as they look to support the local economy (63 percent) and make a personal connection (44 percent). 
Game changer 
Evermade still sells internationally from their website, which helped determine which markets would do well for them. But expanding their business globally has been a game changer.  
"It has afforded us to have the life we want and the impact we want, and that to me is success," says Lauren.  
And as far as keeping the business to just the two of them?  
"There's something nice about world domination," jokes Lauren, "but I think there's also a lot to be said for flexibility and not biting off more than you can chew." 
---
Learn more about small business tools and resources in the Visa Small Business Hub.