Ask a fintech founder: Eric Glyman, Ramp
On the state of business travel, saving people time and thinking beyond money movement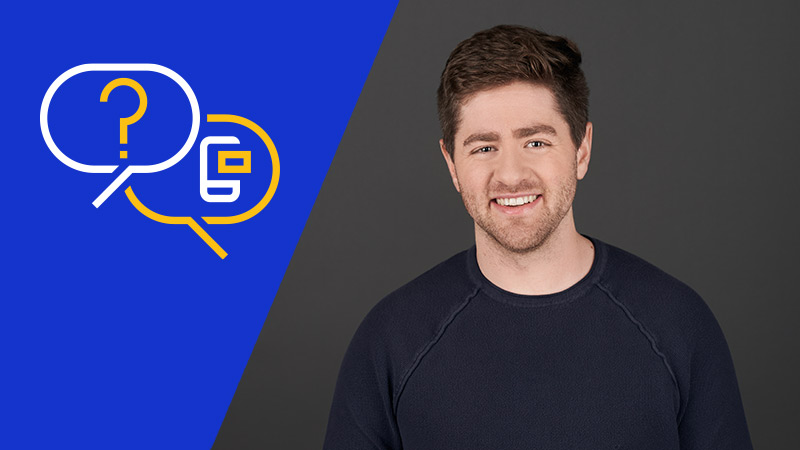 Money is what makes businesses go round. But time is also a crucial factor for success — one that can often be overlooked. Eric Glyman, cofounder and CEO of Ramp, a corporate card and finance automation platform, wants to save businesses more time.
"Most cards think only about money movement. They don't think about: how do you get receipts in? How do you account for transactions correctly? How do you give folks time back in their week?" says Glyman. "It's just a very different feeling. That's a big part of what's made Ramp the top-rated platform in the industry."
Ramp is designed to help businesses manage their time more efficiently with offerings like vendor price intelligence, smart accounting, and zero-touch expenses. These services automate much of the accounting that goes into business expense management.
Glyman and his cofounders, Karim Atiyeh and Gene Lee, have thought a lot about time, as the team goes way back. Enrolled in Atiyeh's computer science class at Harvard, Glyman says the two became fast friends.
"I think it was one of the most impactful classes for me in my life," Glyman said. "And Gene and I actually met in high school."
All three created the price-tracking app Paribus and earned what Glyman says was a life-changing offer from Capital One to buy the company in 2016.
Here three years later, Glyman talks about launching Ramp, the fastest growing company in its market, and what he thinks will make payments a more vibrant industry.
What differentiates Ramp from other corporate cards?
Eric Glyman: First, alignment. Most cards are designed to get customers to spend more. You might see points programs of multipliers in different categories of spend. They are thinking really hard about that. They also don't think about what happens next. How do you close your books and accounting? This leads to a process where businesses generally waste a lot of funds, create misalignment and have very slow, complicated closed processes.
We try to flip it. We think a dollar never spent is 100 times better than getting 1 percent back, and so we show customers when there are better rates available. We get price intelligence so you can actually know when you're buying software and services, know how your rates compare to the rest of the industry, and have consistent advice around it.
What was your aha moment before launching Ramp?
Glyman: Following our success with Paribus, my co-founders and I were looking into turning data into savings. We'd interview credit card customers and ask them: "In this card, were you looking for points? Were you looking for cashback or something different?" And if you really listened, customers would say, "I'm actually looking for more in my bank account. I'm looking to be more profitable," which is a different thing entirely.
We became obsessed with this idea of, what if your card and software was designed, not to get you to earn more points and spend more money, but with helping drive a better outcome for the customer. It's a new way to go to market, better value for customers, and we think over time, an even better business.
How does Ramp impact business travel for employees and their companies?
Glyman: In a big way. For most people, trips have to be booked through a travel booking portal and customers need to do a lot of work to add information. The problem is, most customers don't like booking through travel portals. They like going to the hotels directly. They like using big platforms like Kayak and Booking.com, which often have better rates. And Ramp is really the first platform that gives you insights no matter how you book, whether it's through a travel manager, through Kayak or some other booking platform. As long as you use the Ramp card, we will show you where in the world all of your employees are traveling, and whether it was in or out of policy. Did they take economy or business class, according to what they should or shouldn't do? We automatically aggregate flights, hotels, cabs or rideshares, per diem meals, to give you a simple streamlined view, and it's all done automatically.
How has business travel changed for your market post-pandemic?
Glyman: We have seen substantial growth in travel. In part, I think businesses have become much more hybrid. Not everyone is in a central office and they're traveling not just to meet clients or go to trade shows, but to see their own teams. This is by far the fastest growing part of Ramp.
What is your relationship with Visa and how has Visa helped you grow?
Glyman: I certainly grew up my whole life knowing about Visa as one of the great brands. When I was starting my last company, we competed in the Visa Everywhere Initiative. I got to know the folks at Visa almost a decade ago. When we were starting Ramp, Visa was one of our very first calls. Visa supported us with expert advice and even some startup incentives within months of the company incorporating.
What keeps you up at night as an entrepreneur?
Glyman: Ramp today is a collection of about 600 folks who really care. I remember a day when there were just three of us. I'm always trying to think of, how do we attract some of the world's best, most healthy folks? No one has to work on Ramp or anything in the payments industry. How do we attract extraordinary people? And then once they're here, how do we make it an environment such that people can do the best work of their lives? I think that's the input to everything we do.
What's your idea of success for Ramp?
Glyman: That we make every business in America more profitable, maybe even increase customers' purchasing power and make the economy stronger. Today, we help the average business save 3.5 percent more. We've helped them save over $600 million and eight and a half million hours. I'd love to multiply those figures. Success also is people who are able to do more in a day, and frankly, just go home and see their family sooner. I think all those things matter to me.
What excites you about the future of payments?
Glyman: I think this is an amazing time where great software and money movement are really coming together for the first time. For much of the past 50 years, building software related to payments really only happened in a few companies. Now there are companies that are really deeply thinking about world-class user experiences, saving people time, embedding deeply in workflows. This is all not just to make the process of money movement even better, but the process of running a business more efficient. That's really exciting to me. I think it's part of what's going to make this industry very vibrant and innovative over the next decade.
---
Learn more about accelerating your growth with the Visa Fintech Fast Track Program.