Decoupling consumption from planetary impact
How to make sustainable consumption, travel and living the easy, obvious choice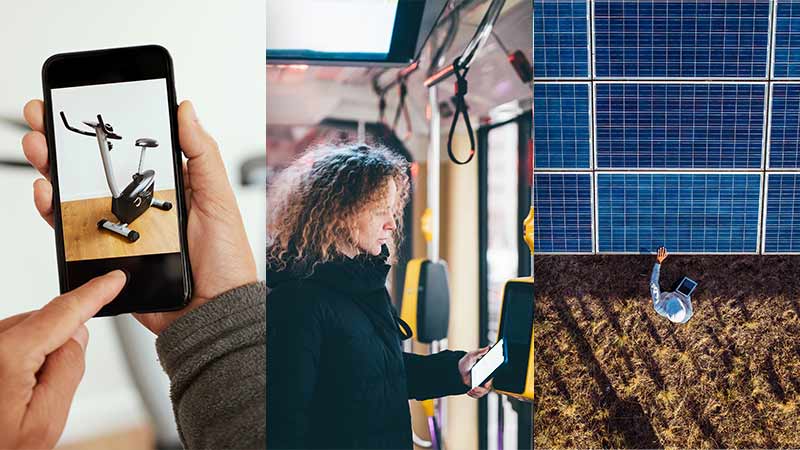 At a societal level, attitudes and behaviors around consumption are shifting in a meaningful way. Consumers are becoming more mindful of the impact of how they spend their money, opting into more circular and regenerative modes of consumption than consumers of the past. A full 43 percent of consumers would stop buying from a company that did something environmentally inappropriate.1
And it's not just consumers. Investors and regulators are increasingly focused on sustainability. According to EY, 78% of investors are conducting environmental, social and governance (ESG) evaluations.2 And 46% of corporate boards see increasing environmental regulation as a critical business risk.3
All of this underscores the growing urgency of our work around sustainability. Here are a few ways that Visa is doing our part to help decouple the economic benefits of consumption from negative planetary impacts.
Powering the circular economy
An alternative to the one-time-use habits of the past, Recommerce is taking off in a number of markets around the world. An abbreviation for "reverse commerce," Recommerce takes a page from nature's cycles, seeing manufacturing and consumption as more of a circle, less of a line. In this way of thinking, a product's life doesn't end with the consumer who originally purchased it. Instead, products and materials are reintroduced into the economy. And in a world where less than 15 percent of textiles are ever really recycled,4 this kind of system can keep a whole lot of products and goods out of the waste stream.
But Recommerce is about more than just buying secondhand. It's a whole set of activities — refill, repair, resell, rent, return and redistribute — that orient consumers to different ways of meeting their material needs. Buyers and sellers are also connecting through customer-to-customer (C2C) marketplaces, sometimes making it possible for neighbors to meet each other's needs.
To help people and companies learn more about Recommerce — and to accelerate the adoption of more regenerative, equitable and circular practices — Visa has created a new digital Recommerce space. As a next step, we're set to develop, together with partners, a behavioral insights lab — a place to study what actually works to turn the tide toward more sustainable consumption.
Powering open loop transit
Today, more than half of the people on earth live in cities. Those same cities consume more than ¾ of the world's energy, and produce more than half of humanity's greenhouse gas emissions.5 And it's here, at the transit level, that cities can take a real step toward reducing greenhouse gas emissions.
The good news is this: a lot of cities and municipalities all over the world are already actively working to bring down their carbon emissions. A key part of doing so is funding transit agencies to make public transit more accessible and modern. The Biden administration, for instance, has taken the lead on a Bipartisan Infrastructure Law, granting $1.66 billion for zero-emissions bus fleets and facilities.6
Visa is doing our part to modernize transit and encourage ridership by making the payments experience a whole lot easier. By shifting from closed-loop systems — the kind that require cash, tickets, or a particular kind of transit card to be topped up at city- or even system-specific machines — to open-loop systems that allow riders to pay with just a tap of the cards or phones they already use every day, we're taking a bit of the friction out of making the sustainable transit choice. Transit agencies of all sizes have reported increased ridership with the adoption of open-loop systems, and this in itself is a net positive: The more people we can get riding public transit, the fewer cars and trucks are on the road, and the lower emissions go.
Making sustainability the easy, obvious choice
Both internally and through our engagement with clients and partners, we remain committed to advancing sustainability. We're proud of reaching 100 percent renewable electricity use and carbon neutral operations, but there's always more work to do. We continue to make great strides toward our goal of being a net zero company by 2040.
Beyond our operational footprint, we believe we can do our part to help lower CO2 emissions and enable a shift toward more sustainable consumer behaviors around the world. We continue to form partnerships and develop new products and services that help consumers and businesses make sustainable choices. For instance, the Visa Eco Benefits Bundle, together with Ecolytiq, is giving issuers the tools to add sustainability-focused solutions to Visa credentials, making it easier for consumers to understand the impact of their purchases and do something about it. And fintechs and financial institutions continue to develop innovative ways to incentivize sustainable behavior, leveraging the Visa network to make an impact at scale.  
---
Learn more about Visa's commitment to sustainability.
---
1 https://www.ey.com/en_gl/consumer-products-retail/future-consumer-index-in-crisis-but-in-control
2 EY Institutional investor Survey, 2021
3 EY Board Risk Survey, 2022
4 https://www.epa.gov/facts-and-figures-about-materials-waste-and-recycling/textiles-material-specific-data
5 https://www.un.org/en/climatechange/climate-solutions/cities-pollution
6 https://www.transit.dot.gov/1800buses