Four ways open loop systems make transit better for everyone
A new survey finds that tap-to-pay benefits go beyond seamless travel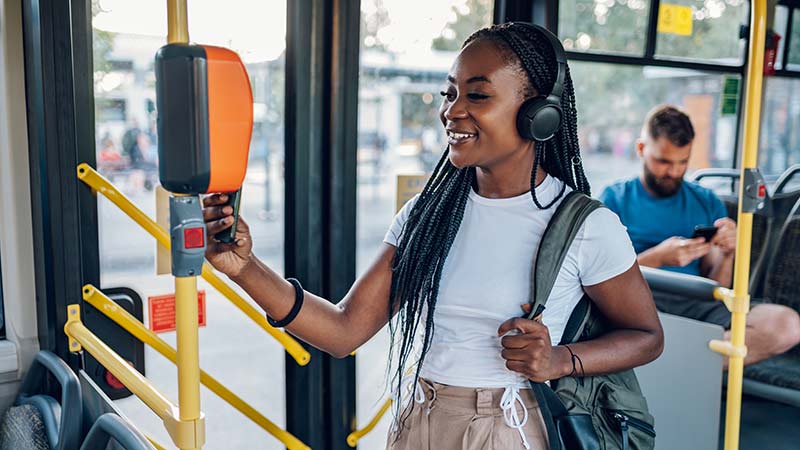 ---
To learn more about open loop payment systems, read the VEEI whitepaper "Reimagining ridership: Open-loop payments and the future of urban mobility."
---
We've all been there.
You're running late, trying to catch the train or bus, and you don't have exact change—or worse, your transit card needs a top-up. You rush to the machine, fumbling with bills and coins, and there's a queue. Your train arrives, and then departs, without you on board. Now you're really late.
But the problem isn't you, it's closed loop transit payment systems.
Before boarding, closed loop systems require riders to reload a transit card or purchase a ticket, sometimes requiring different payment methods for more than one system — say, if you take a commuter rail or ferry into the city and then ride the local bus system. And if that card or ticket is lost? In many cases, so is its value, which can be particularly burdensome for low-income riders.
Open loop payments systems, on the other hand, rely on universal payment technology, offering a more sustainable, inclusive and rider-friendly solution.
With open-loop payment systems, riders use the same card or mobile wallet they use for everyday purchases to tap and ride — from bus to bike, train to ferry, scooter and beyond. And from New York to Tokyo to Bangkok, cities all over the world are catching on.
A recent survey1 by ThoughtLab, a global research firm, and The Visa Economic Empowerment Institute (VEEI) found that global transit systems offering contactless, open-loop payments provide great benefits to riders, transit agencies, cities and ultimately the planet. In conversations with 3,000 transit riders, the survey found widespread disappointment with transit, with most citing cost, quality and reliability concerns. Transit riders also said they prefer contactless, open-loop payments and want their city to invest in more planet-friendly public transit.
Here are just a few ways open loop systems make transit better for everyone:
1. Convenience and speed
For riders, open-loop systems and contactless payments help provide a faster, safer and more hygienic payment experience. More than half (57 percent) of survey respondents cited speed and efficiency as top benefits. Not having to carry cash (49 percent) and improving safety and hygiene (46 percent) followed. Using their own card or phone, contact-free, also alleviates concerns about fraud and potential theft. Open-loop payments simplified urban travel for riders while saving them time having to load money on cards or carry tickets or tokens. And as riders became more familiar with the open loop system, ridership continued to grow.
2. Accessibility
Open loop systems promote more inclusive public transit by offering a more user-friendly experience and enabling transit agencies to introduce fare-capping — a kind of ceiling on the amount a passenger pays in a day, week or month regardless of the number of trips. Fare-capping and other incentive schemes can help increase affordability without sacrificing ease of use. More than half of the transit agencies surveyed continue to accept cash, offer discounts to low-income riders and provide the ability to reload prepaid cards with cash. Forty-three percent allow the use of mobile money apps that do not require a bank account or credit card. When asked about the most effective solutions for meeting the needs of the unbanked, more than 60 percent cited allowing the use of prepaid cards, offering fare discounts and educating the unbanked on the benefits of open-loop payments.
3. A better ride
By using contactless, open-loop payments, cities can improve the overall quality of their urban mobility ecosystems. Eight out of 10 transit agencies surveyed have seen a climb in ridership following the adoption of open-loop payment systems. In addition to increasing passenger speed through gates, Transport for London (TfL), one of the first public transit agencies to implement an open-loop system, has experienced a sharp decline in fare collection costs since implementing contactless payments. Open-loop systems also provide agencies with data about transit usage and trends, helping them improve or create new services to meet rider demand. Nearly 70 percent of agencies cite improved access to data for system planning as an open-loop benefit.
4. Sustainability
Cities are home to more than half the world's population and consume 78 percent of the world's energy, producing more than 60 percent of its greenhouse gas emissions.2 Road transportation is the biggest culprit — and changes here represent a huge opportunity to make cities more sustainable. Cities and countries around the world are taking steps to reduce carbon emissions, including providing funds to transit agencies to modernize their systems. For instance, the Biden administration's Bipartisan Infrastructure Law grants $1.66 billion for agencies to invest in zero-emissions bus fleets.3 Well over half of transit system respondents say they plan to promote a shift from personal vehicles to public transit and invest in low carbon transit options within the next five years.
Transit agencies of all sizes reported increased ridership following the introduction of open-loop payment systems. Overall, the benefits of implementing contactless, open-loop payment systems offer ease of use and inclusivity, increase cost savings and operational benefits, and may even help reduce carbon emissions as more riders prefer to ride than drive.
---
To learn more about open loop payment systems, read the VEEI whitepaper "Reimagining ridership: Open-loop payments and the future of urban mobility."
---
1 Survey results captured in the VEEI whitepaper, "Reimagining ridership: Open-loop payments and the future of urban mobility."
2 https://www.un.org/en/climatechange/climate-solutions/cities-pollution
3https://www.transit.dot.gov/1800buses