Putting our money to work in local communities
How MDI deposits drive inclusive economic growth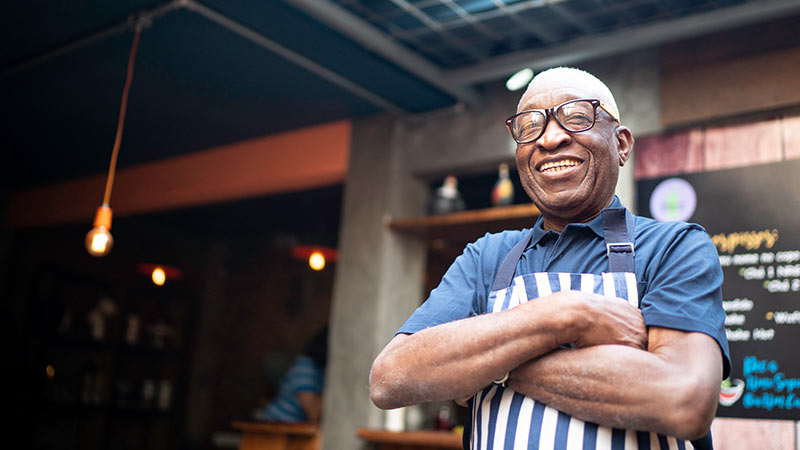 Most people know that, when you put your money in a bank, it doesn't just sit in the vault under guard. It goes on the bank's balance sheet and ultimately into the community as loans. The bank may invest your money in lines of credit for promising businesses, in loans for homes and cars and commercial properties, in community projects like housing and more.
Today, there are 1.4 billion people outside this formal system — what we call the global financial mainstream. Many tend to picture these individuals living in emerging markets. But some of them are right here in Atlanta, a stone's throw from the Visa office. They're in New York and San Francisco, Topeka and Tampa, in each of our communities nationwide. In fact, 24.6 million U.S. households are unbanked or underbanked according to the FDIC.
Historically, Minority Depository Institutions (MDIs) have played a unique role in banking the underbanked around the U.S. They are long-trusted providers of financial services in communities of color and run the gamut from some of the oldest minority-owned banks and credit unions in the country to digital-first institutions working to build generational wealth.
According to the FDIC, MDIs give a significantly larger proportion of their loans for things like mortgages and small businesses to minority borrowers than other banks and financial institutions do. And that's part of why in February 2022 we decided to put some of our treasury funds to work with the introduction of Visa MDI Accelerate, a program through which we committed to make $100 Million in deposits in MDIs: to put our money to work where it can make meaningful impact. I am proud to share that we have directed $100M in deposits as of February 2023. Over time, our $100 Million in deposits will help enable up to $1 Billion in lending for Black, Hispanic, Asian and Native American borrowers.
In addition to supporting economic growth for these communities, Visa MDI Accelerate is helping MDIs better analyze and dissect their data to provide more comprehensive insights. This helps inform their customer offerings, better ensuring small businesses and families benefit from the digital economy. Through partnerships with the Alliance for Innovative Regulation, the National Bankers Association and Inclusiv, we are working to enhance digital banking capabilities for MDIs.
This program is not a symbolic gesture. Making deposits in MDIs helps these financial institutions build their balance sheets, which can make them better equipped to extend loans and lines of credit to the communities they serve. By illuminating the economic health of their communities through data and insights, and arming individuals with digital tools, MDIs are able to increase lending. And increased lending means more small businesses and homeowners, which means more community wealth, which means more deposits and more loans and the virtuous circle of inclusive growth continues.
We're already seeing how these deposits impact real borrowers. As part of Visa MDI Accelerate, OneUnited has leveraged Visa's deposit to support affordable housing with nearly 80% of its dollars lent to borrowers belonging to communities that are low to moderate income.
"At OneUnited Bank, we strive to provide everyone with the opportunity to not only achieve the basic foundation for financial security, but to build their net worth in ways that create generational wealth" said Kevin Cohee, Chairman and CEO of OneUnited Bank. "Through our partnership with Visa and MDI Accelerate, we are proud to support our customers in their journeys to build and maintain strong financial futures."
As a company, Visa is bringing together finance, treasury, community accounts, economic insights and many more teams to make this program a reality and demonstrate our purpose: to uplift communities by being the best way to pay and be paid. Together, we can leverage our strengths and resources to make a lasting mark on the wider world.  
---
Want to learn more? Visit the Visa MDI Accelerate page.