Many streams form a river
Three ways Visa is working toward a more sustainable future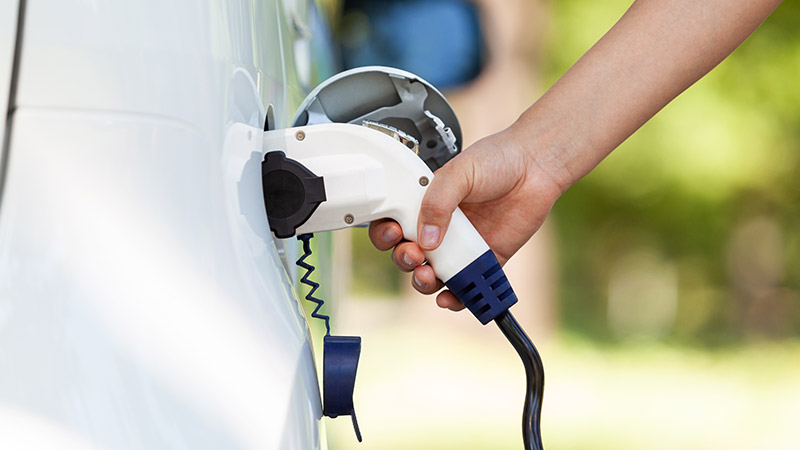 At Visa, we're proud of the steps we've taken toward building a more sustainable planet and more sustainable commerce. As an organization, we've already reached our goal of carbon neutral operations. In the coming years, we are striving to achieve net zero emissions, including in our value chain, by 2040, while aspiring to be a climate positive company — one that is using our broader resources to help consumers, merchants, and financial institutions understand and reduce their footprints and shift to more sustainable behaviors.
With each year that passes, each climate conference completed, and each new environmental report published, Sustainability is becoming more and more of a priority for regulators, investors, and consumers. Many streams have formed a river and the time to act is now. As we work to execute on our vision for sustainability at scale, here are a few key areas of focus.
Mobility
Everyday mobility and transportation is a notable driver of greenhouse gas emissions. At Visa, we continue to prioritize efforts in urban mobility both in the broader society as well as inside our own operations.
In urban mobility, our efforts have focused on making cities more livable — and sustainable — by removing friction from the experience of using public transportation in communities around the world. One Visa study found that global public transit ridership could increase by more than a quarter if trips were easier to pay for. Contactless systems are making paying for transit both easier and faster, which is why Visa has partnered with more than 500 transit agencies around the world, bringing fast, easy digital payments to buses, trains, and other modes of transit -— for local commuters and tourists alike. Most recently, we've brought contactless payments to the transit systems in Monterey Salinas Transit (MST), Sacramento Regional Transit (SacRT),  Portugal's Metro de Porto, and lines in Japan and Thailand. We are also encouraged to see the success New York is having with their fare-capping pilot, incentivizing riders to take public transportation by offering a weekly pass after tapping to pay for twelve rides in a week.
Visa also recognizes the transition from internal combustion engine to zero emissions vehicles (including electric vehicles (EV) that is already underway and set to accelerate as governments and auto manufacturers take action. Here again, we are working to use our role as a digital payments enabler to support this transition. Visa is working closely with stakeholders in both the public and private sectors to broaden EV charging digital payment options and make the payment experience more seamless. In Europe, we recently launched a consultation with EV charging point manufacturers and other industry leaders to identify barriers and solutions to the widespread acceptance of interoperable contactless and digital payments. Visa is also the first representative from the financial services and payments community to join the Charging Interface Initiative (CharIN) — an association working to promote global standards around EV charging toward the end of widespread adoption.
Our efforts in mobility and EVs also include our own operational footprint. As many Visa employees return to the office for the first time in more than two years, efforts in support of sustainable urban mobility have taken on renewed significance. We offer employees shuttle services to and from Visa's Bay Area offices as well as commuter subsidy benefits. We also offer EV charging stations to our employees at a number of Visa offices.
Travel & Tourism
Visa has long-believed that travel and tourism can be forces for good — important drivers of economic opportunity and jobs as well as cultural awareness and appreciation. With the travel and tourism sector's notable environmental footprint, Visa is supporting initiatives to help make travel and tourism more sustainable.
We're proud to have joined with Booking.com, Skyscanner, Trip.com Group and Tripadvisor as founding partners of the Travalyst sustainable travel coalition, a partnership working to help travelers make better choices for themselves and the planet, and supporting travel and tourism suppliers to be positioned to make these choices. Recently, Travalyst welcomed Google and Expedia Group as new coalition partners, and announced standardized ways to calculate carbon emissions for air travel.
Visa's efforts in sustainable travel also apply to our own business travel footprint. In 2021, Visa signed onto the Clean Skies for Tomorrow ambition statement, focused on advancing the availability of sustainable aviation fuel (SAF) in the travel sector. Putting our words into action, we proudly joined the United Airlines Eco Skies Alliance, a group of organizations focused on accelerating sustainable aviation, and agreed to fund the "green premium" for sustainable aviation fuel in an amount equivalent to that of our employee travel in and out of San Francisco International Airport (SFO) — the hub airport for our headquarters.
Everyday sustainability
Outside mobility and travel/tourism, an area where we stand to make significant progress in terms of positive environmental impact is in embedding sustainable choices into everyday actions. For a digital payments network like Visa, this means helping consumers and businesses gain greater awareness of the environmental impacts of their spending and understand and gain access to more sustainable choices and behaviors.
Last November, Visa launched the Visa Eco Benefits Bundle, a package of benefits designed to enable and encourage sustainable consumption behaviors on the part of cardholders. From a carbon footprint calculator powered by ecolytiq and designed to help consumers better understand the climate impact of their personal spending, to personalized education for consumers, to expanded rewards programs for sustainable spending behaviors, Visa is taking concrete action to work for sustainability at scale.
We're excited to see the emerging momentum in embedding sustainability features into payment offerings for consumers and businesses alike. Etihad Airways, First Abu Dhabi Bank and Visa recently announced the world's first Visa co-branded sustainable credit card proposition to reward sustainable choices. Future launched the Visa FutureCard – the first rewards card that offers 5% cashback on green spending, from shopping for low carbon foods or used fashion items, to taking public transit or charging an EV. Just this month, CarbonPay, a participant in Visa's Fintech Fast Track Program, launched a prepaid card for businesses in the U.S. and the U.K. that automatically offsets 1kg of CO2 emissions for every $1.50/£1 spent. These are just a few of the ways we're working with partners to embed sustainability into payment accounts and help inspire and enable green everyday behaviors.
Looking to the future
As we move toward a climate positive future for Visa, we'll continue working to make sustainable choices easier, and we'll continue to invest in and partner with organizations working to move the needle for the planet in new and innovative ways. Because in the push for sustainability, there is always more to do.