At Dunkin' tapping to pay is the safe and sweet alternative
CFO Kate Jaspon explains how contactless helps her company cope with COVID-19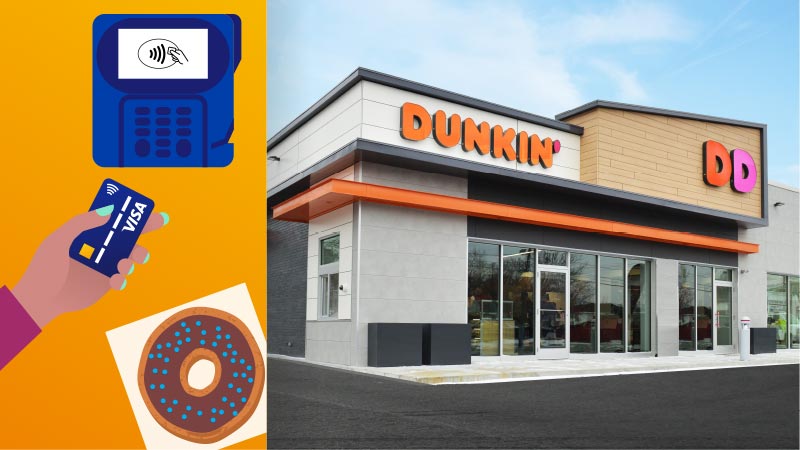 Retailers and restaurants are increasingly offering contactless payments as a safer alternative to cash in the new-normal of COVID-19 while improving the overall customer experience. Tapping to pay in the U.S. has increased 150% year over year from March of last year. More U.S. consumers continue to receive new contactless cards, with more than 80 million Visa contactless cards added in the first six months of 2020 and 300 million expected in market by the end of the year. It's clear: workers and consumers alike want to minimize personal contact as much as possible.
Dunkin' Brands Chief Financial Officer Kate Jaspon is hyper-focused on keeping America running during these challenging times, especially those on the frontlines who are keeping our communities safe. The majority of Dunkin' restaurants have remained open during the pandemic and their guests have turned to the brand as a place of much-craved normalcy.
Long before COVID-19, Dunkin' has been at the forefront of enabling tap to pay for their customers. Over the last year, the percentage of Dunkin's in-store Visa transactions that occur with a tap of a card or mobile wallet has grown over 120% (June 2019 – June 2020). Now, in response to the current environment, Dunkin' has seen continued increase in contactless payments during the COVID-19 pandemic as more guests are making this their preferred payment method to stay safe. We caught up with Kate recently to talk more about the implementation of tap to pay, how Dunkin' is adapting to COVID-19 as well as embracing new kinds of digital experiences. 
Let's get the most important question out of the way first. What's your favorite Dunkin' beverage and/or food?
Well, I've been hooked on the frozen Matcha Latte since they launched earlier this year, and my go-to food combo is our new Bacon & Cheese Rollups with a side of hash browns.
We are fans of your hazelnut coffee and find your Boston Kreme donuts most delectable. But we digress. Restaurants are rethinking the way they engage with customers these days. How has your customer experience evolved?
Even before the pandemic hit, we were committed to safe and convenient customer experiences. Using the Dunkin' app, guests are able to quickly and easily place their order ahead of time — and even pay in the app — so that it is ready when they arrive. We also offer the convenience of drive-thru or curbside pickup.
Has tap to pay played a role?
Absolutely. These days being able to tap with your card is yet another way to minimize contact. Contactless payments have helped us deliver the same high-quality speed and convenience our customers have come to expect. Just tap to pay and get on with your day.
What are some best practices that have been implemented at checkout to enhance customer awareness of tap to pay?
We have implemented several measures to keep our customers and employees safe during the pandemic — removing seating and tables, increasing frequency of handwashing and cleaning procedures, disinfecting high-traffic areas and high-use surfaces. We are also getting the word out about contactless, displaying signage prominently at checkout so guests know immediately they have the option. We have trained employees on how tapping to pay works and how they can help guests use it. Emphasizing the contactless symbol in our customer-facing materials and on the checkout terminal has helped our guests recognize that they can tap to pay with a contactless card or phone.
You implemented tap to pay in 2016. Has it helped business?
Over these last four years, we have seen consistent growth in contactless payments in-store through increased mobile wallet usage and contactless cards. Our order-ahead functionality through the Dunkin' app has also played a significant role in enabling convenience and ease. Each of these payment options has greatly improved the speed of service in our stores and has offered our guests a safe, no touch experience. Our goal is to continue to keep ahead of technology to serve customers in the best way possible. Working with Visa on convenient and safe digital payments is a huge part of that!
Are there any updates you would like to share, such as any new confections or beverages you can tell us about?
We are constantly innovating to offer exciting new products that our guests will love. For example, we just launched two Dunkin' Refreshers, Strawberry Dragonfruit flavored and Peach Passion Fruit flavored, for the perfect refreshing summer sip. Some other recent product innovations include our Beyond Sausage® Sandwich, Matcha Lattes, Sweet Black Pepper Snackin' Bacon, a Pink Velvet Macchiato for Valentine's Day, and more.
_________
Visa is committed to helping our merchant partners and communities during this challenging time. Resources such as signage and collateral are available at no cost for merchants who are interested in raising awareness on tap to pay and include best practice guides and educational resources for staff. In addition Visa is committed to helping to digitally enable 50 million small businesses to power the global recovery and offers a destination for tools, guides and other offerings for entrepreneurs in the Small Business Hub.