30 years of AI and counting
For the first AI-powered payments network, generative AI marks a new era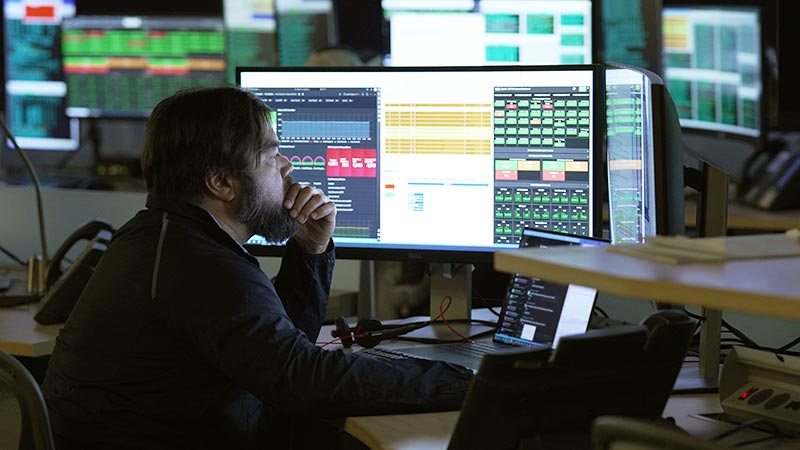 On any given day, Visa processes hundreds of millions of transactions.
Whether you're buying coffee, shopping online, or paying for the subway, our system processes that payment information, routing it among parties, authorizing transactions and managing risk all in the blink of an eye.
Every second, up to 76,000 transactions travel across more than 200 countries and territories, on a platform built on more than 300 million lines of custom code and more than 24 million route miles of private network. In the last 12 months, that platform processed $14.5 trillion in total payments volume.
An integral part of this operation, for more than 30 years, has been artificial intelligence.
From 1993 to now: AI to fight fraud and improve payments
Back in 1993, Visa became the first network to deploy AI-based technology for risk and fraud management, pioneering the use of AI models in payments.
Over the last 10 years, Visa has spent more than $3 billion on AI and data infrastructure to enable the safer, smarter movement of money and to proactively identify and prevent fraud.
And today, our technology platform is among the most powerful examples of the tangible benefits of AI.
With several hundred AI models in production, powering over 100 products, our AI and deep learning capabilities help to solve longstanding challenges and pain points for buyers, sellers, and financial institutions.
For instance, products like Visa's Cybersource Decision Manager, a fraud and risk assessment tool, apply advanced machine learning to historical transaction data to spot patterns. At our Risk Operation Centers, AI-enabled capabilities and always-on experts protect Visa's ecosystem, proactively detecting and preventing billions of dollars in attempted fraud. And Visa's real-time deep learning model, Smarter Stand-In Processing (STIP), helps improve payment experiences during outages by mirroring issuer approvals with up to 95% accuracy. And in 2022 alone, Visa's real-time payment fraud monitoring solution, Visa Advanced Authorization (VAA), helped prevent an estimated $27 billion in fraud.
Today's data, computational power and sophisticated Large Language Models (LLMs) put us on the cusp of a new era of AI. Generative AI has the potential to transform how we work, how we develop and build new products and services, and how we serve our clients. I personally believe it will be one of the most transformative technologies of our time, and I am incredibly energized about what it means for the next 30 years of payments innovation.
A new era: generative AI for content, code, and better serving clients
From the beginning, we have had cross-functional teams reviewing how to best deploy generative AI to improve engineering efficiency, to increase employee productivity, to develop new products and services, and, most importantly, to better serve our clients. My goal is to have 100% of Visa employees working with generative AI in some capacity by the end of the year.
To improve engineering efficiency, we are exploring and conducting large scale pilots of generative AI capabilities for day-to-day coding and testing of our software. This will allow our developers to benefit from sophisticated AI pair programming techniques at scale.
To increase employee productivity, we have recently deployed a secure instance of GPT-4 to employees, subject to responsible AI usage guardrails. Among its many benefits, ChatGPT can help with content summarization, research, and analysis, enabling all of us to focus more of our time on strategic, high value activities that drive growth for our business and for our clients.
To develop new products and services, we have doubled down on our use of AI with several thousand colleagues working on our new data and AI platforms, helping us to enable even more sophisticated models in our product offerings.
And perhaps the most exciting application of generative AI will be around innovating for our clients and the payments ecosystem at large. We're already working on multiple fronts, collaborating to enhance and improve​commerce with generative AI across the consumer shopping journey.
Trust remains at the core
Underpinning all of this work is a commitment to the highest standards of data governance and responsible use of AI.
Establishing consumer trust around AI, emerging technology, and data is vital. For three decades, Visa has been committed to sustainable innovation by creating a governance structure that prioritizes the responsible stewardship of data — a core foundation for responsible AI. Across all areas of innovation, Visa works to ensure that any deployment or use of data is responsible, secure, compliant, and reliable — it is part of our fabric as a company and what our world-class reputation and brand is built on.
Trust remains at the core of everything we do — and maintaining that trust is a responsibility that we don't take lightly. We are energized for the work ahead and the central role Visa and our partners can play in innovating the future of money.​
---
Learn more about how Visa uses AI in payments at VisaNet+AI.