What I wish I knew: Chef Michael Mina
On bucking tradition, befriending your guests and building a restaurant empire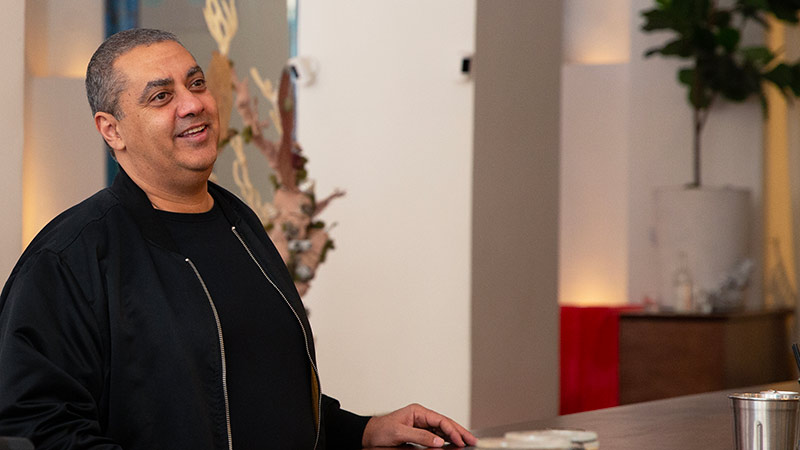 He's earned two James Beard Awards, a Michelin Star and has had the honor of cooking for three U.S. presidents (Bill Clinton, George W. Bush, and Barack Obama), but when you ask Chef Michael Mina what the highlight of his career as a restaurant entrepreneur has been?
"Number one highlight had to be the first time that my parents came to Aqua," he said.
Aqua, an upscale seafood restaurant in San Francisco, put Chef Mina on the culinary map in the early '90s and earned him Rising Star Chef of the Year (1997) and Best Chef: California (2002) by the James Beard Foundation. 
"I grew up in a Middle Eastern household. I'm Egyptian. When I told my dad I wanted to skip college and go to culinary school, it wasn't received well," recalls Mina. "You get three choices: you get to be a doctor, a lawyer, or an engineer. Chef was not one of them. The first time that my parents came and saw what I created with Aqua, it was probably the best moment."
Here, Chef Mina — now founder of more than 25 restaurants around the world — shares his secret sauce for creating a successful restaurant and a few things he wishes he knew at the start of his illustrious career.
---
My story is like a lot of chefs'. 
When I was 15, I started as a dishwasher at a small cafe in my hometown of Ellensburg, Washington. The owner started to teach me how to cook. I would lie in my bed thinking about it, just completely obsessed. I would go in four hours early every day to learn how to cook. Within three months, I was cooking full-time at the restaurant. At the age of 15, I knew that this was what I was going to do for the rest of my life. But of course, I didn't know everything at the start. Here are a few things I've learned along the way.  
Build relationships for the long-term.
To me, the restaurant is home. People come in the door, and you want them to feel comfortable. You want them to have a great time. When we started Aqua, there was a different level of formality in the industry than maybe there is today. Four-star restaurants in general were very quiet. I used to call them whisper joints. 
Instead, I would tell my staff, "Engage, befriend your guests, and build long-term relationships. I want you to have a list of people who call you when they want a reservation." Some people would ask, "Aren't you worried that your employees are becoming too friendly?" I was like, "I have never gotten a complaint letter that said the employees were too friendly. I've gotten some of the other ones, but I've never gotten that one." And I'd say that's worked out pretty well for us.
Find balance.
My philosophy around food is the same as my philosophy around business. It's all about balance. I love bold flavors. I'm talking about acidity, sweetness, spice, fat, and richness. It's all about how you balance the right amount of acid to the right amount of fat, the right amount of sweetness to the right amount of spice. I think that you have to learn how to find that balance in every facet of the business. I truly believe the only way you can find great balance at work is nurturing your employees to get to the next level and building a great culture, surrounded by people you love to work with. 
Know the business.
I have seen it so many times where you're like, "This restaurant's amazing." It has everything: the right service, the right food, the right everything. Then the restaurant's gone, because they didn't understand the business side of it. It's really important that you do that from day one. I wish that I would have spent more time early on learning the business side of things. It would have saved me some of those early business mistakes. There's a thing that we all use, called a Critical Path, and it includes everything you have to do before you open a restaurant. You actually have to know all those lines, like 244 line items, or have somebody that you can totally trust who understands them. You can do everything right, but if you have one thing that's missing from your list, you'll be out of business within five years.
Put down the tools.
When you're the chef, everybody comes to you for everything. All of a sudden, you're the plumber, you're the electrician, and you're not just focused on the food and your guests' experience. Early on, you put a lot on yourself, and what ends up happening is that stress reflects on everybody. I wish I knew from the beginning that you don't have to do everything. You have amazing people around you who can help so you can focus on what you're good at, which is making amazing food and running a great restaurant.
Savor the wins.
When I look back on my journey and think about all of the magical things that I've been able to do, whether it's cooking for a president, or being involved in great foundations, or whatever it is, I never actually enjoyed those moments as much in the moment because I was always cooking. I look back at those moments and think, "I wish I wasn't so stressed out about the meal all the time." 
---
Find more resources for your business at Visa's Small Business Hub.