Ask a fintech founder: Clare Kinsey and David Anderson of Karta
On partnerships, disrupting an industry, and navigating the highs and lows of entrepreneurship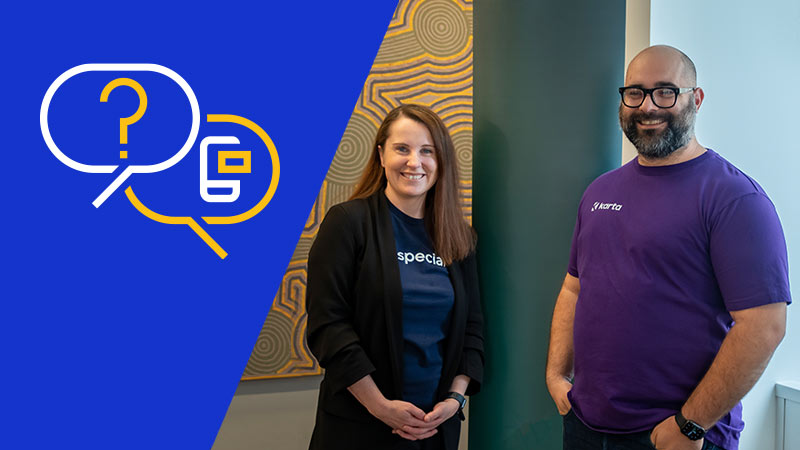 The perfect business partner is someone who doesn't mirror your skills and experience but complements them. When Clare Kinsey and David Anderson of Australia-based Karta set out to disrupt the gift card industry, they found that they truly valued their differences.
"Dave is the visionary ideas guy and I know how to bring those ideas to life," says Kinsey, co-founder and COO of Karta, a simple and scalable platform that helps retailers issue branded digital gift cards in minutes. What Kinsey brings to the table is 20 years of corporate experience, specifically in payments, while Anderson, co-founder and CEO, has been a life-long entrepreneur. "I've just never had aspirations to have a job," Anderson jokes. "I don't live in America, but the concept of the American dream, for whatever reason, is my mantra. You want something? You just work out how to get it," he says.
"I think the best way to describe me during my time in corporate was as more of an intrapreneur," says Kinsey, "I always had that curiosity and hunger and drive and lots of ideas about how we could always do better."
Here, we chat with Kinsey and Anderson about their learnings launching a fintech startup, the importance of partnerships, and their industry predictions for 2023 and beyond.
What is Karta's elevator pitch?
Anderson: Our plan is to be the biggest gift card network in the world by enabling gift cards for every retailer everywhere.
What motivated you to start Karta?
Anderson: I've spent time in the gift card industry and it was just mind boggling to think that in a world where everything is digital, direct to consumer and vertically integrated, this industry still operated on so many intermediaries. We saw a big opportunity to collapse the supply chain of the gift card industry and create a one-stop shop.
Kinsey: Globally, it's roughly $1 trillion US in terms of the size of spend, yet in the United States, less than three percent of retailers are actually in the business of gift cards. Many of them are priced out, whether it be from a resource, time or cost perspective. We wanted to create a business that removes that friction.
What type of retailers are you serving?
Kinsey: We cater to all retailers independent of their size. Gift cards are a way to grow their business because statistics show that four out of 10 customers are new to a business upon receiving a gift card for every business that offers gift cards. And when customers do use their cards in store, they spend on average 48 percent more than the value of the gift card. Businesses can truly see the benefit of growing new customers and deepening their engagement with existing customers.
What does the holiday season look like for a fintech focused on gift cards?
Kinsey: Not much of a holiday! [laughs] Most businesses like ours, regardless of their size and stage of life cycle, would be working around the clock trying to capitalize on the festive holiday. Gift cards are a great last-minute gift and we offer a digital-first solution so it doesn't rely on traditional postage. We'll be working right up to the very end of the year, more likely taking a well-deserved break in January.
What's one thing you wish you knew when you started?
Anderson: Everything is slower than you think it will be. You're always so optimistic and want to move as fast as you can. But you need to work out how to balance not doing too many things to make up for that lack of action. It can spiral out of control if you've got too many plates in the air.
Kinsey: From a trade perspective, the biggest thing entrepreneurs need is open mindedness and to be able to shift to keep validating product market fit. Also, you need to have resilience to navigate through much more pronounced highs and lows of what I call the roller coaster of entrepreneurship.
How do partnerships with companies like Visa impact how you reach longer term goals?
Kinsey: I think both parties, in this instance Visa, can see the accretive value each can bring to the partnership. We're in the business of bringing innovative tech that allows everyone to benefit from growing the industry. Visa brings that credibility for global brand scheme, wide governance, all of the benefits of a large corporation that we may not have access to from a resource perspective. It's a marriage made in heaven, particularly as we're looking to build out that industry and disrupt it in new ways.
What does success look like to you?
Anderson: In order to become the biggest gift card network, we've gotta do two things: give merchants tools they never had access to before and improve the consumer experience, which is horrible. There's no form of ubiquity. You don't know if you're using a QR code or swiping a card or using a piece of paper that you hope that the retailer still accepts, or you haven't lost. Our goal is to create that ubiquitous experience, exactly like Visa has done for payments. When we do that and Karta is a household brand for gift cards, that's when we've won.
What keeps you up at night?
Anderson: Clare's behavior.
Kinsey: Dave's attempts at humor.
[laughter]
Kinsey: I mean, there's always the unknown. You can set out with such conviction. But that adaptability and open mindedness that I referenced earlier, it's just a must-have in this job. Like who would have anticipated four years ago that COVID would be coming? Who would have anticipated, as a result, the byproduct that a lot of businesses are facing right now? If you don't have that open mindset and adaptability, I think you're dead in the water from the beginning, to be honest. It's just one of those things, that you wish in a way you could have a more linear path. But the irony is we didn't sign up for that. Instead it is very similar to that roller coaster. It's a lot more extreme. But hey, the crazy misfits that we are tend to love it.
It's prediction season. What do you expect to see evolve in payments and for your company?
Anderson: You can see from COVID and the MTA in New York that when consumers' hands are forced, they'll move to contactless and tokenization. I think there's gonna be a proliferation of digital wallets, which are going to augment contactless and tokenization and make them even stronger.
Kinsey: I'm excited to see the value our company can really drive for businesses, particularly in that mid and small space, evolve. As much as we love partnering with our institutional friends like Visa, we do hold a passion for actually helping businesses, particularly those that recently have gone through quite a few challenging years. We do believe that gift cards can actually be a great enabler for these businesses.
---
Learn more about accelerating your growth with the Visa Fintech Fast Track Program.