Free gift inside!
How understanding the language of fraud can help you spot scams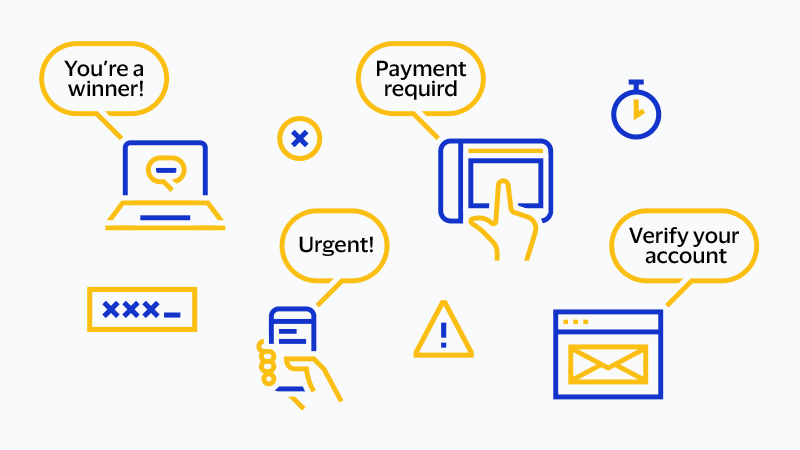 The busiest shopping season of the year is naturally a busy time for cyber criminals. Especially around Black Friday and Cyber Monday, sophisticated attacks target even the savviest digital consumers. And some consumers — maybe even you — think they're better at spotting scams than they actually are.
According to Visa's Fraudulese: The Language of Scams report, nearly half of surveyed consumers around the globe are confident they can recognize a scam, yet 73 percent are still likely to fall for one. These most often include phishing scams that pose as well-known sources like your bank or favorite shop promising gifts or protections via email or text.
In fact, nearly 2 in 5 respondents said they would respond to a fraudulent message that offers some kind of financial opportunity, meaning the right words can hurt your wallet, too. In 2021, the FBI's Internet Crime Complaint Center reported a record number of complaints, with potential losses exceeding $6.9 billion, up from $4.1 billion in 2020.1
Recognizing common words, phrases, and communication strategies that scammers use can help you spot the signs more easily and stay safe from fraud when shopping online. Positive phrases, for example, like "free gift or gift card," "exclusive deal," "you have been selected," "now available," "giveaway," and "you are a winner," are most enticing and prompt many consumers to respond.
Most survey respondents (90%) were also concerned that their friends or family members may fall for a potential scam. To keep you and your loved ones safe from scammers, get familiar with these tips for fluency in fraudulese:
1. Beware of bad spelling and other red flags.
To determine authenticity, more than 4 in 5 surveyed consumers (81%) rely on features scammers can easily fake, including the company's name or logo. To keep yourself safe, it's important to look closer. Check for things that are more difficult to fake, like your account number or details about your interactions with the company, and make sure communication is sent from a valid email address domain. Spelling mistakes are also a telltale sign of fraud, and fewer than half (47%) of consumers check spelling. The more items you verify, the better your chances of avoiding a fraudulent attack.
2. Keep personal information personal.
The tactics of cybercrime are becoming increasingly sophisticated. Using company logos and branding, scam emails can be quite convincing for even the most tech savvy. Be wary of emails asking you to verify your account information or demanding payment for, say, an overdrawn bank account or past due electric bill. Never share personal account or login information via email or text. Instead, call the number on the company's official corporate website or the back of your credit or debit card if you are unsure if a communication is valid. Don't rely on the phone number provided in the email—which can be fake.
3. You're a winner!
Let's be clear: nobody wants to give you bitcoin. Phrases that express a sense of urgency such as "Act Now!" or promise freebies, discounts, job opportunities or offers to "protect" your account logins and other personal information should raise immediate concerns. "Urgent" emails about a stolen password or data breach are the second most common type of communication people are likely to act on — and 22 percent of survey respondents said words like "urgent" typically prompt them to take the requested action. As enticing as it may be to win a gift card or product or be gifted cryptocurrency, pause before you act. Look for the red flags above and verify claims directly with the company. And if it seems too good to be true, it probably is.
4. Turn on purchase alerts.
Keep track of your purchases (and possible fraudulent purchases made using your credit card) with shopping alerts from your card issuer. Alerts provide near real-time notification by text message or email so you can be sure your purchases are your purchases and spot fraud early if and when they aren't.
All in all: verify, verify, verify. Check the authenticity of unsolicited email or texts with a customer service call if you're concerned it may be fraudulent. And remember: If it seems too good to be true, it probably is.
If something does happen, know that Visa cardholders are protected by Visa's Zero Liability Policy,2 which guarantees that you won't be held responsible for unauthorized charges processed by Visa.
---
Learn more about the words scammers choose to use in Fraudulese: The Language of Scams report.
---
1https://www.ic3.gov/Media/PDF/AnnualReport/2021_IC3ElderFraudReport.pdf
2Visa's Zero Liability Policy does not apply to certain commercial card and anonymous prepaid card transactions or transactions not processed by Visa. Cardholders must use care in protecting their card and notify their issuing financial institution immediately of any unauthorized use. Contact your issuer for more detail.