Ten months, one billion tap-to-pay transactions on public transit
Contactless transactions take off as more transit operators around the world go digital.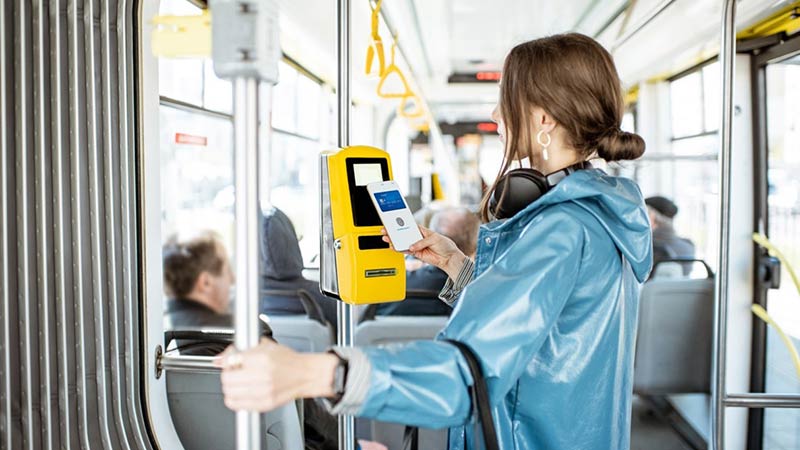 More and more, commuters expect convenience when taking public transport. Visa's recent Future of Urban Mobility Survey found that 91 percent of riders expect public transit to offer contactless payments, and nearly a third cited contactless payments as a top feature that would entice them to use public transit.1
According to the same study, most riders (88 percent) say sustainability and the environment factor into how often they use public transit, with most employed commuters (62 percent) using it at least three days per week.
Tap-to-ride technology, which allows riders to tap their existing card or mobile wallet to pay for their fare, is far more convenient than having to carry exact change or worry about keeping a metro card topped up. Visa has helped enable contactless transit payments in cities worldwide, from Bangkok to Mexico City to Rio and beyond, while supporting more than 550 urban mobility initiatives since launching tap-to-pay technology on transit in 2011.  
The rapid growth in digital payments serves as proof for just how attractive this option has become for consumers. For the first time ever, Visa's network has processed over one billion tap-to-ride transactions on global transit systems in just ten months. Europe accounts for the largest share of those transactions, including over four million a day on Transport for London's (TfL) system alone, but every single region is growing; with North America already accounting for approximately one in five contactless taps on transit.2 Contactless payment technology has proven to offer positive ROI for transit agencies,3 on top of giving customers convenience and flexibility.
The same underlying contactless technology also supports Visa Prepaid and Private Label cards, which extend digital ticketing to all transit users, regardless of their financial standing or whether they have access to a bank account, playing an important role in driving financial inclusion around the world.
Visa is working with cities, urban planners, transportation authorities, operators, and solution providers to reimagine the urban travel experience with a focus on inclusive, sustainable, and interconnected multi-modal transportation. Through the Resilient Cities Network, Visa has partnered with a number of Latin American and Caribbean cities to co-develop digital solutions to address their unique challenges. 
Visa is also working alongside the World Economic Forum's Global New Mobility Coalition initiative, which is striving to better understand challenges and solutions to create a shared, connected and decarbonized mobility ecosystem. The team recently looked at the impact innovation in fare payment can have on sustainability: Innovation in mobility payments is keeping people moving while protecting the planet.
For the past 60 years, Visa has partnered with government agencies to transform the way people transact, commute, and grow to advance economies and uplift communities everywhere. Revolutionizing the way everyone, everywhere can pay their transit fares every day is the latest way to help get it done.
To learn more about Visa's global urban mobility initiatives, please visit Visa's Global Urban Mobility page. You can learn more about Visa's Future of Urban Mobility Survey here.
---
1 Visa's "Future of Urban Mobility" survey: May 2022 (conducted by Wakefield Research among 11,550 adults who take public transportation in 14 markets: U.S., Canada, Australia, New Zealand, France, Italy, U.K., South Africa, UAE, Qatar, Kazakhstan, Peru, Saudi Arabia and Egypt
2 Exact stat from Visa's Future of Urban Mobility survey reports that contactless payment transactions on transit in North America account for 19.2% of the 1 billion Visa transactions this fiscal year.
3 Visa: "Cashless Cities: Realizing the Benefits of Digital Payments" Online at: https://usa.visa.com/dam/VCOM/global/visa-everywhere/documents/visa-cashless-cities-report.pdf