Visa helps bridge digital divide for low-income communities
A new partnership with Human-I-T champions digital equity through access, education and essential equipment
Many of us take access to the internet for granted. But for the estimated 19 million people in the United States without it1, regular, reliable access to the internet can mean a chance at a better life: access to jobs, healthcare, schools and community.
According to Pew Research, 41 percent of adults with annual incomes under $30,000 don't own a computer2 — a reality that can have lasting effects across generations, from the student trying to keep up with her grades to the parent desperately in search of work to the grandparent isolated from social services and a community outside the home. Opportunities exist in the digital world that don't exist outside of it and many Americans today are excluded from them.
Consequences of the digital divide, or the gap between those who have and don't have access to technology, became even more apparent during the pandemic — a time when technology was the primary way many of us connected to work, school, necessities and community — and impacted predominantly lower income communities and people of color in 20213. The issue has become so dire that President Biden announced a plan to reach more Americans with low-cost or free high-speed internet. "High speed internet is not a luxury any longer. It's a necessity,"4 he said to the nation and members of Congress last month.
With a mission to empower more people and businesses to thrive in a digital-first world, Visa has partnered with Human-I-T, a nonprofit dedicated to creating equitable access to technology and training, to launch the new Visa Digital Empowerment Program. Piloted in Pueblo, CO, the new pilot program provides laptop computers, educational resources, and access to the internet to communities that have low digital adoption, including minority-owned small businesses and low-income students and families.
"I'm thrilled to see Colorado and Visa expand on its collaborative history dating back more than 30 years," said Colorado House Majority Leader Daneya Esgar. "By providing digital literacy curriculum and technology, and facilitating trainings, Visa is helping to empower Coloradoans to be successful in today's digital world."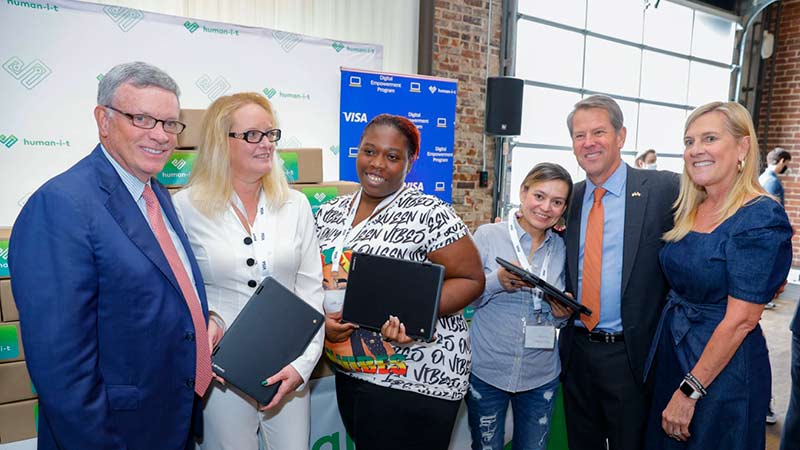 Participants will also receive free remote tech support for one year and complimentary enrollment in Visa's financial literacy program. For more than 30 years, Visa's award-winning program has enabled individuals, families and small businesses around the world to better manage their money, improve their quality of life and ultimately uplift the communities around them. Visa's financial expertise and scale combined with Human-I-T's foundational digital skills training have the power to help uplift underserved communities and prepare them for a digital-first future.
In fact, Human-I-T's has a proven track record of helping bridge the digital divide: Of those who benefit from its digital inclusion programs, 83 percent of students report an increase in grades, with 54 percent able to virtually submit homework for the first time. One third were able to apply for a new job, and half reported using the new technology to reconnect with family.
The Digital Empowerment Program also aims to support small and micro businesses (SMBs) in their post-pandemic recovery. Many SMBs rely on cash and were hit hard over the last two years. This program will help usher them into the digital age with tools and resources to help them grow their businesses and face challenges ahead as the world becomes increasingly more digital.
"At Visa, we have been long-committed to increasing access to digital services and financial education resources for businesses, individuals, and communities across the United States," said Sandya Magge, Vice President, North America Inclusive Impact & Sustainability at Visa. "With millions of Americans without access to high-speed internet in their homes, we're proud to partner with Human-I-T to provide access to technology and digital financial literacy because these programs have the potential to truly transform lives and help support the recovery and success of small businesses."
Digital Empowerment Launches in Atlanta
In June, Visa launched its Digital Empowerment program in Atlanta, GA, providing 1,000 individuals and small businesses in the area in the coming months with laptop computers, foundational skills training providing basic skills on how to use a computer, financial literacy training and free remote tech support provided by Human-I-T for 12 months.
"Creating access to digital resources and foundational skills is critical to advancing economic growth and educational opportunity in Georgia," said Georgia Governor Brian P. Kemp. "I am proud to support Visa's Digital Empowerment program, which will provide hardworking Georgians with access and training to successfully utilize technology for their futures."
Al Kelly, CEO of Visa, Michelle Gethers, Chief Diversity Officer and Head of Corporate Responsibility of Visa and Governor Brian Kemp both delivered keynote remarks at the event. It was well attended by program recipients, local members of the community and partner organizations participating in the program including Community Council, the Latin American Association and Literacy Action.
Visa will continue to partner closely with a diverse set of stakeholders in Atlanta including governments and non-profit partners to enhance equitable access for digital financial equity across communities.
---
To learn more about Visa's commitment to making innovative financial education resources easily accessible to businesses, individuals and communities across the U.S., visit Practical Money Skills.
---
1 FCC, Eighth Broadband Progress Report
2 Pew Research Center, Digital divide persists even as Americans with lower incomes make gains in tech adoption
3 Pew Research Center, Home broadband adoption, computer ownership vary by race, ethnicity in the U.S.
4 The White House, Remarks by President Biden on the Affordable Connectivity Program