Meet the women changing the face of entrepreneurship in Brazil
Elas Prosperam's mentorship and training program has given dozens of Black women the tools to grow their small businesses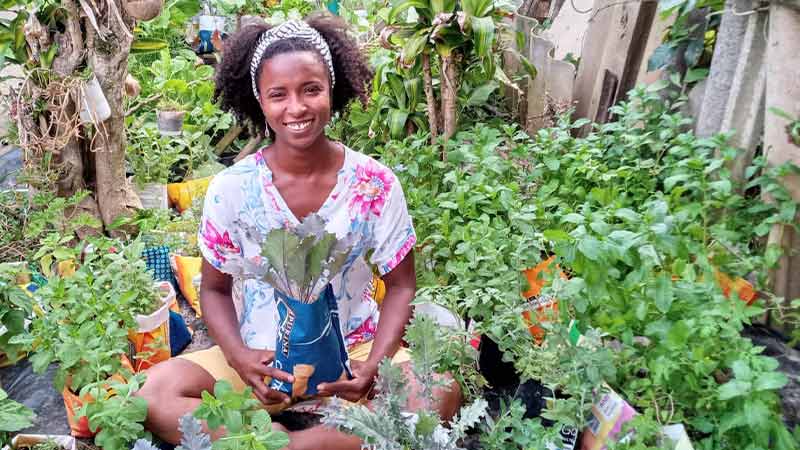 According to a report by Brazil's Institute for Applied Economic Research, Black women entrepreneurs in Brazil have faced disproportionate impact from COVID-19, limiting their opportunities more than any other group. And though small and micro businesses account for 99% of Brazilian businesses according to a report by the Brazilian government, less than 1% of the nation's financial education initiatives address small and microbusiness owner's needs.
The Elas Prosperam project has stepped up to fill some of that gap in small business resources.
Currently in its second iteration, Elas Prosperam — a business education and mentorship program promoted by Rede Mulher Empreendedora and supported by Visa — has provided dozens of Black women business owners with tools and support to help take their businesses to the next level. 
"When a Black woman succeeds, her family, children, community, and society as a consequence prosper," said Ana Fontes, founder and CEO of Rede Mulher Empreendedora. "Here at Rede Mulher Empreendedora, we believe that a woman who owns her money owns her own decisions also."
The program begins with a series of free online events focused on finance, digital transformation, and social-emotional skills. Business owners then complete courses in financial technology, e-commerce and digital marketing, receiving one-on-one mentorship along the way. The program concludes with Pitch Day, where participants apply what they've learned to pitch their businesses.
"As we rebuild the post-COVID global economy, we are proud to invest in women-led small and micro businesses who can make a difference in their communities," said Sabrina Sciama, senior director of corporate communications at Visa. 
We met with three women who participated in the program to learn how their businesses came to be, what inspired them, and their plans for future growth.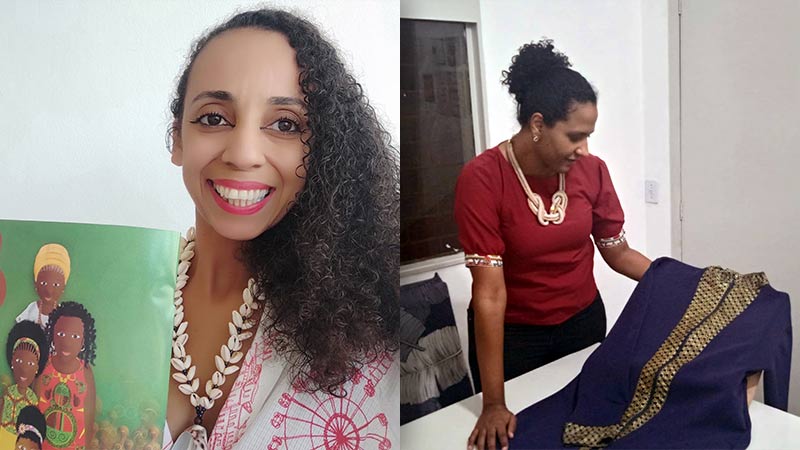 Kalypsa Brito
Founder of Candaces Diamantinas Construções Educacionais (Salvador)
"My mother sews and fills the dolls, I make their clothes, and my daughter puts in their hair," says Kalypsa Brito, founder of Candaces Diamantinas Construções Educacionais. "We sit on the floor and talk while we work. [We are] three generations of Black women working together against racism to give back to our diasporic community with the skills we pass down from one to the other." 
A public school teacher in a school where the majority of students are Black, Brito became increasingly aware of how people of color are represented in books.
"We only appeared in the textbooks when it was in reference to slavery," she said.
So, she decided to make her own contribution — first, with a children's book about a Black fairy. Then with another, about a princess who goes to Africa to meet her royal ancestors and learn about her family history.
"Blackness is not just pain," she said. "I wanted to show kids there is also inherent joy and a very rich history here."
At a student's request, Brito made the first dolls of her characters from the books to give to her class. With support from the Elas Prosperam program, she started producing made-to-order dolls in larger scale to sell to schools and educators across Brazil.
"The Elas Prosperam program gave me the tools to turn my passion into a business," she said. "Now I feel I'm fully equipped to make a difference."
Her next step is to launch a subscription box service for her toys in a direct-to-consumer model.
Leirilane Mendes
Founder of Studio Horta (São Paulo)
Leirilane Mendes first learned about the power of medicinal plants from her grandmother, who taught her how to grow and prepare the plants for consumption.
"I have so many recipes from my grandmother, so much information and knowledge that isn't found in any books," she said. 
After receiving the training and a grant from the Elas Prosperam program, what started with a couple of seedlings in her backyard in São Paulo grew into Studio Horta, a nursery growing everything from herbs to citrus trees, complete with delivery.
"I wanted to share and value our wisdom and foster a sense of community," she said, making a point to include care and home remedy instructions with each plant she grows.
She reuses plastic containers otherwise destined for the landfill as planters and donates some of the plants to community members. "Our commitment to sustainability and to our people goes hand in hand with our appreciation for the land." 
Her business has expanded to include handcrafted home decor potting supplies, including planters she makes with banana fibers from trees she grew in her backyard.
"The next step for us is to start shipping nationwide in addition to locally," she said. "I learned so much through the mentorship. Now I'm eager to take it even further."
Alyne Jobim
Founder of Iwosan (Porto Alegre)
Alyne Jobim designs and sews lab coats with African prints, which she ships to medical and business professionals across Brazil. But she wasn't always a pioneer in Afrocentric e-commerce. Jobim's business has its origins in a small, kind gesture for a friend, the first Black doctor she'd ever met.
"I felt she couldn't wear just any lab coat," she said.
She decided to make her a special one. Not long after her friend posted a picture of herself wearing the colorful coat with a patterned trim on social media, the orders started coming in.
"People perceived it as a business even before I did," she said.
With the Elas Prosperam grant and mentorship, Jobim built an e-commerce website for her business, allowing her to sell and ship her products nationwide. Now she is branching out and making other professional clothes, including a new collection of Afrocentric business wear that would belong in any high-profile office.
"There is a demand for professional clothes that celebrate our accomplishments and carry our history, made with Black people in mind," she said. "And now I get to reach an even wider clientele."
---
To learn more about the Elas Prosperam participants, you can watch their business pitches here.