The new tech of holiday giving
Crypto, points and tap to give fuel digital giving this holiday season.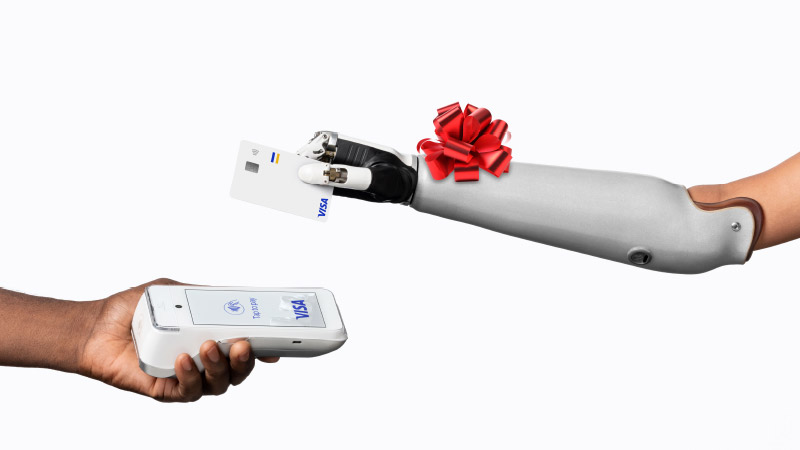 The season of giving has gone digital in more ways than one. As Americans carry less cash in favor of paying by card, phone, or even watch, nonprofits are thinking outside the box (and bucket) to meet their fundraising goals. Individuals looking to make a charitable gift this season have a host of digital options, from making donations from their Bitcoin and other cryptocurrencies to donating stock to crowd-funding for causes on popular social platforms.
Three emerging trends are among those driving digital giving this holiday season: crypto, tap to give, and points donation.
Tap to giveTM
Where, for decades, generous community members have rung bells and called for cash-based donations, Visa and tiptap — a Canadian company building NFC-enabled wireless devices for contactless giving — are making it possible to give by tapping your contactless-enabled card, phone or watch at nearly 2,000 Salvation Army Red Kettles, the same way you do when you shop. Now live at select U.S. locations, from San Francisco to Washington, D.C., the pilot program is a response to the rise in contactless payments, which have doubled since 2020, and the increase in cash digitization, which has gone up 23% as measured in the past year's Debit Payments Volume.
Crypto giving
As crypto goes mainstream, so does the desire to donate digital assets. While some nonprofits are set up to receive crypto directly, many aren't. Crypto-linked cards make it possible to donate from your Bitcoin, Ethereum, stablecoins and the like to nonprofit organizations, even ones not yet set up to accept crypto directly. Today, Visa partners with more than 50 crypto platforms to make it easy to convert and spend digital currency via card. In fact, more than $1 billion has been spent on crypto-linked Visa cards in the first half of 2021.1 The appeal? They make it simple to use your cryptocurrency anywhere as you would with your card — no cryptographic keys necessary.
Loyalty points donations
Some loyalty card programs enable enrolled cardholders to use rewards earned through the loyalty program to give back. Many loyalty programs have a philanthropic wing that lets users donate miles and points to their charity of choice (with some companies upping the ante and offering matching donations). While these donations are not tax-deductible, they can still make a difference to communities worldwide.
The digital transformation of giving comes at a time when many Americans are struggling to make ends meet during another volatile year. Today, 62% of Americans say they have been living paycheck to paycheck since the pandemic began and 63.1 million Americans report difficulty paying for household expenses in the past two weeks.2 If you took a break from giving in 2020, consider giving digitally this year.
---
Want to learn more? Read about Visa's support for digital giving. 
---
1 Visa Data FY21 Q4
2 Salvation Army Data 2021