NFTs mark a new chapter for digital commerce
What does the future of NFT-commerce look like? We asked our resident crypto and NFT expert, Cuy Sheffield, to weigh in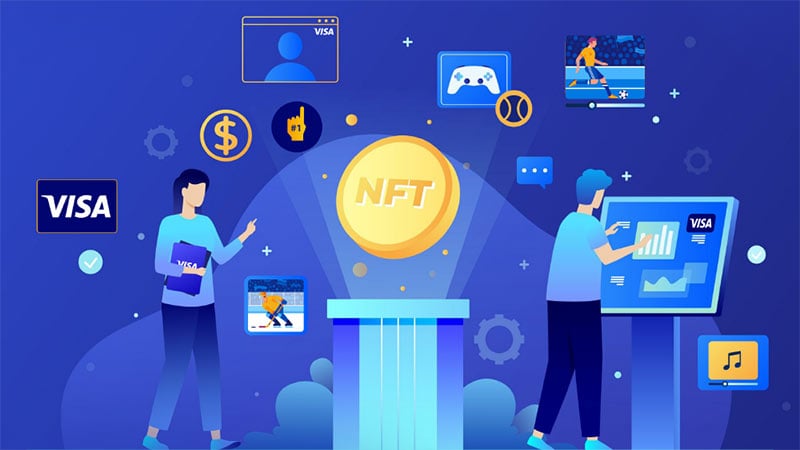 ---
Check out our recent publication "NFTs: Engaging Today's Fans in Crypto and Commerce" to learn more about the NFT landscape and gain actionable guidance on how to evaluate and scale NFT opportunities.
---
Sixty years ago, when Visa was founded, a world beyond cash and check seemed unimaginable. Moving money instantly and electronically was a radical concept.
Fast forward to the early days of the Internet. Many were skeptical about the utility of the World Wide Web and entering your credit card on a website was a leap of faith.  
These experiences now happen so routinely that most people take them for granted.
Now jump ahead to the present day. Cryptocurrency and non-fungible tokens (NFTs) are gaining traction and driving headlines, but still have many scratching their heads.
To help us decode the world of NFTs we sat down with Cuy Sheffield, Head of Crypto at Visa and an NFT enthusiast.
Let's start with the basics — how do you explain NFTs?
Cuy Sheffield: NFTs are a way to represent ownership of a digital good, like an image, video, or piece of text. Since the rise of the Internet, there hasn't been a way to claim possession of a digital good, since most files can be infinitely copied, pasted, and shared. NFTs are unique tokens that can be used to certify the provenance, authenticity, and ownership of a piece of digital media.
Like cryptocurrencies, NFTs are tracked and exchanged on a public blockchain. But unlike cryptocurrencies, NFTs are unique. One bitcoin is identical to another, but each NFT is one-of-a kind.
Why might someone want an NFT?
Sheffield: Like anything, it really depends on the use case, the individual, and their motivations.
The practice of making and maintaining collections is as old as civilization itself. It makes sense that this drive to collect and display items of meaning would follow us into the virtual world, where we're interacting with friends, coworkers, and other Internet communities.
Take CryptoPunks — a collection of pixel art images. What began as an early artistic experiment has quickly become a cultural icon for the crypto community. In fact, to recognize the role that CryptoPunks have played as an historic NFT project, bridging culture and commerce, Visa has decided to purchase CryptoPunk 7610.
Let's talk more about the CryptoPunks. Why did Visa decide to purchase one?
Sheffield: First and foremost, we wanted to learn.
We think NFTs will play an important role in the future of retail, social media, entertainment, and commerce. To help our clients and partners participate, we need a firsthand understanding of the infrastructure requirements for a global brand to purchase, store, and leverage an NFT. Having worked with Anchorage Digital to complete this process, we're better positioned to help our partners navigate the process.
We also wanted to signal our support for the creators, collectors, and artists driving the future of  NFT-commerce. Enabling buyers and sellers is what we do — whether its helping small and micro business owners get online, or making it easier for companies to pay their partners across borders. We're excited to work with this growing community to make NFTs useable and accessible in a variety of contexts.
Lastly, we wanted to collect an NFT that symbolizes the excitement and opportunity of this particular cultural moment. We're a company steeped in the history of commerce and payments — but with our eyes on the future. With our CryptoPunk purchase, we're jumping in feet first. This is just the beginning of our work in this space.
What excites you about NFTs?
Sheffield: NFTs have the potential to become a powerful accelerator for the creator economy and lower the barrier to entry for individual creatives to earn a living through digital commerce. NFTs are starting to usher in a new form of social commerce that empowers both creators and collectors.
NFTs could also fuel small and medium sized businesses (SMBs) in powerful new ways. The rise of ecommerce has made it possible for SMBs to sell online and reach customers around the globe. But they still have to produce and ship physical goods, which can have high upfront costs. NFTs give small businesses an opportunity to harness public blockchains for producing digital goods—which can be delivered instantly to a crypto wallet. We can envision a future in which your crypto address becomes as important as your mailing address. 
How are you and your partners at Visa thinking about this space?
Sheffield: From a commercial perspective, NFTs are gaining momentum as digital-first sports memorabilia. With platforms like NBA Top Shot, fans can collect and display their favorite game "moments."
We expect a huge range of new cases in the years ahead. The ability to track and leverage a digital asset in multiple environments could mean exciting new opportunities in ticketing, gaming music, art, and beyond.
Imagine discovering a new musician online. You purchase an NFT of their album art, which can simultaneously serve as a piece of art that you can display online, an entry into an exclusive chat group where you get to connect with other superfans, and a backstage pass for an upcoming show. Ownership of the NFT could also unlock exclusive memorabilia, whether "air dropped" into the owner's wallet or rewarded after certain behavior, like making a purchase at a specific store.
The artist and their fans can now connect directly with each other and build a powerful community that create new experiences for both.
How might Visa play a role?
Sheffield: NFTs are rapidly gaining traction and we expect continued growth. For example, there has already been $1B in payment volume in August alone up from less than $100M in all of 2020.
Enabling secure commerce is what we do — we're the network working for everyone — and that extends to new forms of digital commerce that unlock access. So, it's not surprising that we're thinking deeply about this space and how we can apply our expertise in enabling seamless and secure digital payments to make NFT-commerce accessible and useable for buyers and sellers.
In the near term, we want to help brands and businesses better understand NFTs and how they might be harnessed for customer and fan engagement. To that end, we published a paper with observations on today's NFT landscape, as well as actionable guidance on how to evaluate and scale NFT opportunities.
Looking ahead, we're working on some new concepts and partnerships that support NFT buyers, sellers, and creators. We look forward to sharing more in the months ahead.
Do you think NFTs will go mainstream?
Sheffield: Only time will tell. What's certain is that curiosity, an open mind, and active experimentation are the best approach when new technologies and use cases come on the scene. It's exciting to be working in this field at this exact moment in time.
---
Learn more at "NFTs: Engaging Today's Fans in Crypto and Commerce".