Visa's green bond advances a sustainable future for commerce
A new report outlines how Visa supports the transition to a low-carbon economy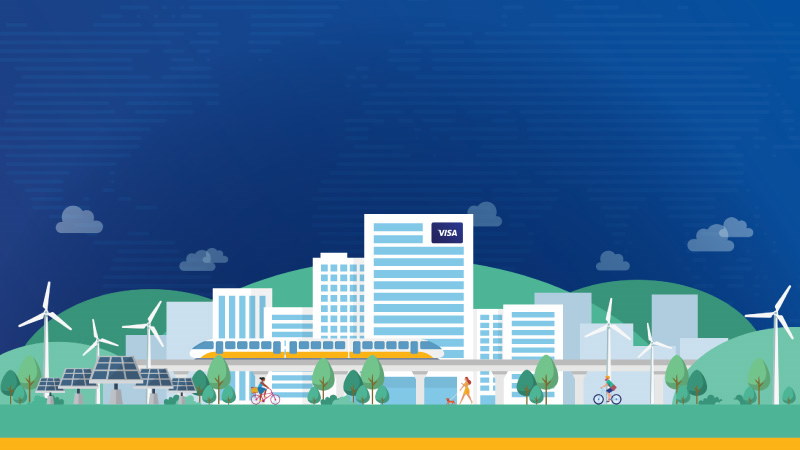 In August 2020, Visa issued our inaugural $500 million green bond – believed to be the first green bond issued by a digital payments network – to help finance projects and initiatives that support Visa's goals to maintain carbon neutral operations, achieve Net Zero emissions by 2040 and work towards becoming a climate positive company by helping enable sustainable commerce and the transition to a low-carbon economy. Recently, Visa published its first annual report on the use of proceeds from the green bond, including supporting projects around green building, energy efficiency, renewable energy, and clean transportation as well as the development of environmentally-friendly technologies. We recently spoke with Douglas Sabo, Visa's Chief Sustainability Officer, about the 2021 Visa Green Bond report and the company's vision for a sustainable future in payments.
What was the motivation for Visa's green bond and what kind of projects has it funded?
Douglas Sabo: Visa's mission is to connect the world through the most secure and reliable network to enable individuals, businesses and economies to thrive. One way we realize this mission is by supporting both inclusive and sustainable growth to improve people's lives and drive economic and societal progress. Our initial use of the green bond proceeds helped us achieve carbon neutrality and transition to 100 percent renewable electricity across our global operations. The impact of those achievements account for a reduction of over 103,000 tons CO2e annually, equivalent to taking over 22,400 gasoline vehicles off the road. Looking ahead, the green bond will help fund projects that support our longer-term goal to reach net zero emissions by 2040, which is at least 10 years ahead of the Paris Climate Agreement, and help us work towards becoming a climate-positive company.
What does supporting sustainable commerce look like for Visa?
Sabo: We're taking a 360-degree-view approach within Visa and across our ecosystem. This includes working with our clients to support the adoption of alternative card materials to help reduce the environmental footprint associated with first-use PVC plastic and bringing our financial institution clients "sustainability-as-a-service" offerings for their consumer customers to understand the footprint of their spend and have access to high-quality carbon offsets. We're also working with a variety of fintechs – whether highlighting those providing sustainability enablement solutions through the Visa Fintech Partner Connect program or supporting those launching climate-focused accounts via Visa's Fintech Fast Track Program. We also continue to work with transit agencies – more than 400 worldwide -- to support sustainable mobility through public transit usage by helping reduce friction in ticketing and fare payments. Within our operations, we are using this green bond to finance the construction and operation of our offices and data centers with a focus on energy and water efficiency improvements as well as to expand our use of renewable electricity. These investments are all intended to support the United Nations Sustainable Development Goals and are outlined in more detail in the report.
How will Visa inspire and empower others to transition to a low-carbon economy?
Sabo: Our business operates in more than 200 countries and territories. Through our global network, we connect consumers, financial institutions, merchants and governments around the world, and we will continue to look for opportunities to harness our brand and our business to drive inclusive economic growth and sustainable commerce across the payments ecosystem.
How are we doing that already? Partnerships. Everything from supporting cleaner transit to digitizing small businesses on their road to recovery to carbon-offsetting through forest preservation and reforestation, we are making a difference with our partners. In addition to our net zero by 2040 goal, we signed The Climate Pledge with more than 100 other like-minded corporate leaders, as well as joined the UN Race to Zero and the WWF Climate Business Network. I'm energized and excited by the opportunities we have to work across our value chain to ensure that people, business and the planet can thrive together.
Learn more about the 2021 Visa Green Bond report in our first report.