In financial services, representation matters
Kinly Founder and CEO on banking, crypto and financial independence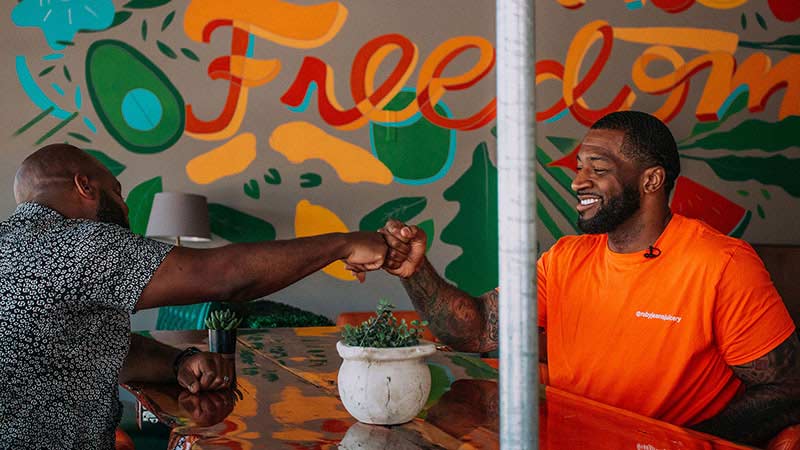 "There are so many different entities that focus on underserved communities, but they typically don't look like the communities that they serve," says Donald Hawkins, fintech serial entrepreneur and founder and CEO of Kinly, a neobank working to build generational wealth for the Black community.
"I would say our secret sauce is representation." The leadership team at Kinly is two-thirds female, two-thirds Black and 100 percent BIPOC (Black, Indigenous, People of Color).
Representation matters in terms of who's building the product too. Kinly has looked at ways to uplift Black America through its financial programs and products, from creating accessible financial education tools to offering no overdraft fees or minimum balance requirements.
He adds that digital banking has been a safe zone — one where Black Americans are shielded from the biases they have historically encountered from in-person banking. In this video, Hawkins connects with small business owners across the country to better understand the need for access to financial services in Black America.
Early access to crypto
Kinly has partnered with Visa and will be first to pilot Visa's new suite of crypto APIs, which will enable its customers to purchase and trade digital assets held by Anchorage Digital, a federally chartered digital asset bank.
"Visa was really thoughtful about partnering with us because we care about the education side of it," said Hawkins. "We put together a robust financial education program to show our members exactly what cryptocurrency is, its volatility, different types of cryptocurrency, what the heck is blockchain, so we can help them make actionable decisions that are good for them."
Financial education is key to financial independence
More than teach consumers about crypto, Kinly will incorporate foundational financial education into their platform with bite-sized "playlists" — podcast-like mini courses that present key concepts about money and investing through a jargon-free approach anyone can understand.
"People want a conversation," said Hawkins. "They want regular people to be there, to show them that 'Hey, I understand that you've been in the debt trap. I've been in it too. And now I'm leading a company to help you and a lot of other people get out of it and hopefully help younger generations not even get into it at all.'"
Kinly will also launch a Kinly Visa Debit card, which offers digital-first features like early access to wages with Early Direct Deposit1, a Cash Back for Buying Black program, and financial education and budgeting tools to improve spending habits.
Looking ahead, Hawkins is working with organizations to help Kinly customers access funds for career development and is even considering local banking lounges in key cities like Atlanta, Charlotte, and Oakland.
"We're really thoughtful about the stages of your life, from debtor to saver to investor," says Hawkins. "What does the lifecycle look like for our members? What is their goal? The answer: financial independence. Because we're building our team to look like and represent the market that we serve, we'll always be in a position to win."
---
Find the tools you need to get up and running quickly through Visa's Fintech Fast Track.
---
Adapted from an article originally published on March 19, 2021
---
1 The Kinly Deposit Account is established by Central Bank of Kansas City, Member FDIC. The Kinly Visa Debit Card is issued by Central Bank of Kansas City pursuant to a license from Visa U.S.A. Inc. Certain fees, terms, and conditions are associated with the approval, maintenance, and use of the Card, you should consult your Deposit Account Agreement and Fee Schedule or contact us toll-free at 1-888-281-BLVD, 24 hours a day, 7 days a week, 365 days of the year. In order for you to be paid early, your payroll or benefits payment provider must submit the deposit early. It is important to note that your payroll or benefits payment provider may not submit the deposit or payment early each payment period. Be sure to ask your payroll or benefits payment provider when they submit your deposit information to the bank for processing. Early deposit of funds will begin upon the 2nd qualifying deposit. A qualifying deposit is defined as a direct deposit greater than $5.00 received from the same payer.