Black Lives Matter: Visa commits to further action and accountability
Company takes next steps on journey toward inclusion, diversity and racial justice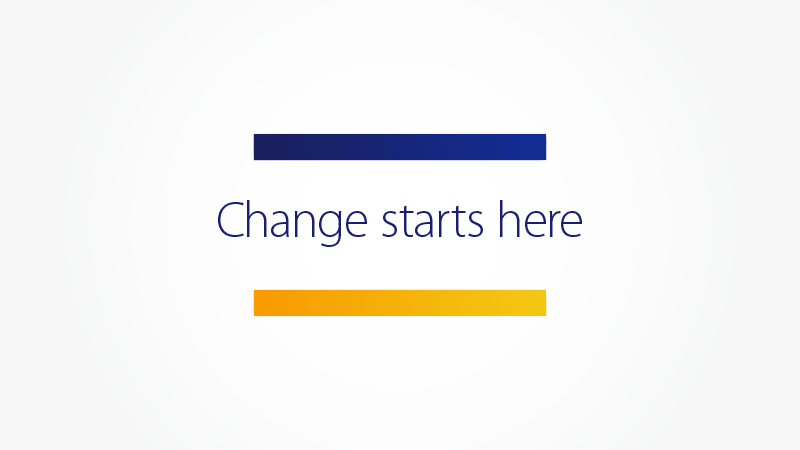 Visa Chairman and CEO Al Kelly sent the following message to all U.S. employees on July 15, 2020:
Since George Floyd's tragic death on May 25, we have all been working through a full range of emotions — anger, stress, frustration, sorrow and grief. While Visa has been focused on driving an inclusive and diverse culture, it is time for us to elevate our approach and make it a business imperative. We must focus on how much Black Lives Matter and what we can do in driving real and lasting change to end social injustice and racial inequality.
At Visa, our brand stands for global acceptance. We are for everyone, everywhere. And as a global company, we see that sadly, racial inequality happens everywhere. With our company promise founded upon inclusion, it was only natural that in June, we committed to our first five actions to address racial injustice, and drive equality and inclusion.
Since then, our focus has been on learning. We have been listening and learning as so many of you shared your own stories of pain and sorrow, as well as many, many ideas for how to drive further change. We are grateful for all of the dialogue, and feedback from the Black Executive Council, ViBE (Visa Black Employee Resource Group), our Inclusion & Diversity team, and so many passionate employees committed to change.
Through these weeks of dialogue, and reflecting on the many ideas that have been shared, we are committed to undertaking the following next steps in our journey, with the goal of driving lasting change through our people, our community and our company.
OUR PEOPLE
Increasing number of under-represented colleagues at Visa
It is absolutely critical that we continue to enrich our team with Black and African American talent across Visa, particularly in leadership roles. Retention and advancement of Black and African American talent will be a major focus, as will internal development programs. We also care deeply about ensuring that we don't leave other under-represented groups behind, such as Latinx.
We are committed to increasing the number of under-represented Visa colleagues in the U.S. and have established the following goals:
Increase the number of under-represented VP+ by 50% in 3 years
Increase the number of under-represented colleagues within Visa overall by 50% in 5 years
We want to achieve these goals for Black and African American people, and for Latinx people. Our initial emphasis will be on Black and African American talent.
In focusing on Black and African American talent, our goal is to drive early success, as well as learnings that will help inform our actions for other under-represented groups. Our top priority will be to transform our talent acquisition strategy and processes. As part of this transformation, we will establish a dedicated team to focus on attracting and sourcing top Black and African American talent, as well as top talent from other under-represented groups. We also plan to launch new marketing initiatives aimed at highlighting Visa to Black, African American and Latinx professionals and students.
As we look to fill jobs at Visa, we will set the expectation that all candidate slates should be diverse. And lastly, we will be instituting a Quarterly Business Review (QBR) specifically for Inclusion & Diversity to track and review progress, and will use new data reporting at these sessions.
Enhancing talent experience for Black and African American talent
We must nurture high-performing Black and African American talent, and ensure they have the tools they need to be successful. We will create a development program specifically for this cohort that includes assistance with development plans, individual career coaching and career mapping guidance.
With the objective of more closely supporting and nurturing all of our Black and African American employees in the U.S., we will also introduce new mentorship and enhanced sponsorship programs. These new programs will serve as blueprints for a future talent experience designed with Latinx and other under-represented employees in mind.
Welcoming inaugural class of Visa Black Scholars
Our $10 million investment in the creation of the Visa Black Scholars and Jobs Program is quickly taking shape, and we will begin accepting applications this fall for the 2021–22 academic year.
Scholars who demonstrate academic excellence can renew grants every year until graduation. After completing an internship with Visa, all scholars who have met their commitments will be guaranteed a full-time job with Visa after graduation. We look forward to investing in and getting to know this group of exceptional young people, and eventually welcoming them into the Visa family. And this program will be one of the new tools for growing representation in our company.
OUR COMMUNITY
Promoting education, dialogue and active allyship
Ongoing education and community engagement are core to driving active allyship at Visa. Building on the success of our initial "Race Talk" on Juneteenth we will continue this series and welcome future speakers who will address the Black experience in America and the impact it is having on society today.
To guide employees and further support an inclusive culture, Visa University will offer active allyship training to all employees, starting with an active allyship learning path. We also plan to develop workshops for managers about how to proactively lead discussions about race, and discussions about allyship and inclusion will be woven into existing new manager trainings.
Effecting change in our communities
We are pleased to share that our June double matching campaign to support social justice and equality has raised over $1.3M for three organizations: the NAACP Legal Defense and Education Fund, the ACLU Foundation, and the National Urban League.
As I mentioned in my email to you prior to July 4, one of the most important ways you can shape the future of your community and your country is by voting, and holding your elected officials accountable. We will continue to support you in exercising your right to vote with an expanded time off policy on election day from two hours to four hours.
OUR COMPANY
Increasing supplier diversity
As we continue to increase diversity within Visa, we are also looking to hold our suppliers to the same high standards. We are taking several steps to diversify our supply chain:
Requesting diverse account teams for preferred suppliers and partners
Increasing the number of diverse suppliers in our network, and thereby increasing Visa spend with these suppliers
Requiring diverse sourcing options for spend across RFPs, directly with our suppliers as possible, and if not possible, indirectly through their suppliers
Leveraging Visa's brand
We all believe in the incredible strength and influence of the Visa brand as an asset to drive our business. We will continue to focus on reflecting under-represented communities in our marketing campaigns, sponsorships and events, including partnering with a diverse set of Team Visa athletes who are representative of the communities where we live and work.  
I want to thank all our Visa colleagues who openly and honestly shared their ideas and experiences, and who have been working tirelessly to help us with these next steps in our journey.
While Visa will use our resources and infrastructure to bring about change, we cannot do it without active engagement from all of you. We must all stand by our Black and African American employees with a continued commitment to dialogue and action.
This is a transformational opportunity for all of us to be leaders in driving lasting change — and together we can make Visa an even greater place to work for everyone, everywhere. 
Al