Saquon Barkley makes a play for tapping to pay at Super Bowl LIV
From transit to touring and more, contactless makes getting around easier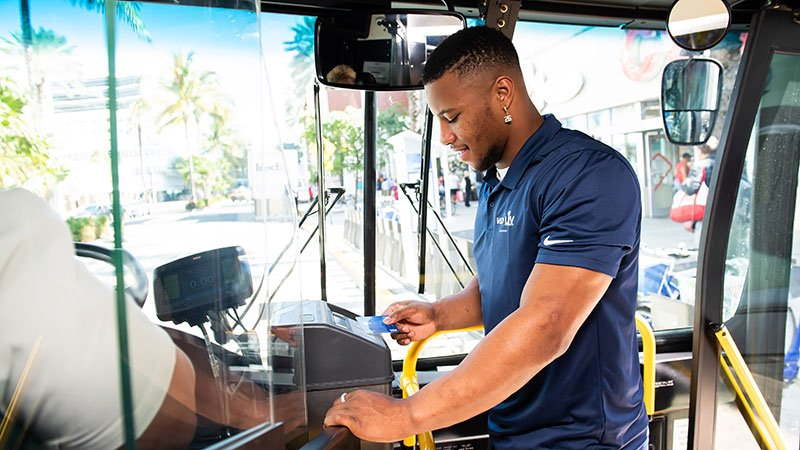 Down, set…tap! The NFL's Saquon Barkley knows speed, which is why Visa drafted him to show Super Bowl LIV fans in Miami how to tap to pay with a contactless card or digital wallet. It's fast, easy and one of the most secure ways to pay.
Check out how Saquon will experience Miami with Visa…one tap at a time!
Tap to Ride

No need to fumble with cash or stand in line to reload a transit card. Saquon shows how to speed through the fare gate with a simple tap using a Visa contactless card or select digital wallet on Miami-Dade Transit.
Miami is the latest U.S. city to accept contactless payments across its rail and bus system. With thousands of fans making their way to the game and a host of Super Bowl-related events, tapping to pay is one way Visa is helping to make it easier to get around and enjoy the city.

Now that you can tap to pay on buses and trains in Miami, like I do in New York, it was easy to get from place to place," says Saquon Barkley.

Tap to Dine

Visa is committed to supporting and empowering women-owned businesses to help level the playing field and drive their success. Miami currently ranks #1 as a city for growth amongst female entrepreneurs, following a trail blazed by women like Stephanie Vitori, owner of Miami's iconic eatery CheeseBurger Baby. Saquon will join Stephanie behind the register to surprise diners when they are tapping to pay for their cheeseburgers!
"It's important for me to take advantage of moments like the Super Bowl, to give back to the local community," says Barkley.
Athletes like Saquon and entrepreneurs like Stephanie have the same dedication to a vision, a passion and the hard work it takes to succeed. Stephanie started as a delivery driver and has operated her restaurant, and now two food trucks, for 20 years. Her business bounced back after nearly being wiped out by Hurricane Irma in 2017.
Tap to Experience

With over 800 contactless-enabled terminals around the stadium and at the NFL Shop, fans can speed through checkout without missing a beat of the fun.
Fans can also visit the Visa Everywhere Experience (at the Super Bowl Experience) to test out new interactive technology, including an augmented reality "HeroMirror." Guests can choose from one of four augmented versions of NFL stars, including Saquon, to "pose" in a lifelike photo. Saquon uses his demo contactless Visa card to unlock the AR photo booth and surprises fans on and off the screen during the experience.

Tap to Strike a Pose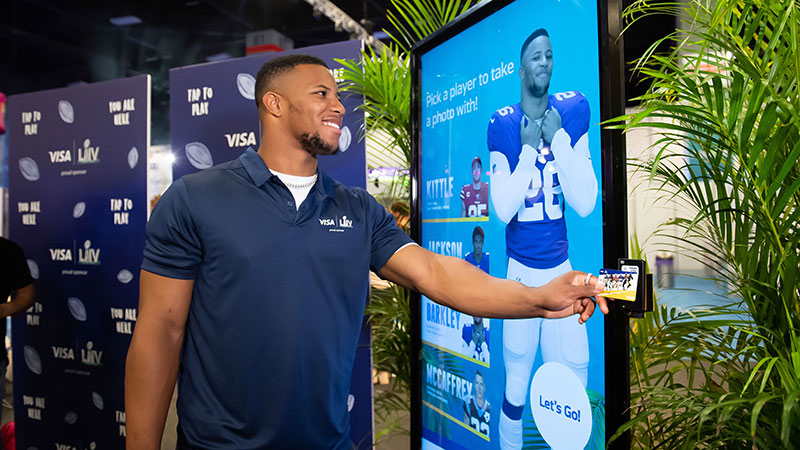 Miami is a city known for its bold warm-weather fashion and with just days away to New York Fashion Week: The Shows (NYFW), sponsored by Visa, Saquon and Visa celebrate the intersection of fashion and sports. The Visa Everywhere Experience features a Game Day Style Studio where fans can get game-day (or HeroMirror!) ready with football-inspired hair, makeup and nails. Fans are invited to dress to impress! Saquon and Visa may just choose YOU as part of their street-style search in Miami to appear on NYFW social channels!  
As a proud sponsor and Official Payment Services Technology Partner of the NFL, Visa brings to life new and innovative ways to enhance the payment experience in and out of the stadium. After enabling over 3,800 contactless terminals in stadiums around the league this year, Visa is dedicated to continuing the efforts each season to make purchases easier one tap at a time.