Investing in the ecosystem
Visa is committed to a secure and resilient global payment network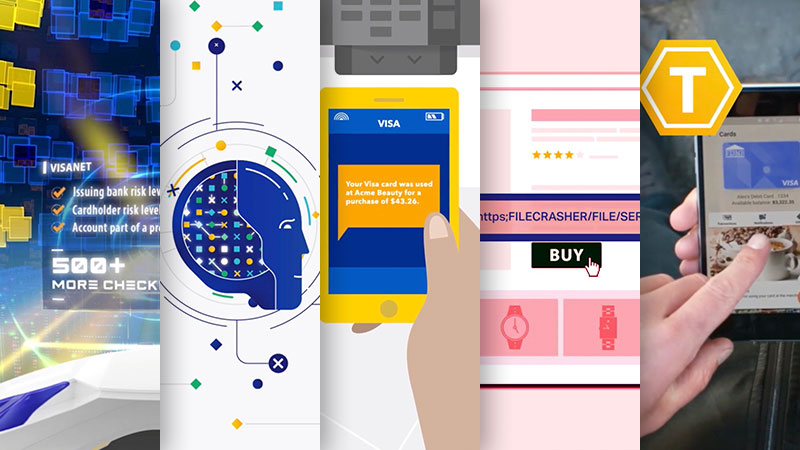 At Visa, trust, security and reliability are fundamental to everything we do. As a leading payments technology company, we take seriously our responsibility to maintain the global ecosystem and continually improve capabilities that enable individuals, businesses and economies to thrive.
This is an undertaking that has grown more complex and challenging in recent years. As commerce has moved increasingly online, the opportunity for fraud and cyber threats has grown. At the same time, fraud rates have remained near-historic lows, at less than one-tenth of one percent for the past two decades. And while Visa's processing volumes have nearly doubled over the last 5 years,[1] VisaNet, our core authorization platform, has consistently performed at 99.999 percent reliability.[2]
To manage the constantly changing threat environment and growing demands on our infrastructure, we devote significant resources to our talent and technology. Over the last five years, we've invested nearly $9B in enhancing and securing our core technology platforms and launching new products and capabilities for our clients, partners and employees.[3] These investments include:
World-Class Technology Platform: At the heart of Visa lies a technology infrastructure that powers more than 138 billion payments annually[4], each in just a few milliseconds. This platform consists of hundreds of software applications, a massive fleet of best-in-class hardware, highly resilient data centers, and a vast telecommunications network spanning more than 10 million route miles[5]. Each of these components is wrapped in multiple security technologies and backed by numerous redundant layers, so if one component fails, another kicks in to ensure continuous processing.


Lowering Counterfeit Fraud: Since Visa supported the industry migration to EMV® Chip technology three years ago, counterfeit fraud among U.S. chip-enabled merchants decreased by more than 80 percent. [6]


AI-Driven Fraud Prevention: Visa Advanced Authorization has helped financial institutions identify and respond to emerging fraud patterns and trends in real-time—preventing an estimated $25 billion in annual fraud across the Visa payment network, making the global payment ecosystem safer for retailers and consumers. Deep learning models examine each transaction in real time to fraud indicators, looking at activities, patterns, and more than 500 risk attributes—all in about one millisecond.


Cybersecurity Program: Visa's Cybersecurity team—an elite group of cybersecurity professionals located in 11 offices on three continents—operates with 24x7x365 vigilance to detect, prevent, and respond to threats in real-time. Our team has built a suite of proprietary AI-powered tools to proactively catch and action anomalies that present potential threats to our network and stakeholders.


State of the Art Risk Operations Center: In 2019, Visa stood up a 24x7 Risk Operations Center (ROC), a dedicated team of highly specialized fraud and cyber professionals to proactively detect and respond to fraud and cyberattacks targeting our clients in real time. The team leverages Visa's advanced fraud attack detection capabilities, payment intelligence and statistical models, along with its deep cybersecurity expertise to help prevent clients from potentially catastrophic losses. These capabilities are extremely valuable to clients, particularly when their own defenses are neutralized, as they help create multiple layers of defense to thwart criminals. In its very first year, the ROC has helped detect and prevent millions of dollars in losses for clients across the globe. From 2020 onwards, Visa will add more capabilities to detect and respond to ever-evolving forms of attacks.


Detecting and Disrupting Threats: Visa has built a suite of ground-breaking security capabilities to help prevent and disrupt payment fraud.

Visa eCommerce Threat Disruption uses sophisticated technology and investigative techniques to proactively identify potential website compromises and significantly reduce exposure of customer and payment data.


Vital Signs actively monitors transactions to both alert financial institutions of potential ATM fraud and limit financial losses by suspending malicious activity.


Visa Account Attack Intelligence applies deep learning to identify potential financial institutions and merchants that hackers may be using to guess account numbers, expiration dates and security codes through automated testing.


Visa Payment Threats Lab tests clients' processing, business logic, and configuration settings to identify errors that can lead to fraud vulnerabilities.


Visa Payment Threat Intelligence provides actionable cyber intelligence to clients and merchants worldwide. This includes alerts, analysis, technical indicators, and mitigations for potential cybercrime threats, account compromises, and fraud.
 

Securing Digital Commerce: we introduced tokenization technology, which works by replacing a consumer's card-related sensitive information, such as personal account number, with a unique identifier, or token, which protects transactions when a card or shopper is not physically present. In the past year, we have seen a 100% year-over-year increase in tokenized transactions with more than 410 million unique tokens issued. Visa has enabled tokenization in more than 100 countries and territories.


Secure Remote Commerce: In 2019, Visa introduced a new, standardized way to click to pay online, making card payments faster, easier, and more secure across digital platforms and connected devices. EMV® Secure Remote Commerce injects dynamic security data into transactions, to enhance the security of each payment transaction.


Visa Research: Visa has a dedicated team conducting applied research on the most pertinent problems in the payment industry – including fraud detection, privacy-preserving machine learning, cryptography, and biometric authentication – so that we can deliver unique insights and capabilities to our partners and clients.
We work every day to protect the integrity of the payments ecosystem. We reduce risk, fight fraud and cybercrime, and empower users with the tools, technologies and intelligence they need for better payments experiences. We know that this industry is built on trust, and we are committed to working with clients and partners to maintain that trust in our network and discover new ways to help individuals and businesses thrive.
_________________________________________
[1] Visa Operational Data. Processed Transactions for FY19 and FY15.
[2] Visa internal data on processing performance.
[3] Visa internal data on global technology and operations investments, FY15-FY19.
[4] Visa Operational Data. Processed transactions for FY19.
[5] Approximate route miles covered by Visa's MPLS VPN network.
[6] Quarterly counterfeit fraud reduction at fully chip-enabled U.S. merchants in 2019 compared to the quarter ended September 2015. Fully chip-enabled merchants defined as locations where 75% of card present payment volume is chip-on-chip.