Six ways to shop safer this holiday season
Digital commerce is booming — even for the bad guys. Avoid holiday scams with Visa's safe shopping tips.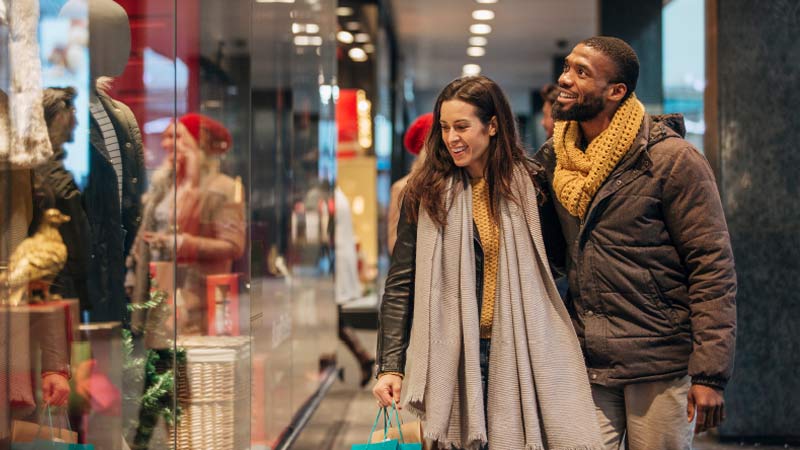 The rapid shift to digital payments means we're all shopping and paying for things in new ways this year — from tapping and clicking to pay in person, to relying on ecommerce, to ordering online for in-store pickup. While challenges facing the global supply chain may mean exploring less-familiar corners of the internet for some hard-to-find gifts, taking precautions to shop safely in-store and online is as important as ever. To avoid falling victim to scams and fraud this holiday season, remember these six safe shopping tips:
1. Pay securely online
Click to pay with Visa for an extra layer of protection and always check the URL to ensure it begins with "https". The "s" at the end confirms a secure connection.
2. Pay securely in-app
Use a strong password unique to each account or better yet, switch to fingerprint or facial recognition for account login and payments.
3. Pay securely in-store
Use a payment card with a chip or contactless symbol on it, or a mobile wallet to protect your card data from being stolen in case of a data breach.
4. Look out for phishing scams
Be careful of unsolicited and suspicious emails or phone calls. They may try to steal personal information like your account number, username and password.
5. Update system and application software
Install the latest software before shopping on your computer, tablet or phone. Staying up to date helps patch known vulnerabilities.
6. Turn on purchase alerts
Receive near real-time notifications of transactions on your account to help confirm legitimate purchases and alert you to potential fraud.
---
As always, cardholders are protected by Visa's Zero Liability Policy — a guarantee that you won't be held responsible for unauthorized charges made with your Visa account or account information.
Beyond the point of purchase, if something you ordered doesn't arrive when it should, is wrong, or falls short of expected quality, cardholders have the right to request credit back into their payment account. To request credit, follow these simple steps:
Contact the merchant as soon as possible to determine the status — if a new delivery date is acceptable or if an exchange can be made.
If not, you have the right to request a credit back to your payment account from the merchant.
If you don't receive a credit back from the merchant, contact your card issuing financial institution as soon as possible to file a dispute claim, which starts the credit back process through your card issuer.
Life can be unpredictable—this year in particular. This holiday shopping season, know that, with Visa, your payments are always fast, easy and safe.