Calling all fintechs: Visa Partner Portal is live
Fintechs can now easily access the right technologies, network and partners to grow their businesses with Visa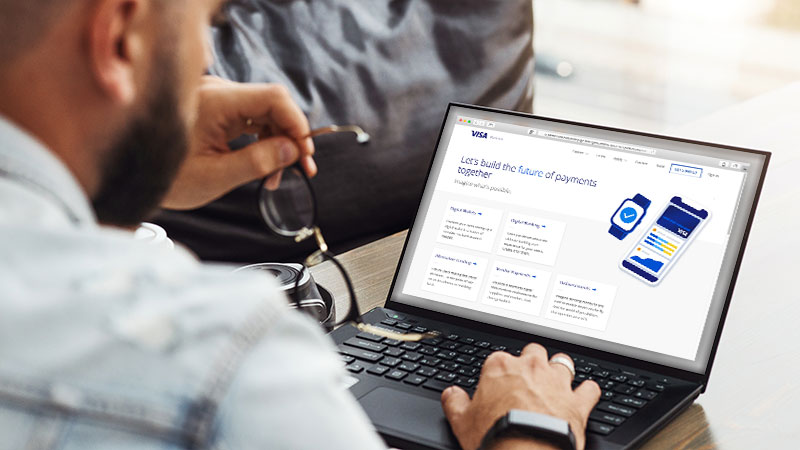 With $17 trillion in consumer payments still made in cash/check[1] and 1.7 billion people outside the formal financial sector,[2] there is a huge opportunity for fintechs to pioneer new kinds of digital payments that will drive forward the next generation of payments innovation. That's why Visa has launched Visa Partner, a portal that provides fintechs with unprecedented access to Visa's technologies, network and solutions, enabling them to scale and bring new payments solutions to life with speed and security.
Visa wants to partner with and elevate fintechs doing amazing things around the world to accelerate the growth of fast, secure and reliable digital payments. The Visa Partner portal is our latest way to connect with the companies leading the charge on the future of payments. It simplifies the process of working with Visa and will help fintechs more easily leverage Visa's network, resources and tools to grow and succeed.
The portal includes an array of services and resources to help fintechs at all stages get up-and-running with Visa. Key benefits include:
Faster Digitized Licensing: Say goodbye to pages and pages of physical licensing paperwork. Now, fintechs can apply online for licenses in their markets with just a few clicks.
Comprehensive Partner Directory: Fintechs can identify and match with the right partners across the payments ecosystem to help them go-to-market. This includes BIN sponsors, issuer processors, Payment Card Industry (PCI) Compliance and Know Your Customer (KYC) / Anti-Money Laundering (AML) partners, among others.
Helpful "How-to" Content: Fintechs just getting started can learn all about the world of payments through educational videos that teach the basics of payments and issuing, including:

An overview of payments and card product solutions
A summary of the transaction lifecycle and portfolio economics
Key steps to launching a payments program
Fintech Fast Track: Thinking globally, acting locally
Another benefit to Visa Partner is the global view it provides of the various Visa Fintech Fast Track programs offered by each region. Fast Track is a Visa-led application-based program that provides access to Visa's strong partner community and the security, speed and scale of our network.
 
Visa Partner can help fintechs navigate their unique regional landscape from a single starting point to learn more about the specific details and benefits of the Fast Track program in their region.
"Fintechs are constantly innovating on our network and creating new types of payment flows that we think will continue to push the boundaries on better ways to pay, everywhere," said Terry Angelos, Global Head of Fintech, Visa. "Through the launch of Visa Partner, we are making it easier for fintechs to launch with Visa, enabling them to innovate faster and bring new payment flows to market."
To get started with Visa Partner, visit https://Partner.Visa.com
____________________
[1] Visa Annual Report (December 2018)
[2] Global Findex Database (2017)