What keeps small businesses from going cashless may surprise you
Meeting the needs of global entrepreneurs means doing more than processing payments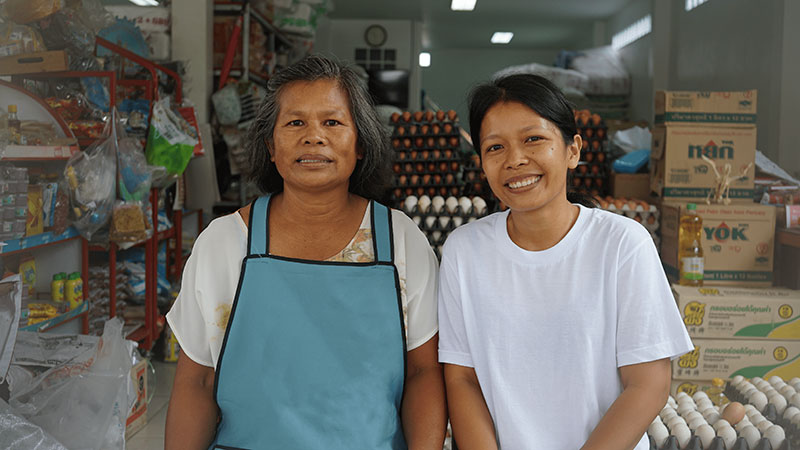 Small and micro merchants are a driving force of the global economy with more than 180 million micro and small merchants operating across the developing world. These businesses may be "small", but their collective influence within the global economy is undeniable, as they transact more than $6.5 trillion per year and interact with more than 4.5 billion customers every day. [1]
Small merchants are famously considered by many as a 'final frontier' of digital payments — they've been historically perceived as resistant to dealing in anything but cash. However, as the global economy moves decisively towards digital payments, small merchants will need to embrace the trend, and in many nations — such China, the US and Sweden — we find that they already have.
Over many years and in many countries, the Innovation & Design group at Visa has tried to understand what would convince micro merchants to move away from cash. We've often — mistakenly — assumed that small merchants opt for cash because they want to evade taxes or transaction fees. This is at best, only partly true. There are other more pressing concerns that make them stick with their familiar cash practices. Three recent experiences allowed our team to unearth some key insights that have changed the way we provide cashless solutions for small merchants.
Insight 1: Ensure the first experience is quick, cheap and easy
In November 2016, the Indian government announced its demonetization policy which meant that within a space of four hours, 86% of banknotes were no longer legal tender. Much has been written about this event but the immediate impact was that both customers and merchants were clamoring to use cashless methods. It became clear very soon, that the traditional method of enabling a merchant to accept cards could not achieve the scale and speed needed to capture the opportunity and cater to the needs of this massive population. We worked with several banks, fintechs and most importantly, merchants, to understand what could ease the local situation — quickly, easily, and using the tools small merchants already had. 

Our learning: provide a quick, frictionless solution with zero-downside that small merchants could sign up for independently using a mobile phone — which all of them already had. Unlike the traditional long-drawn method of applying for a POS terminal, we made it easy for small merchants to sign themselves up to accept cashless payment through a bank's mobile app. We gave them a QR code on their phone or which they could easily print out, through which they could start accepting payments immediately. The entire sign up process went from more than a month to just a few minutes. Because the acceptance amount was relatively low, this solution was immediately relevant to small merchants like grocery stores whose average transaction amounts were usually quite low.
Those that liked the proposition and saw value in digital payments, were allowed to increase their acceptance limits and apply for an actual POS machine through additional KYC (Know Your Customer) procedures. What we ensured was that merchants could do all this on their own terms when they felt ready (a process often known as step-up-KYC). The solution did not require any investment from them (e.g. the cost of a POS machine) and once they had a few positive experiences, we saw an uptake in small merchants signing up and maintaining their digital acceptance at scale and for the long term.
Insight 2: Sometimes a helping hand is better than speed
In 2017, the Thai government doubled down on its efforts to build a cashless society [2]. Many banks were given targets to sign up small merchants — especially those in smaller towns — for digital payments as merchants in Bangkok and other major cities already had good penetration of digital acceptance.
We assumed that our positive experience in India of providing small merchants with quick, self-service onboarding processes would work well here too considering the similar target audience. We couldn't have been more wrong!
What we realized in the Thailand was that small town merchants may not care much for speed. They may have all the time on their hands, but in our view, they don't have an appetite for complexity. Any solution we design for this merchant group needs to be extremely simple, as easy as getting cash.
Another big realization was that merchants were not that keen on self-service either. Through our interactions, we learnt they loved having a salesperson or branch teller explain to them the solution, guide them through the onboarding process and train them on how to accept digital payments.
These realizations shifted our paradigm. We can't design solutions with only the merchant in mind. We must serve the bank salesperson as well. We worked with a large Thai bank to digitize and simplify their merchant acquisition perspective and equip their salespeople with well-designed sales tools to onboard merchants on a tablet. Piloted in multiple cities with much success, this solution validated our realization that digital still needs a human touch. By equipping bank staff with a well-designed onboarding solution for small merchants, the bank was able to roll out the solution in more than 12 branches in small towns.
Insight 3: Signing up is the easy part…
The last four years has seen an explosion in the number of small merchants accepting digital payments. But everywhere where merchants have signed up for digital payments, we find that there are many more that go back to their old cash habits in a few weeks or months [3].
We spent a lot of time with merchants and acquirers understanding why this relapse occurs and how we can prevent it. In our experience, what we found is that signing up merchants is the easy part — helping them stick to digital payments requires the solution to bring more value beyond just payment acceptance.
The fact is, nearly all modern payment acceptance modes are linked to a mobile device — either the merchant's phone or a smart POS. How can you unleash the power of that supercomputer to do more than just accept money? For example, why not let the merchant push salaries to their staff or pay their suppliers again through the same device? Or better yet, why not allow them to apply for small loans from the same device? After all, this solution now has great data on the merchant's finances and can easily be tweaked to both offer a loan and easy repayment features.
There are no limits to the kinds of services and benefits you can add to the merchant's business if you harness their smartphone (or any other smart acceptance device). The key question you need to design for is "now that I process their payments, how can I help them improve their business overall?" That's a big paradigm shift, but one that needs to be made to keep this elusive yet critical segment within the digital economy.
We've seen these insights make a considerable difference to a small merchant's willingness to try out digital payment acceptance, and more importantly, stick with it for the long term. We're excited to see how we can continue to build on these insights and stay relevant to this burgeoning merchant community.


___________________________________________
[1] Small Merchants, Big Opportunity" report from Dalberg Group 2019
[2] https://www.aseantoday.com/2018/02/thailand-could-go-cashless-within-three-years/
[3] https://economictimes.indiatimes.com/industry/banking/finance/banking/pos-deployment-slows-down-as-small-merchants-fail-to-show-sufficient-transactions/articleshow/62934289.cms