Visa estimates impact of the Olympic Winter Games PyeongChang 2018
Foreign arrivals likely to give South Korean tourism a boost

January 04, 2019 – The Winter Olympics are fast approaching, and South Koreans are hoping for a major tourism boost in the months ahead. Visa estimates the event will draw an additional 5-10 percent more foreign tourists than the country would get normally in February absent The Winter Olympics—and visitors to PyeongChang 2018 could spend up to 50 percent more on their Visa cards than regular visitors do. Asia Pacific (AP)—especially northern Asia—will likely add more than half of the tourist arrivals for the event. Visa also projects a strong showing from North America, with as many as 85,000 visitors from Canada and the United States.
Measuring the economic impact of The Winter Olympics is complicated by a lack of data on the host country's inbound tourism, since many studies rely on aggregated quarterly or annual data. With sponsors spending more than $60 billion annually on events globally,1 host country stand to benefit significantly. The Visa International Travel (VISIT) platform provides more precise estimates. Combining official data with billions of transactions flowing over Visa's network, VISIT tracks cross-border travel at a higher monthly frequency for more than 80 source and destination countries globally.
The tourism boost will not fully reverse the current slowdown in cross-border tourism, especially from China. Foreign travel to South Korea next February—depending on progress in Chinese tourism—could reach one million arrivals. This is down 5 percent year-over-year (YoY), but the decline would be deeper without the expected lift of 60,000 arrivals from The Winter Olympics added to the baseline.
Foreign arrivals in South Korea and expected lift due to the Winter Olympics (February, thousands)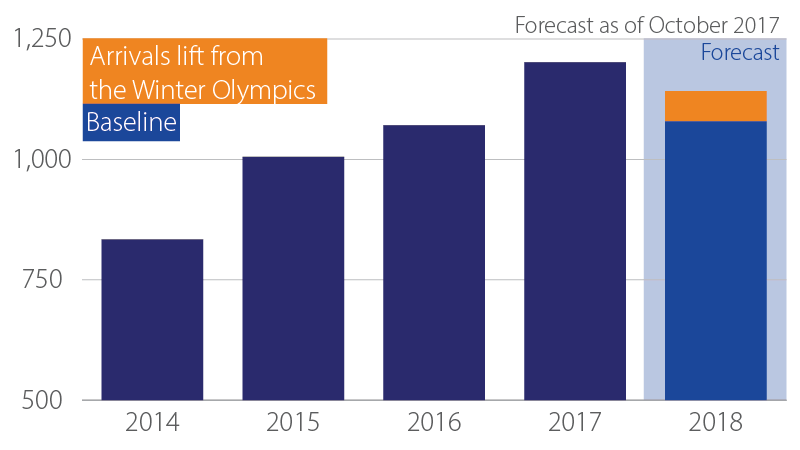 Visa International Travel (VISIT) database is a proprietary model that combines Visa's cardholder data with publicly-available cross-border arrival statistics. The database provides a comprehensive view into high-frequency cross-border travel flows, currently encompassing the top 82 origin and destination countries, which collectively account for more than 80 percent of global travel. VISIT combines unique counts of Visa cardholders that register a face-to-face transaction at a merchant outside their home country in a given calendar month with other transaction data such as average spend per cardholder, card usage patterns at lodging merchants and others. Visa uses this data to econometrically model official arrival statistics compiled by various government sources and to generate estimates that fill in the large gaps existing in the cross-border travel data.
Contact Visa Consulting & Analytics
Please contact your Visa Representative to find out more how we can help or send us an email.