Gray is the new black: Baby boomers still outspend millennials
Wayne Best, Senior Vice President/Chief Economist
Visa projects consumers age 60+ will continue to drive U.S. spending for the next five to 10 years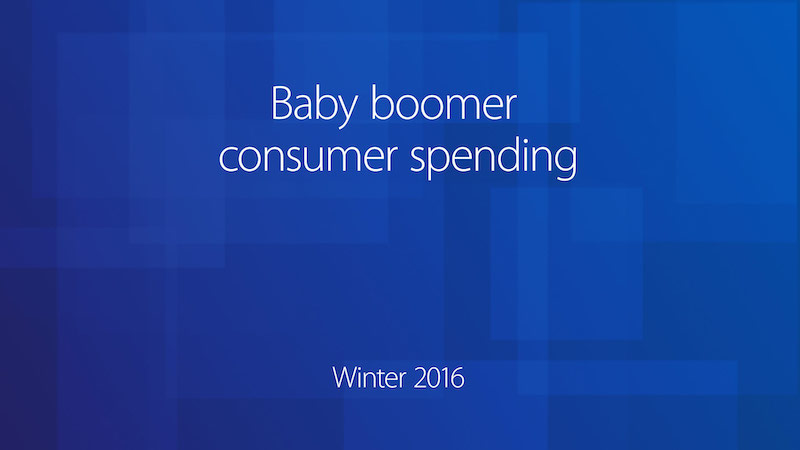 December 17, 2018 – While millennials have dominated headlines in recent years, baby boomers (those born between 1946 and 1964) have continued to dominate consumer spending in the U.S. In fact, consumers over 50 now account for more than half of all U.S. spending. They are also responsible for more spending growth over the past decade than any other generation, including the coveted millennials.
As a group, this over-50 crowd should continue to be a major force in U.S. consumer spending, especially as those over 60 years old drive growth over the next five to 10 years, according to Visa Business and Economic Insights.
This is happening for two reasons: demographics—there are simply more consumers over 60 than there were 10 years ago—and behavior. Baby boomers, compared to generations that preceded them, are retiring later, holding on to more debt and maintaining budgets for travel and other discretionary treats.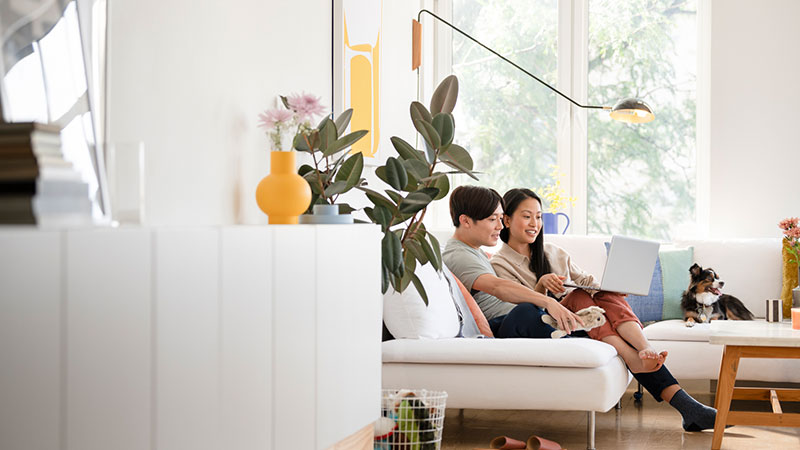 Related article
Gen Z and the metaverse: Influencing the future of the economy.
Big numbers, big spenders
By 2020, there will be about 11 million¹ more consumers over age 60. While the share of spending among younger consumers is expected to decline over the next 10 years, older boomers should gradually spend more with those aged 60+ reaching a 33 percent share of aggregate spending by 2025.
Industry forecasts show that Gen X and millennials will continue to be important consumer targets—as much for their current spending as for their longer-term loyalty—but the strongest future growth potential in spending lies firmly with baby boomers.
Population Growth (By age group, year-over-year change)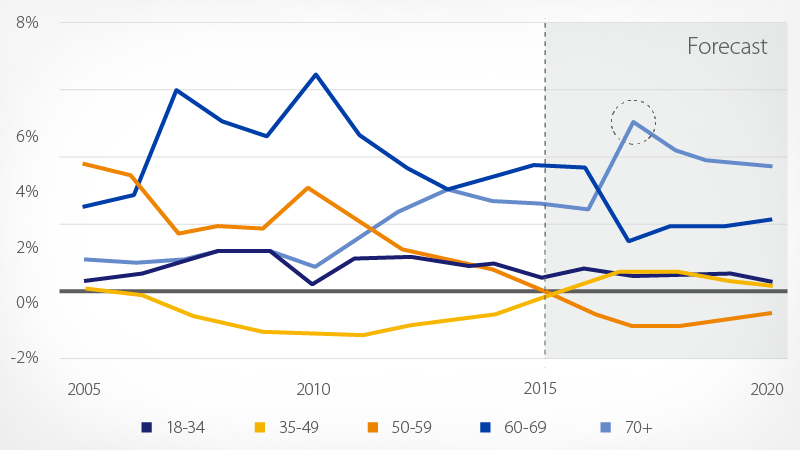 Source: Census Bureau, Visa Business and Economic Insights
Distribution of aggregate spending (By age)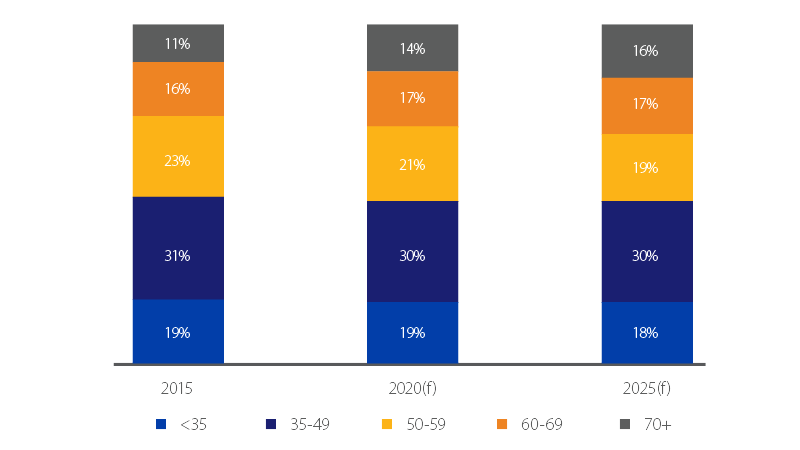 Sources: Bureau of Labor Statistics, Consumer Expenditure Survey 2015; Visa Business and Economic Insights
Baby boomers are working longer
Consumer behaviors may play an even bigger role in why boomers are spending more. Baby boomers are staying in the workforce longer—the golden years no longer mean slowing down. The only age group segment showing growth in labor force participation—that is, as a percent of those eligible to work (16 and over)—is with people aged 60 and older.

In fact, while the overall labor force is still growing slowly, workforce participation is on the decline—from 67 percent in 2000 to 62.6 percent projected in 2022. Why the decrease in the number of active workers? Several factors, including increases in the number of people attending college, people on disability, workers with insufficient skills needed for new types of jobs as well as a lack of good child care options, all contribute to the decline.
Younger women are leaving the workforce
Millennial and Gen X women are leaving the workforce, likely due to a lack of parental leave and affordable child care, while boomer women are staying in the workplace longer. Boomer women are projected to reach over 64 percent participation in their age group by 2022, up from 59 percent in 2012.
Boomer debt rising
Boomer debt is also rising. While population growth is partly responsible for the increase in consumer debt among those 65 and over, more than half of that debt can be attributed to the amount they choose to carry—on mortgages, credit cards, auto loans, student loans and home equity loans.
Last year, older borrowers held higher per-capita balances in every debt category except credit card debt, compared to 2003. Although they are less likely to revolve on their credit cards, those who do are more likely to carry a higher balance. There is a downside to this: Increased debt, combined with a continued hangover from the housing crisis and increasing healthcare expenditures, could result in an increased credit risk among baby boomers.
Boomers are buying more online
As boomers stay in the workplace longer, their spending habits also appear to be changing. For one, they're making more purchases online via computers, smartphones and other devices, suggesting they are visiting traditional stores and using a physical card less frequently. These card-not-present (CNP) transactions now represent 40 percent of credit spending on Visa for consumers aged 60 to 69, which is only slightly lower than the overall average CNP of 40.3 percent.
Cards are used for varied purchases
Boomers are also buying different types of goods, requiring merchants and retailers to adapt as well. Fast food, a category where older consumers have traditionally held a small share of spending, is experiencing an increase in growth among boomers. Grocery, home goods and services (ranging from health care and insurance to taxis) are among the strongest categories.
The bottom line is, consumer spending is holding up despite slowing population and labor force growth, and baby boomers are the ones who deserve most of the credit.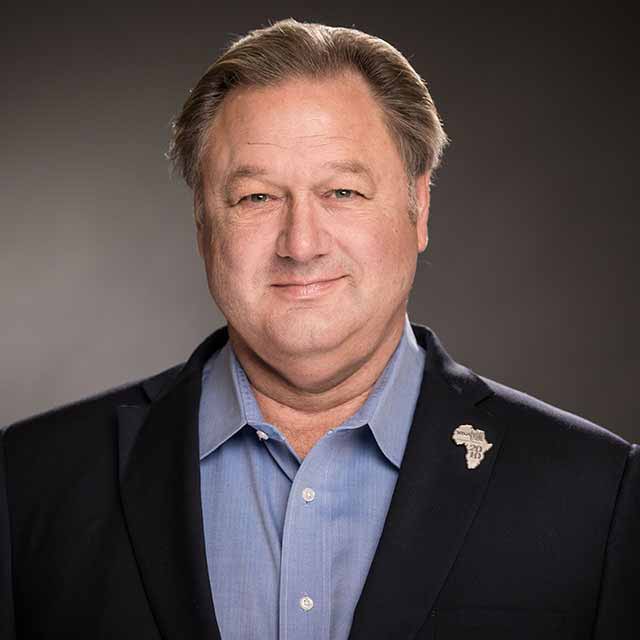 Wayne Best, Senior Vice President/Chief Economist
Best leads Visa's Business + Economic Insight team. As chief economist, he keeps close watch on emerging opportunities in the trillion-dollar payments industry. An active participant in the World Economic Forum's Global Strategic Foresight Community, he identifies economic trends shaping the future. Best's presentations and reports explain the impact of these trends to company and client executives, as well as government leaders around the globe.
Before joining Visa in 1990, Best worked as a consultant performing cost benefit analyses for the power industry. In addition to an MBA, Wayne holds a degree in nuclear engineering and has participated in the Stanford University and Kellogg School of Management executive programs.
References
¹Based on the period from 2015 to 2020.

Bureau of Labor Statistics (BLS), Consumer Expenditure Survey 2015; BLS Current Population Survey, Census Bureau, New York Federal Reserve, TransUnion LLC.
Contact Visa Consulting & Analytics
Please contact your Visa Representative to find out more how we can help or send us an email.