2015 holiday spending review: Solid overall, but shoppers losing interest in Black Friday
Corrine Fusso, Associate Economist
January 20, 2016 - In deconstructing the 2015 holiday shopping season, Visa data shows fewer people were waking up at the crack of dawn in a post-Thanksgiving shopping frenzy to score deals. While the overall holiday shopping season was solid, Black Friday appears to be losing importance and accounted for just a 5.1% share of November retail sales. 1
This represents a continued downward trend in recent years from a 6.1% share in 2011, according to Visa Retail Spending Monitor, a monthly estimate of retail sales on all forms of payment. It also ranks Black Friday thirteenth among the biggest shopping days of the 2015 holiday season, down from fourth in 2014.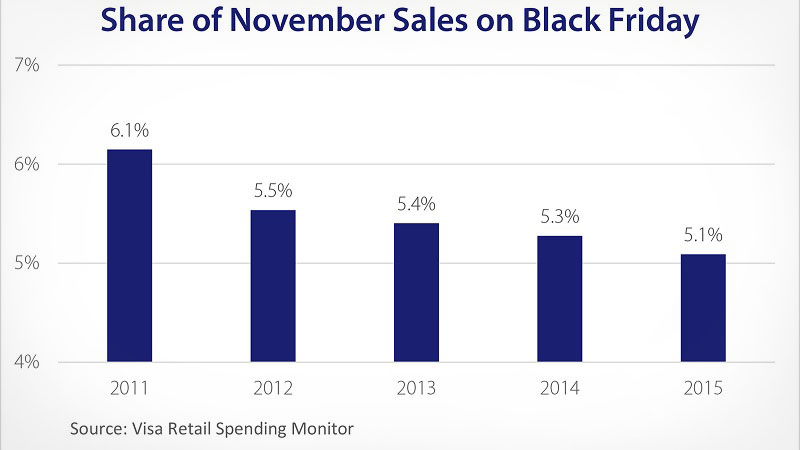 Americans weren't necessarily cutting back. Black Friday was still a relatively popular shopping day when compared to a typical Friday, which usually represents 3.5-4% of monthly sales. More importantly, the share of sales in the days after Black Friday has been rising in recent years as retailers extend sales well into December and shoppers learn they can find good deals later in the holiday season.
Thanksgiving was another story. Over the past few years, more and more retailers opened their doors on Thanksgiving Day in hopes of boosting sales. However, Visa data shows many consumers remained reluctant to hit the mall on the holiday, and Thanksgiving's share of 2015 November sales remained low at around 2% - below the 3.0-3.1% share on a typical Thursday. Thanksgiving Day was gaining momentum through 2014, but dropped in 2015.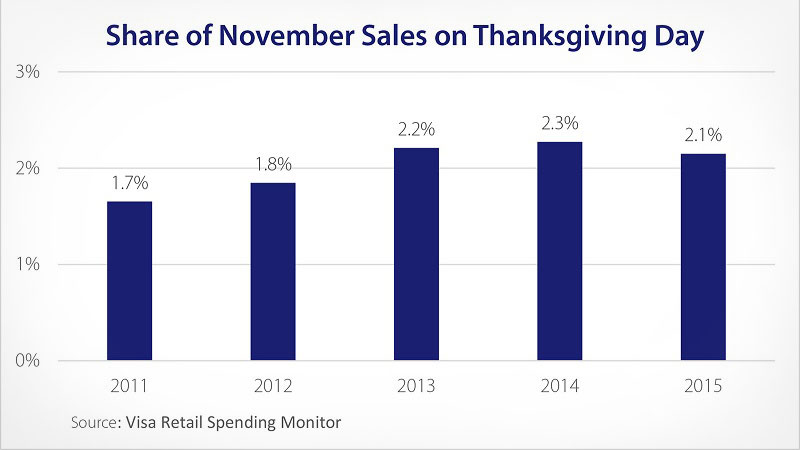 Competition is stiff—especially around the holidays—and retailers pulled out all the stops to attract consumers. For many Americans, Thanksgiving and Black Friday shopping was akin to a national pastime, but this seems to be changing. Part of the shift is due to changing consumer attitudes, but the movement towards e-commerce is also altering behavior and giving holiday shoppers more options. Consumers can shop from the comfort of their sofas and remain confident they're getting a good price, all while avoiding the dreaded holiday traffic jams, parking lots and long lines.
Retailers are also changing their marketing strategies to adjust to changing consumer behaviors and compete on the e-commerce channel. The 2016 holiday shopping season—now just 286 days away—will likely show just how much retailers are inclined (or forced) to adjust their holiday strategies.
1 All references to retail sales are excluding autos and gas.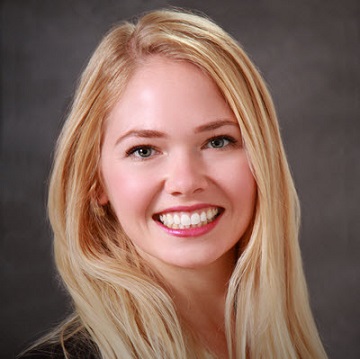 Corrine Fusso is an associate economist with the Business & Economic Insights team at Visa. Prior to joining Visa, Fusso worked as a business intelligence consultant for Microsoft and JSTOR, where she analyzed data and provided insights to influence business decisions. Fusso has bachelor's degrees in economics and international studies, both from the University of Washington in Seattle. She also earned an M.A. degree in economics from Claremont Graduate University. Fusso is the president of the San Francisco chapter of the National Association of Business Economics.