3 ways VCs can make more equitable funding decisions
New research highlights ways to make funding more fair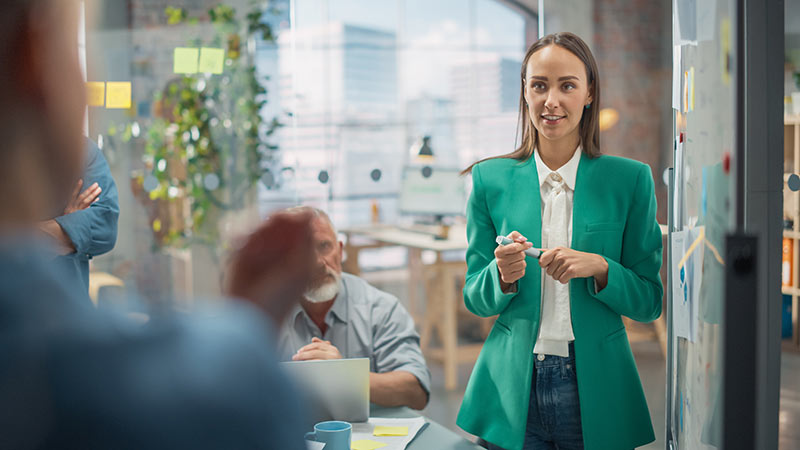 Research shows that women-led businesses outperform those that are led only by men, yet a significant gender financing gap persists. A BCG study found that women-led companies generate more than twice as much additional revenue per dollar invested1 (78 cents versus 38 cents) and a PitchBook study found that women-led startups reach their exit stage a full year earlier than all-male-founded startups (median 6.4 years versus 7.4 years).2
Despite data signaling that women-owned businesses could generate greater returns, more than 85 percent of global venture capital (VC) dollars still go to startups with only male founders.3 Unconscious bias may be at play here.
One study by the National Academy of Sciences of the United States of America showed that investors score women-led startups lower than men-led startups when presented with identical pitches. The only difference? Gender. More than 68 percent4 of investors chose to fund ventures pitched by a male voice.
Village Capital, an organization that helps unlock capital for early-stage entrepreneurs of impact startups, set out to uncover ways to mitigate this bias. With Visa Foundation grant support, Village Capital researched how investors can create a more reliable and consistent evaluation process, which helps investors assess what kind of opportunity a potential investment can offer. Village analyzed more than 30,000 data points through the course of 1,503 investor evaluations, supporting their analysis with more than a decade of research around the cause of venture capital's gender financing gap.
Insights from the research helped inform concrete steps that could make an evaluation process more consistent, comprehensive and data-driven, with the aim of influencing more equitable capital allocations between men and women. The new process would also reduce investor reliance on "gut instinct" by focusing on data and proven competencies.
When these three steps were applied to enhance the evaluation framework, there was a 5× improvement in scoring for women-led startups:
1. Collect information on each startup's risk and growth opportunities.
Men-led startups, the research showed, were asked significantly fewer risk-related questions than women-led startups. This step asks investors to think about both risk- and growth-related questions proportionately. Growth questions may include: What makes you unique? How do you plan to increase sales? How much can revenue increase by expanding into new markets? Risk questions may include: What potential regulatory issues or future government mandates are possible? How long do users stay on the platform before leaving? What prevents the competition from starting to offer similar services?
2. Assess a team's potential by evaluating how much ability they've shown to improve their startup.
Examples of this include acquiring new customers, identifying and addressing risks in their business model, securing new partnerships, etc. Evaluating how a founding team improves their startup in the short-term helps investors make a more accurate, performance-based assessment of the startup's future potential.
3. Pre-define which evaluation criteria will most heavily influence your scoring and decisions.
Predefining how much weight each evaluation criterion should get when determining the final score (by giving it a specific number) increases the likelihood that investors will apply the framework consistently to both women and men. This simple strategy prevents investors from redefining criteria for success once they've met the founding team.
At the end of the day, evaluating startups based on performance using a framework that is consistent, comprehensive, and data-driven can lead to high potential investments while creating pathways for economic mobility — ensuring that women-led startups get the funding they need to meet market demand and achieve their dreams.
---
Learn more about how the Visa Foundation supports inclusive economies.
---
1 Katie Abouzahr, Matt Krentz, John Harthorne, and Frances Brooks Taplett, "Why Women-Owned Startups Are a Better Bet," Boston Consulting Group, June 6, 2018, https://www.bcg.com/publications/2018/why-women-owned-startups-are-better-bet
2 PitchBook, All Raise, Goldman Sachs, and Microsoft for Startups, "All In Women in the VC Ecosystem," 2019, https://files.pitchbook.com/website/files/pdf/PitchBook_All_Raise_2019_All_In_Women_in_the_VC_Ecosystem.pdf
3 Based on 2021 Pitchbook data.
4 Alison Wood Brooks, Laura Huang, Sarah Wood Kearney and Fiona E. Murray, "Investors prefer entrepreneurial ventures pitched by attractive men," Proceedings of the National Academy of Sciences of the United States of America (PNAS), February 2014, https://gap.hks.harvard.edu/investors-prefer-entrepreneurial-ventures-pitched-attractive-men