At Super Bowl LVI, small businesses, players and the LA community shine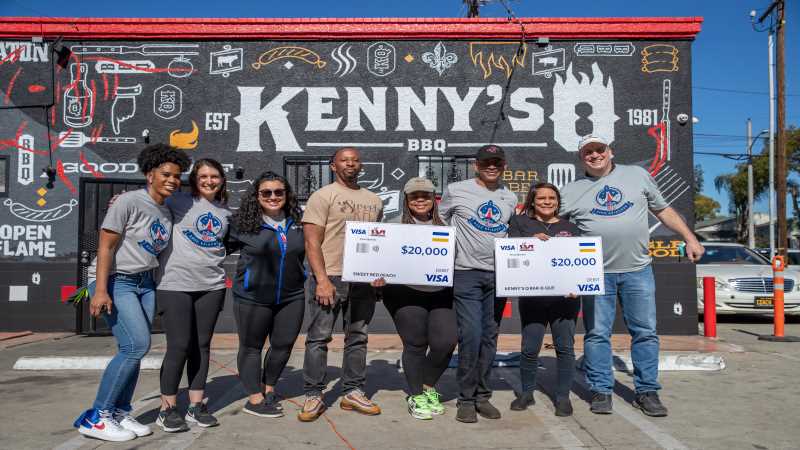 The Super Bowl is more than a sporting event. It's a shared cultural experience — one with exciting energy and an often-outsized impact for its host city. As the official payment services technology partner of the National Football League (NFL), this year Visa is once again extending our support beyond the stadium, building on our commitments to small businesses, local communities and players looking to extend their careers.
Supporting small businesses & the communities they serve
At Visa, we recognize that the past few years have been particularly hard on small businesses. For Super Bowl LVI, Visa is looking to support small business both in the Los Angeles area and nationally:
L.A. Small Businesses Take Center Field: This year, Visa is providing $20,000 grants to 10 small businesses in the Los Angeles metro area, with an emphasis on businesses owned by women and people of color. This includes: Compton Health Bar, JennPaintt Nail Lounge, La Monarca Bakery, Mingles Tea Bar, The Plant Chica, Sip & Sonder, SOCANOMICS, Kenny's Q Barbecue, Sweet Red Peach and Ms. Ruby's Bakery. Many of these small businesses will also participate in the Visa Small Business Block Party within the NFL's Super Bowl Experience at the L.A. Convention Center. Fans can get to know them on February 5-6 and 10-12 at the Visa Small Business Block Party, which will also feature NFL player appearances, musicians, artists, fan giveaways and more.
Small Businesses Score Big: Small businesses across the U.S. and Canada can get ready to score big on Super Bowl weekend. Authorize.net, Visa's third-party payment platform for small businesses, will waive the monthly gateway fee to new customers for the life of an account along with transactional fees for the first 100,000 transactions for those who sign up over Super Bowl weekend. As small businesses continue to adapt to increased consumer demand for ecommerce and digital payments, taking advantage of this offer can eliminate some of the startup costs – an offer valued at $10,000 per small business. Signup1 takes just a few minutes and must be completed on Feb 12 or 13.
Kickoff to Financial Literacy: Learning about money shouldn't feel like a chore. That's why Visa and the NFL have been gamifying financial fundamentals through Financial Football since 2006. Timed to Super Bowl LVI, Visa will host a Financial Football event to bring fundamental money management skills to life for students from the LA area. We couldn't be more excited to be giving students the tools to take financial education into their own hands.
Providing a career path beyond the field to former NFL players
Helping players pursue their dreams both on and off the field has long inspired much of the work Visa does in partnership with the NFL.
Last April, the Visa NFL Business Development Program launched, aimed at helping NFL players transition to post-football careers. After welcoming the inaugural five associates to various roles across Visa in September, we are opening applications for the second round of the program later this week. Associates pursue a two-year rotation — spending six months in four different Visa business units to hone their talents, potential and unique leadership skillset in a business setting.
"Visa provides an incredibly valuable opportunity to help workhorse athletes like myself to transition to a different kind of grind: in the modern-day workforce," says Cameron Lynch, completing his rotation on the Visa Business Solutions and Small Business & Advocacy team. "I've been inspired by the commitment my Visa colleagues have invested in helping me begin my next chapter, so my goal is to help springboard the next generation of incoming athletes as they look to unlock their dreams through business."
Copeland Bryan, who went to the Super Bowl with the Chicago Bears and also played for the Buffalo Bills, had a range of experiences after the NFL and before coming to Visa, including as a startup investor and founder.
"Being at Visa has allowed me to really vet and hone the skills I realize I have based on my unique 'work history,'" Bryan says, working with Visa's Strategic Initiatives & Global Technology Partnerships team. "At some point in every athlete's life you face a crisis of identity – the thing you have spent a lifetime building and centering your life around will be gone. This program provides you an opportunity to learn and acclimate to a new reality. It's a great option for almost any pro athlete at any level, top dog to benchwarmer."
Come game day, we'll be cheering on the players and small businesses alike.
---
To learn more about Visa's partnership with the NFL, visit Visa Sponsorships.
---
1 Transaction fees for the first 100,000 transactions are waved at .10 cents per transaction, equaling a $10,000 savings. $25 monthly gateway fees are also waved. See complete terms and conditions.