Click to pay with Visa is here, online merchants are ready
Lowe's, Marriott, Papa John's and more are live, with more to be added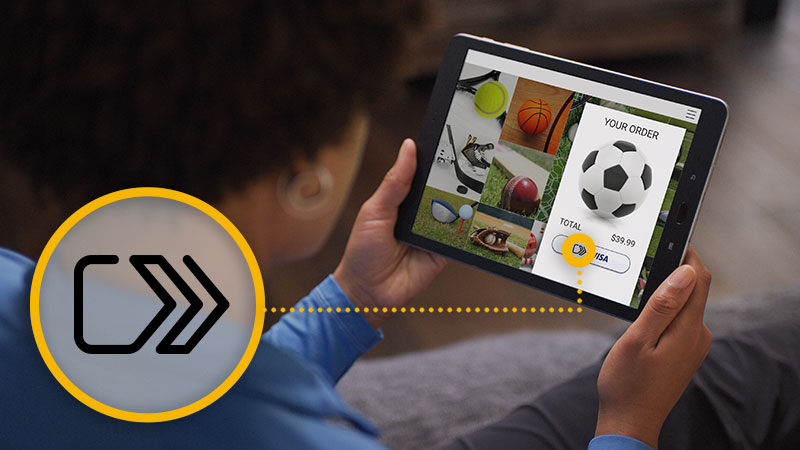 Online shopping shows no signs of slowing down: consumer spending for the 2019 holiday season was up 19.7 percent from 20181. And online shopping is about to get much easier. Now shoppers can click to pay with Visa, the easy way to buy without filling out long form fields or passwords. Consumers can leverage the Visa click to pay experience with thousands of online U.S. merchants, where they see the click to pay button and a Visa card is accepted. Select participating merchants include Lowe's, Marriott, Papa John's and 1-800-Flowers.com.
Following a successful initial rollout last fall, Visa is now transitioning Visa Checkout merchants in the U.S. to this fast, easy and secure way to pay for consumers who choose to shop via web, mobile, app or connected device.
Cinemark, Movember and Rakuten were the first online merchants to adopt the click to pay button with Visa, with payment processors and platforms Authorize.Net and CyberSource making the functionality available to their merchant clients through an easy integration. Beyond the U.S., Visa will bring the click to pay experience to select countries later this year.
Visa's click to pay experience offers a host of benefits over traditional ways to pay, including:
Ease: You no longer have to enter 16-digit account numbers, look up passwords or fill out long billing/shipping forms to make a purchase
Security: You can feel confident knowing that Visa uses advanced technologies and multiple layers of security to help protect your card against payment fraud
Speed: You activate once at any participating merchant site and choose to be remembered. You will then be set up for streamlined checkout with your Visa card on your device whenever you see the click to pay button where Visa is accepted
Visa is committed to improving the way we pay and get paid around the world. The click to pay experience is just one example of the many ways Visa works in the payments ecosystem to move payments forward, laying the groundwork for the next 25 years of simple, secure, better ways to pay.

______________________________
1 https://usa.visa.com/about-visa/newsroom/press-releases.releaseId.16861.html