Got a better way to pay? Enter Visa Everywhere Initiative today
U.S. competition offers winners a cash prize, networking opportunities and mentoring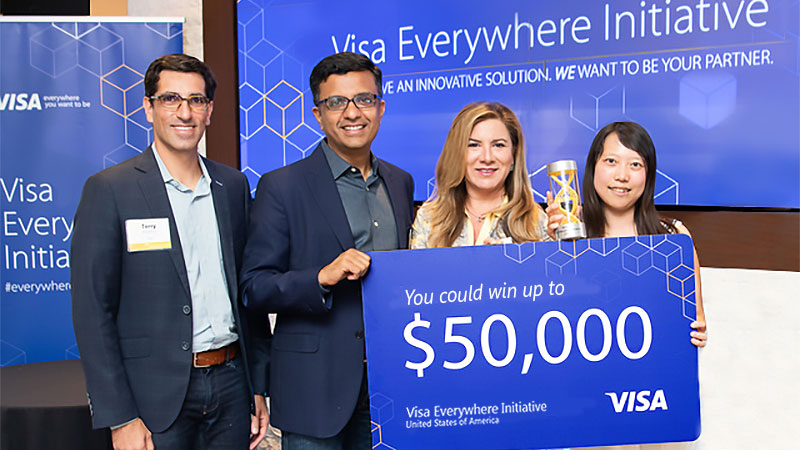 Startups may be small, but they have big ideas for the future.
Shippo helps retailers and online sellers save on shipping costs by accessing a network of carriers. Aifi helps eliminate tedious in-store checkout lines with frictionless shopping. Go Save makes digital piggybanks that teach kids how to save. Valyant AI offers quick service restaurants a customer service interface that resembles a real person.
These startups—and more than 4,000 like them from around the globe—have entered the Visa Everywhere Initiative (VEI) to solve the payments and commerce challenges of tomorrow. The annual regional competitions have involved people from more than 75 countries and offer entrepreneurs the chance to pitch their ideas to a panel of industry leaders to win cash prizes, mentorship and networking opportunities to help expand and scale their ideas. Since launching in 2015, the startups that have participated in VEI have collectively raised more than $2.5 billion in funding, with more than 221 finalists and 70 winners selected.
The VEI competition in the United States is now open and accepting entries until March 25, with the finals being held in May. U.S.-based competitors are invited to solve for three challenges.
Challenge #1: Driving digital issuance
How can startups make it easier for issuers to provide digital solutions and for consumers to switch to cardless solutions? Seeking startups in these sectors: ID, authentication and security, direct business and consumer lending, online banking, process and pay infrastructure. 
Challenge #2 – Enabling digital payments
How can startups accelerate the growth and adoption of digital payments through solutions that are easily accessible to consumers and issuers? Seeking startups in these sectors: financial services and infrastructure, blockchain/crypto currency, data and analytics, investment management, payments, wallets, transfers and retail tech.  
Challenge #3 – Enhancing the ecosystem 
How can startups provide added value to Visa or Visa's vast network of clients? Seeking startups in these sectors: process and pay infrastructure, crowdfunding, insuratech, marketplace lending, loyalty, merchant services and tools, money transfer and remittance, personal finance and wealth management.
Last year's U.S. competition received 900 total submissions with 71 percent of entering startups including a woman on their leadership team. Find out more about the Visa Everywhere Initiative and submit your startup today.