What's next for Bangladesh's fintech innovation?

The Covid-19 crisis has revealed the limitations of localized digital ecosystems in an interconnected global economy for Bangladesh and other developing nations. This paper shares Bangladesh's experience as a global pioneer in digital financial services and proposes policy measures that could further buffer the pandemic's impacts on local fintech and deepen the digital ecosystem to the future. The experience of Bangladesh can offer insights, practices and lessons learned that could be applicable to other developing countries.
Although Bangladesh has made remarkable progress, implementation of additional policy measures can continue to keep Bangladesh's momentum in fintech innovation, through maintaining an open and enabling trade policy, building an innovative, technology first approach to public-private partnerships, and increasing digital payments capacity through a market development fund. According to the World Bank's Global Findex Database, Bangladesh continues to face significant gender imbalances in which men's access to financial services has grown significantly more than women's, including for digital financial accounts. Therefore, Bangladesh may consider a market development fund, for example, focused on electronic payments acceptance and digital transformation, which could devise specialized incentives to address the continuing gender disparities in digital payments access and usage, support micro, small, and medium enterprises (MSMEs) and bring forth reach of the benefits of digital transformation to last-mile distribution networks and remote, isolated areas.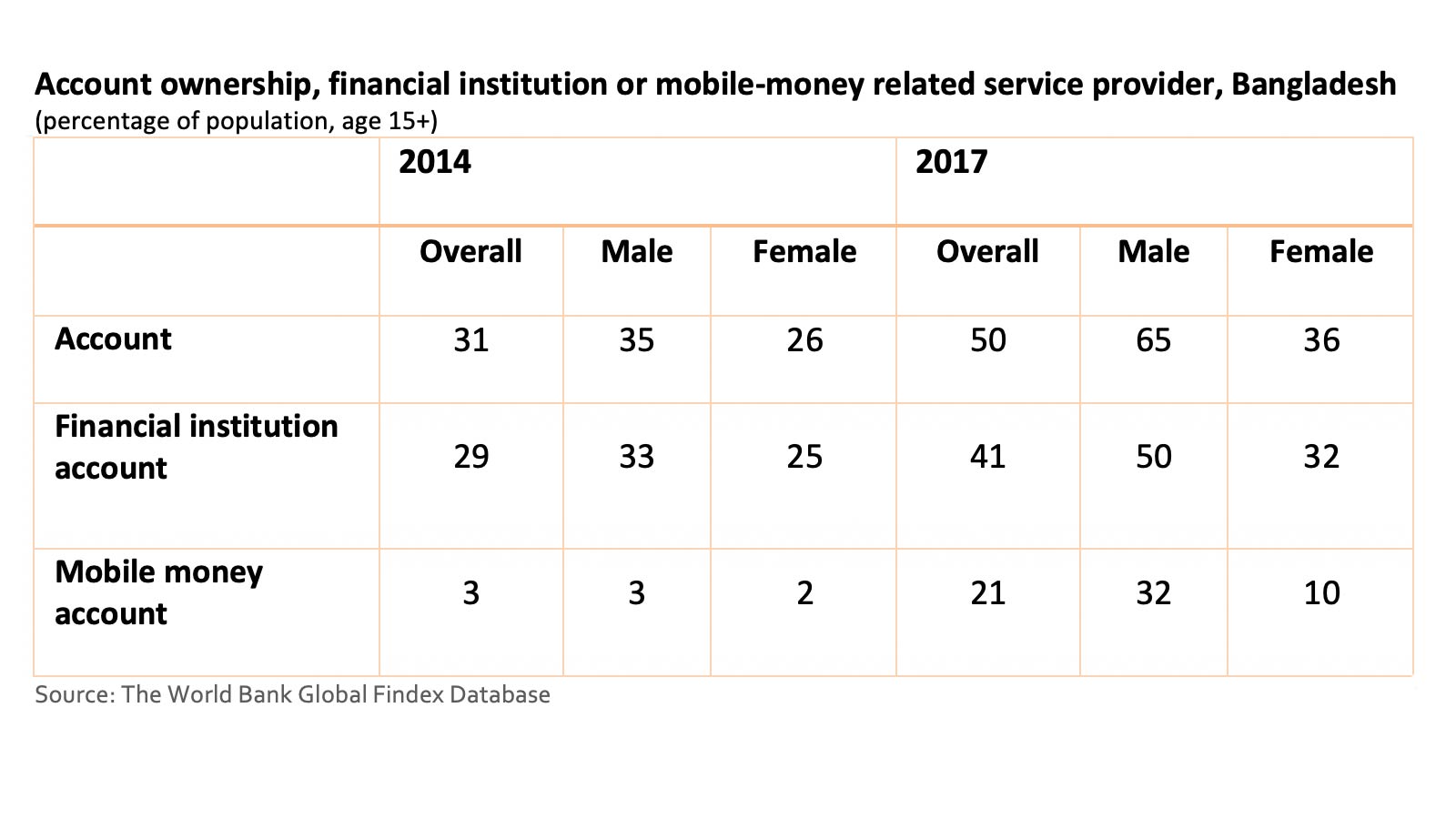 This table provides a breakdown of Bangladesh's progress in account ownership, whether from a financial institution or mobile money-related service provider, as a percentage of the overall population (age 15+). The table shows that overall account ownership in Bangladesh increased to 50% percent of the population in 2017 (the latest year in which data is available), vs. only 31% in 2014, according to the World Bank's Global Findex Database. However, female account ownership significantly lags behind that of males, with only 36% of females having an account in 2017 vs. 65% of males; the gap between males and females worsened between 2014 and 2017. The data suggests additional policy interventions are required, for example through the development of a market development fund customized to solve gender disparities in digital payments access and usage.