Pyramids, partnerships, and choice: In praise of an open payments ecosystem

Innovation in payments is accelerating to meet changing needs. This is exciting, and it also requires the private and public sectors to ensure that these developments are inclusive, sustainable, and maintain trust and financial stability. Payments innovation follows the lead of commerce. For payments to be "one size fits all," commerce would have to follow a set pattern—we know it does not. When one considers the innovations in retail, in-app, person-to-person, and government-to-citizen payment flows over the past five years, it becomes clear that change is the only constant. The COVID-19 pandemic accelerated that change. Central banks and policymakers should therefore promote a diverse and open payment landscape where all players commit to security and resilience, and where consumers and merchants can choose the most suitable payment method depending on the use case.
One way to think about trust is through a payments version of "Maslow's hierarchy."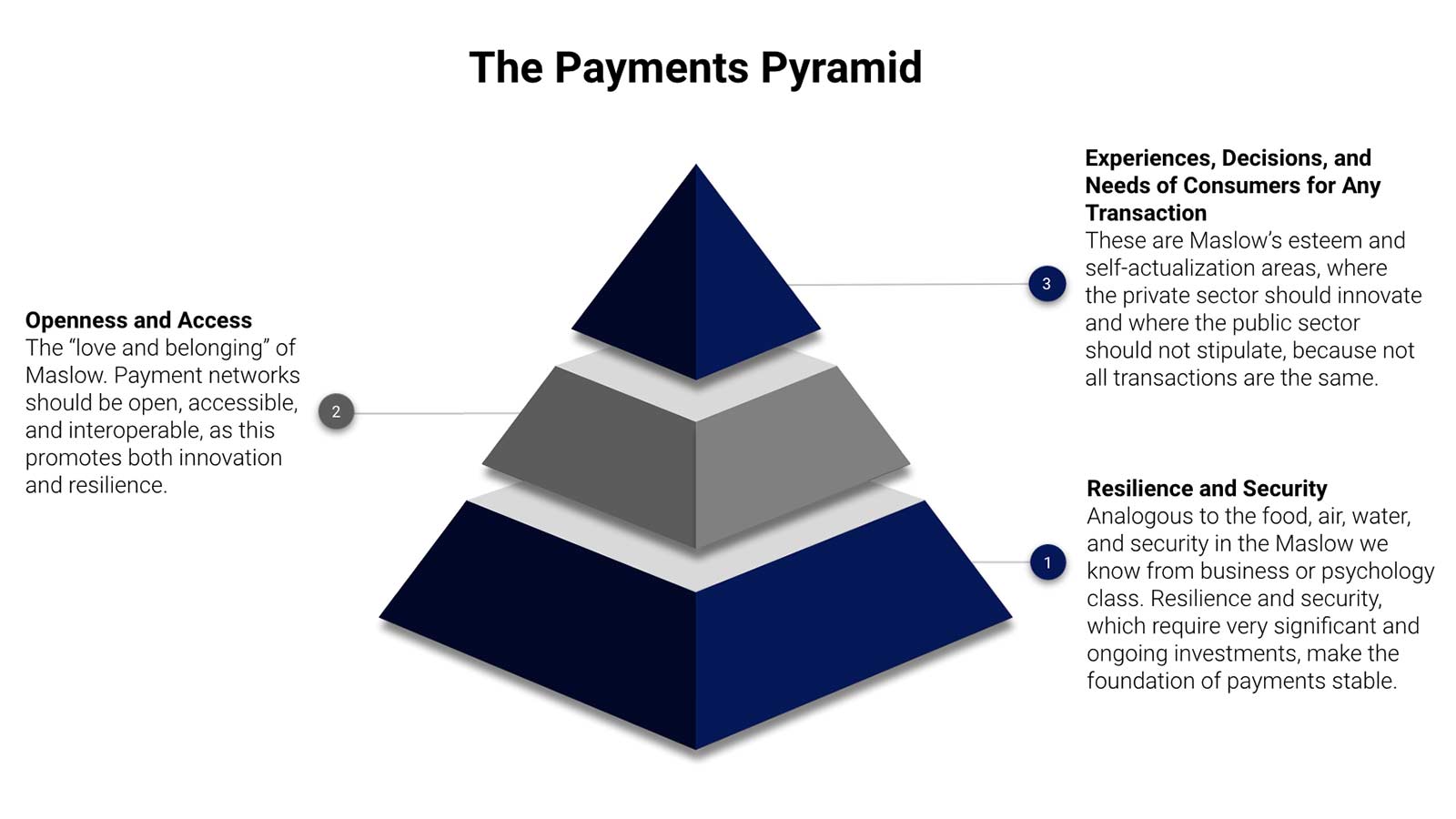 This graph shows the levels of the payments pyramid. At the base are resilience and security. Analogous to the food, air, water, and security in the Maslow we know from business or psychology class. Resilience and security, which require very significant and ongoing investments, make the foundation of payments stable.
The next level is openness and access. The "love and belonging" of Maslow. Payment networks should be open, accessible, and interoperable, as this promotes both innovation and resilience. 
At the top of the pyramid are the experiences, decisions, and needs of consumers for any transaction. These are Maslow's esteem and self-actualization areas, there the private sector should innovate and where the public sector should not stipulate, because not all transactions are the same.